Saphyre Secures $18.7 Million in Series A Funding Round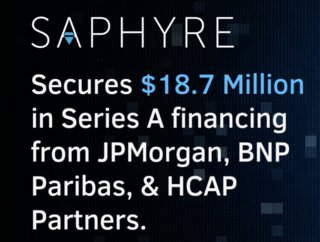 Funding led by HCAP Partners will support product development and the ongoing expansion of interoperability programs.
New York, NY, Paris, France (22nd March 2022) – Saphyre, Inc., a leading FinTech company that leverages patented AI technology to structure all pre-trade data while eliminating post-trade inefficiencies, is pleased to announce the successful completion of its Series A round of $18.7 million, led by HCAP Partners, with J.P. Morgan and BNP Paribas participating in the round. Terms of the investment were not disclosed.
Saphyre's AI-powered platform enables direct collaboration between multiple financial parties related to the same client. The platform digitizes all pre-trade data and documents, eliminating redundant manual processes and allowing for secure, expedited access to data throughout the trade lifecycle. Since its launch in 2017, Saphyre has received 104 issued patents and has been integrated with seven different platforms as part of its interoperability design. The company secured clients comprising thousands of accounts with over $3 trillion in assets under management.
The Series A funding will be used to accelerate Saphyre's product development initiatives in both its pre- and post-trade offerings, as well as to support its ongoing expansion of interoperability initiatives with a number of other fintech/vendor solutions in the industry.
Gabino Roche, Saphyre's CEO and Founder, stated, "It's an honor to be strategically supported by HCAP, J.P. Morgan and BNP Paribas. Today's announcement is a testament to years of hard work and the development of a best-in-class suite of products. This funding will accelerate the rollout of our firm's offerings and ability to further prove that, in leveraging Saphyre's patented technology in pre-trade wins, you instantly gain post-trade competitive advantages as well as operational benefits."
Naveen TV, Managing Director, J.P. Morgan's Securities Services said, "J.P. Morgan was an early adopter of Saphyre and we're delighted to continue supporting them on their journey to create market-leading onboarding workflow. We believe in driving industry change to enable better collaboration tools for our clients, our peers and ourselves, and Saphyre's technology is helping do that. We are proud to support Saphyre to further build scale in the industry."
Joe Bonnaud, Global Markets COO and Head of Engineering, said, "As a leading European Global Markets house, we are proud to partner with Saphyre in delivering innovation and transforming the client experience. Technology is a cornerstone of our growth ambition and by partnering with leading fintech firms we aim to harness powerful, scalable collaboration solutions for the benefit of our clients globally."
Tim Bubnack, Managing Partner at HCAP Partners, commented, "Saphyre has developed an industry leading software platform that organizes unstructured data and documents and automates activities in the end-to-end trade life cycle; from pre-trade, through trading, and post-trade. In addition, management has created a workplace culture grounded in values that align well with HCAP and our Gainful Jobs Approach™️. We are pleased to partner with the Saphyre team and its strategic partners in the next stage of the company's growth."