Financial Services (FinServ)
Childhood investing is a developing space, say experts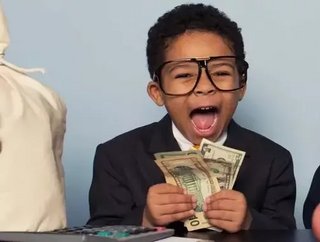 Fintech investing platforms are helping parents teach their children about the importance of investment and savings...
Investing in childhood is a growing fintech space, with a small, but a well-diversified range of operatives. 
The trend is being driven by forward-thinking entrepreneurs who have identified a need in the marketplace for a service that encourages savvy investment and savings habits in children.
Poor financial literacy is one of the major causes of debt, poverty and depression in adults globally. Despite it being such an essential life skill, education systems globally seem to have dropped the proverbial ball when it comes to teaching children how to manage their money.
Financial literacy and fintech
A 2017 survey of more than 8,000 people by found that 57% of American adults surveyed had less than $1,000 in their savings account. In December 2020, NerdWallet revealed in its that the average American household owes $15,654 in credit card debt.
The reality is that children from lower and middle-income families often reach adulthood with debt and poor financial knowledge, leading to a vicious cycle that contributes to the widening wealth gap. Parents and family members can now take responsibility for their children's financial success through fun investing tools that can teach them these essential life skills.
One of the first apps to address the issue was . Launched in 2017 the parent-managed debit card and app for children is designed to teach money management skills. Four years on and the idea has taken off in a big way, serving more than two million parents and kids, who have collectively saved an estimated $90m through the app's features.
In 2019, appeared, founded by investment aware parent and businesswoman, Tanya Van Court. The app is investment-based and uses incentive schemes to encourage good savings skills. Children and parents sign up to the app together, and input goals, which can range from college tuition to a new bike or a gaming console. Kids can then earn their pocket money through the app, receiving 'goalcards' (gift cards) from parents and relatives to save towards their target.
Investment incentive apps
is another recent entrant to the market, created by , a serial entrepreneur and fintech expert, who is co-founder and CEO of the Chicago-based venture. EarlyBird launched in November 2020 after raising $2.4m in capital. Fintech Magazine caught up with Wexler to find out more about childhood investing.
What drove the creation of EarlyBird?
EarlyBird all started when my beautiful baby niece was born in Sept. 2017. I was head over heels in love and I found myself buying $100's worth of useless stuff and I was ultimately wasting my money. At that point, I knew I wanted to give her something more that would have a larger impact on her life, so I went into an investing app, identified an index fund, invested $500, and called it "The Jordo Fun Fund."  
How did you get into investing?
For me, investing has always been a critical part of my life. When I was 10, my dad gave me some money in a brokerage account and gave me one rule. I couldn't take out the money. So naturally, I thought I was rich, and I started to learn everything I could about investing while building a wonderful relationship with my father.  
I ended up using those funds to start my first business SucceedOverseas based in Qingdao, China (where I also met Caleb, my co-founder). After selling that company in 2014, I realised how important the impact was of having both capitals at a young age was but also knowing about investing and depth of understanding how money can make money.
At that point, this became something I wanted to pass onto the next generation. After examining the Robo-advising world, we found that none had designed a system that solely focused on next generational wealth and more importantly, no one had yet found a way to leverage the power of one's network and the community around these kids we love most (i.e. the gifting economy). This is how EarlyBird started in the summer of 2019.
Bank accounts for youngsters have been around for decades. What is so different about this platform?
EarlyBird is different because we focus on three key value props: financial literacy, financial empowerment, financial freedom. We also are focused on the concept of collective investing in the next generation through gifting. Traditional banks can't communicate, educate, and connect with their users as EarlyBird does.  
We focus on ensuring that all parents have the tools needed to start investing in their child at the youngest age, have the knowledge to begin facilitating that critical conversation about investing, and have the support of their community and network investing into their child.
What features of EarlyBird have been created to incentivise savings?
EarlyBird is a Robo-advising platform, so we focus on dollar-cost averaging which is the process of figuring out how much money one can invest consistently in a given period and then setting a recurring investment into a fixed diverse portfolio.  
By doing so, EarlyBird teaches the most important investing habits of long-term gain and growth. Our goal is that these funds are invested for 20+ years so each child can use this investment account to have a huge impact on their life such as; buying their first house, starting a business, travelling the world, or paying for a wedding.
How secure is it for young users?
Our target user as of right now is the parent and encouraging them to set up an account first for their kid at the earliest age. Then we help facilitate the conversation for the parent to start talking through their EarlyBird account with their kid. As far as basic app security, we take this very seriously.
EarlyBird is committed to providing families with the highest levels of security. All investment accounts are held with our trusted partner and custodian Apex Clearing Corporation, a third-party SEC registered broker-dealer and member of FINRA and Securities Investor Protection Corporation (SIPC). This means the investments in all account are protected up to $500,000 in total.
We use the highest standards to ensure all user information and data is safe. We use multi-factor authentication, automatic logouts, and ID verification to help prevent unauthorised access. Accounts are also protected with 256-bit SSL encryption.
EarlyBird's philosophy
Encourage investment, starting as early as possible.
Make financial gifting, personal and purposeful.
Provide parents, family and friends with space to collectively invest in the kids most important in their lives.
Succeed in the mission to enrich future generations with financial freedom.
THREE apps that encourage children to save
Toca Store
Perfect for preschoolers, Toca Store teaches little ones all about shopping and the value of money. A virtual store is run by the child (who is the shopkeeper), who selects five items to sell, and sets the price bracket too. The parent acts as the customer and buys the five items, producing a receipt once all their money has been spent.
Available on the Apple Store
gohenry
One of the best ways to teach children about pocket money management and budgeting, gohenry comes with a parent account that lets adults top up a child's allowance as well as setting spending limits. The child also gets a prepaid Visa debit card that they can use to withdraw money, shop and buy online. The app also offers savings targets and incentives.
Rooster Money
Familiar with sticker charts as an incentive? Rooster Money is a virtual version of the same idea. The pocket money management app tracks chores and creates savings goals, letting children add pictures of the items they are saving up for as an added incentive. There is also an option pre-paid Visa debit card so children can shop and then track their spending.