Financial Services (FinServ)
AmEx and Amazon Business launch credit card for SMBs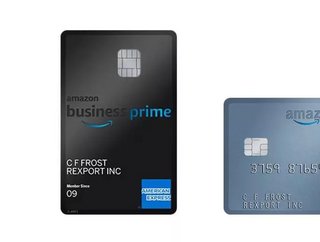 American Express (AmEx) and Amazon Business have co-launched a new credit card designed specifically for SMBs (small-medium businesses...
(AmEx) and have co-launched a new credit card designed specifically for SMBs (small-medium businesses).
Available in two versions - 'Amazon Business American Express Card' and 'Amazon Business Prime American Express Card' - they offer companies a range of benefits, payment flexibility and spending insights.
Both cards feature the following:
Up to 99 supplementary cards free of charge
0.5% Amazon Rewards points on all purchases
Representative (variable) 32.6% APR
£50 annual fee (waived after the first year for the Prime card)
However, the Prime card (available only to Amazon Business Prime customers) also includes 2% Amazon Rewards points on the first £120k spent in the card's premier year (1% thereafter, or 90-day extended payment terms).
Passionate about helping SMBs
Although it has illustrated the importance of SMBs to global economies ( that they account for 50% of the UK's total revenue), COVID-19 has had a noticeably deleterious effect on the small business community, which continues to suffer from cash flow restrictions and other financial pressures. 
Confident that the AmEx-Amazon partnership will be supportive, Colin O'Flaherty, General Manager of UK Global Commercial Services at AmEx, commented that this was a continuation of the company's long-standing service to SMBs:
"We have been serving small businesses for over 60 years [...] With many UK SMBs facing financial hardships, we want to make it easier for businesses to manage their finances and continue accessing the goods and products they need with more options to pay. 
"We know that a vast number of the UK's businesses rely on Amazon's wide-ranging products and services and are excited to launch this powerful and flexible new payment tool that will allow small businesses to select how to pay, purchase by purchase."
Dave Brittain, Director of Amazon Business UK, added that, since the two companies share a similar vision, the partnership felt like a logical arrangement.
"We're incredibly proud to launch this Card programme as it offers small business owners and entrepreneurs the best of both companies: the convenience and value they have come to know and love from Amazon, underpinned by the world-class service, benefits, access and security of American Express. 
"These benefits have never been more important at a time when businesses are navigating the challenges and uncertainty which Covid-19 has presented," he said.