Bill Webinar: Future-Proof Supply Chain & Finance Operations
Thu 08 Jun - Fri 01 Dec, 2023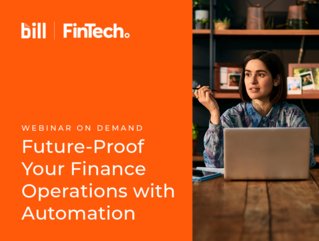 Webinar on demand
Supply Chain & Finance Webinar with cloud software provider Bill - featuring Dave Glennon, Partner of Eide Bailly and Colin King, CFO of USA Brands
Supply Chain & Finance Webinar with cloud software provider Bill - featuring Dave Glennon, Partner of Eide Bailly and Colin King, CFO of USA Brands.

Labor shortages and supply chain disruptions are among the top challenges businesses continue to encounter. Watch this webinar on-demand now to hear insights from manufacturing industry expert Dave Glennon, Partner at accounting and consulting firm, Eide Bailly. Dave Glennon is also joined by Colin King,the CFO of USA Brands, who shares his advice on streamlining finance operations to support the company's growth.

Learn:
• How to recognize when it's the right time to automate your back office.
• How automation can help scale your operations.
• What businesses should keep in mind when considering finance automation.
This webinar is on-demand now. Watch here.
About the Presenters
Partner/Manufacturing Industry Leader, Eide Bailly LLP
Eide Bailly welcomed Dave on board in 2000, and since then he has provided audit and accounting services to a variety of clients, including SEC-registered entities, closely-held commercial enterprises, insurance companies, pools, and trusts. His client work also includes engagements with large, multi-location organizations as well as management consulting to help companies handle their financial reporting obligations.
This webinar is on-demand now. Watch here.
Chief Financial Officer, USA Brands
USA Brands LLC was founded in 2022 by Joe Van Deman and Colin King with the intent to buy and build American-made apparel companies. USA Brands owns and manages two apparel brands: All American Clothing and The Vermont Flannel Company. Colin graduated from Indiana University with a master's degree in accounting. He spent two years as an auditor with Ernst & Young, where he obtained his CPA license. He then spent six years in senior investment roles with Kirr, Marbach & Co., an Indiana-registered investment advisor.
This webinar is on-demand now. Watch here.

BILL is a leading provider of cloud-based software that simplifies, digitizes, and automates back-office financial processes for small and mid-sized businesses. Our customers come from all industries, ranging from startups to established brands and nonprofits to franchises.