SCALE Global Summit 2023
Mon 22 May - Thu 25 May, 2023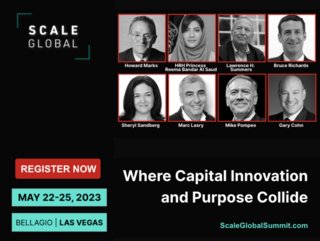 SCALE Global Summit 2023
We invite you to SCALE Global Summit, which will take place May 22nd -25th at Bellagio in Las Vegas.
Together we have the power to shape the future of capital, innovation, the global economy, and society.
SCALE is the premier thought leadership gathering for the investment and entrepreneurial ecosystem. It brings together world-class investors, entrepreneurs and thought leaders – from the intersecting worlds of finance, technology, politics, entertainment, and philanthropy.
Visit the SCALE Global website to see our power-packed line-up and agenda, with highlights including:
Mike Pompeo, 70th U.S. Secretary of State (2018-2021) & Director of CIA (2017-2018)
Boris Johnson, Former Prime Minister of the United Kingdom (2019-2022)
Ambassador Reema bint Bandar Al Saud, Ambassador of Saudi Arabia to the USA
Larry Summers, Former United States Secretary of the Treasury for President Clinton & Former Director of the National Economic Council for President Obama
Jewel, Singer/Songwriter, New York Times Bestseller & Mental Health & Mindfulness Advocate
Steve Aioki, Grammy-Award DJ & Entrepreneur
Bill Barr, 77th & 85th U.S. Attorney General
Gary D. Cohn, Former Director of the U.S. National Economic Council
Joshua S. Friedman, Co-Founder, Co-Chairman & Co-Chief Executive Officer, Canyon
Joel Holsinger, Partner, Portfolio Manager & Co-Head of Alternative Credit, Ares Credit Group
Margaret Hoover, Host of Firing Line
Dr. Mark Hyman, Educator & Advocate in Functional Medicine | 13th-Time New York Times Best-Selling Author of Young Forever: The Secrets to Living Your Longest, Healthiest Life
Howard Marks, Co-Founder & Co-Chairman, Oaktree Capital Management
Marc Lasry, Founder of Avenue Capital Management & Owner of the Milwaukee Bucks
Bruce Richards, Chairman & Chief Executive Officer, Marathon Asset Management
Mark Spitznagel, Founder & Chief Investment Officer, Universa Investments L.P.
Karl Rove, Former Deputy Chief of Staff & Senior Advisor to President George W. Bush
Dan Rosensweig, Chief Executive Officer, Chegg
Sheryl Sandberg, Founder, Lean IN
Mark Wahlberg, Actor, Producer & Entrepreneur
Steve "Woz" Wozniak, Co-Founder Apple Computer