Cybercrime in Fintech: Illicit Crypto Is a Growing Problem
Cybercriminals made $14bn USD from scams, theft, and other illicit activities related to cryptocurrencies last year, according to a report by Chainalysis
The rise in cryptocurrency-related crime is likely due to the increasing popularity of digital currencies and the corresponding increase in value. Criminals have also become more sophisticated in their use of blockchain technology.
Cryptocurrencies have been one of the most talked-about topics in recent years. The idea that anyone can send money to someone else without a third party like banks or fintech companies is revolutionary.
However, with this freedom comes responsibility, and criminals are taking advantage of it to make themselves richer.
According to a recent study by Chainalysis entitled 'Crypto Crime Trends for 2022', criminals have made $14 billion USD from cryptocurrency-related crimes in 2021.
This growth of 567% compared to the previous year shows that cryptocurrencies are a significant target for criminals.
What types of criminal activity were most prevalent in the cryptosphere?
The three most popular crimes were scams, stolen funds and darknet related activities.
Scams are when criminals deceive people into sending them money or giving away personal information.
Stolen funds are when criminals take money that has been stolen from exchanges or individual users.
Darknet related activities are when criminals use the dark web to buy and sell illegal goods and services.
Although most businesses and regulators believe ransomware to be the most prevalent form of crypto-related cybercrime, Chainalysis found it to be only the fourth most frequent.
Nonetheless, even though the value of cryptocurrency-related offences was greater in USD terms, the share of illicit transactions in the cryptocurrency ecosystem went down from 3.37% in 2019 to 0.62% in 2020 and bottomed at 0.15% in 2021.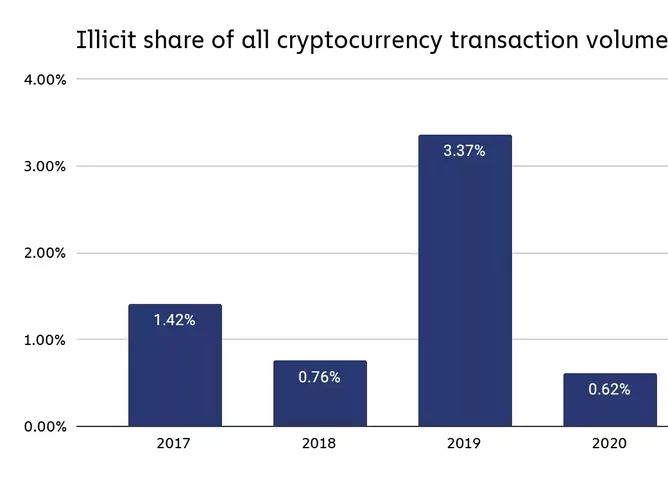 What can be done to combat cryptocurrency-related crimes?
While it is difficult to stop criminal activity completely, individuals and organisations can take the following steps to make it more difficult for criminals to make money from cryptocurrencies.
First, the crypto community can deter criminals by making it more visible their transactions are not anonymous.
Second, there should be greater cooperation between law enforcement agencies and crypto businesses to share information about serious criminal activity.
Third, a new and centralised crypto enforcement agency must be created where businesses can report suspicious activity.
Fourth, fintechs should educate users on how to protect themselves from cybercrime.
Finally, regulators need to create an international framework for cryptocurrencies to protect people while still allowing innovation.
Innovation in the crypto vertical continues
Although criminals are making more money from cryptocurrencies, it is essential to remember that most people who use them do so legitimately.
In January 2022 alone, several major firms have made numerous crypto-related announcements, from Signal Messenger rolling out crypto payments to PayPal looking at the possibility of launching a stablecoin.
Cryptocurrencies are still a new space, and it is expected that they'll continue to develop.
This development means that businesses and individuals need to stay vigilant and be prepared for new threats.
However, with the proper precautions, cryptocurrencies can continue to be a safe and secure way to conduct transactions.
Where there are threats, there are also opportunities
As more companies and individuals seek safety and security, some look at insurance-related services to protect themselves against any potential losses.
Crypto insurance is a new vertical of cyber insurance, and as the cryptocurrency industry matures, it is expected that more insurtech businesses will enter the fintech space.
One of the players in the field includes Coincover, a UK-based company that provides crypto-insurance underwritten by Lloyd's of London, a centuries-old insurer now providing cover for digital assets.
The bottom line
Cryptocurrencies are a valuable target for criminals, and the number of offences related to them is expected to continue to grow, at least in line with crypto adoption.
However, by taking the proper precautions, businesses and individuals can use cryptocurrencies safely and securely.
In conclusion, while it is essential to be vigilant and take the proper precautions against possible threats, there are also business opportunities for those prepared to take positive risks.
***