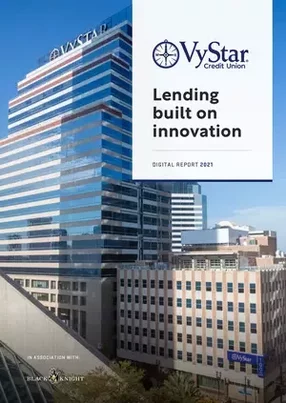 VyStar Credit Union: Lending built on innovation
'Technology-focused with the heart of a credit union' - VyStar Credit Union drives loyalty among its members who rely on them for affordable lending
"Technology-focused with the heart of a credit union" is how Jennifer Lopez Kouchis, SVP, Real Estate Lending at VyStar Credit Union, describes the US-based credit union, which boasts a rich military legacy and a strong commitment to serving members from all backgrounds with innovative products and services
VyStar Credit Union is embracing the drive for innovative technology to enhance the customer experience when it comes to real estate lending and is also helping innovative fintech start-up's for its members.
As the largest mortgage lender in Northeast Florida, VyStar Credit Union has a growing field of membership that is open to a wide range of Florida and Georgia residents, as well as past and present military members and their families all over the world. It is a not-for-profit, financial cooperative owned by its members and governed by a volunteer Board of Directors and has more than more than $US12b in assets.
The focus of VyStar is to combine the best benefits of credit unions – personalised service, low fees, great rates and best-in-class products – with a commitment to giving back to the communities it serves. This makes finding affordable, quality financial products and services a reality for their members.
For the past two years, VyStar Credit Union has been investing millions of dollars in cutting-edge fintech organisations, both on its own and more recently as part of a consortium of credit unions which has allowed the organisation to roll out technology that will benefit its members. 
VyStar's individual tech-based startup fund started at US$10m in September 2019 and has grown to about $50m, said Joel Swanson, VyStar's Chief Member Experience Officer. The credit union is part of the Curql Collective, a coalition of almost 50 credit unions across the country that raised more than US$70 million from its first round of funds and is on course to raise more than US$200 million. 
VyStar believes the cornerstone of success for financial services organizations is rooted in their ability to remain innovative. That ensures the organisation maintains a competitive edge, remains attractive for members and prospective members and keeps ahead of the pace with market expectations. VyStar sees investments in fintech companies as opportunities to move the organisation forward in support of its members.
How VyStar Credit Union is built on a military heritage 
VyStar was founded in 1952 as Jax Navy Federal Credit Union at Naval Air Station Jacksonville. The goal was to serve the financial needs of military service members, civil service employees, and their families. Since then they have adapted to changes in the banking industry, from adopting their first computerised accounting system in 1966 to opening their first ATM in 1982. 
In 2002, they changed the name to VyStar Credit Union and expanded their field of membership to non-military members. Today, the credit union has grown to become one of the largest credit unions in the US, serving more than 780,000 members. VyStar is a member-owned and member-managed financial cooperative.
"We feel it is important to reflect the communities we serve. That means having a staff that understands them and offering products and services that work for them and as our membership evolves it is important that we evolve with them and their expectations," said Kouchis speaking from their headquarters in Jacksonville, Florida. 
Digital transformation
Digital transformation has helped VyStar focus on speed, personalisation, and convenience for its members. "Digital transformation allows us to streamline processes and gain efficiencies by obtaining documentation and more data immediately up-front, bringing convenience and simplification to the process by leveraging technology throughout the mortgage journey," said Kouchis.
"In turn we were able to gain speed, render quicker decisions and close mortgage loans faster to keep up with demand and market expectations.  Members are receiving underwritten approvals much faster, eliminating frustration with unnecessary fallout and delays late in the process.
"Creating efficiency ultimately allows us more time to focus on what we do best, which is taking care of our members. I also believe it broadens our audience, our members and future members range across every generation."
Member First workflow
Kouchis outlined how VyStar created a customized journey within their Loan Origination System (LOS) and how they moved to an up-front underwriting process. "Our Member First workflow has transformed our mortgage process at VyStar, by creating a better experience not only for our members, but our employees too.  We have been able to eliminate unnecessary touchpoints by our team and have created a linear process which in-turn creates speed.  
"With the new workflow we have created milestones within our LOS technology, with easy-to-use checklists embedded into the system as well as automation where feasible to ensure files are submitted with the necessary information and documentation to render a timely decision.  Another piece to making this workflow successful is the specified timing gates which requires a OneTeam focus in supporting our members through their journey.  
"As a result, our team's quality has increased by over 30%, pull-through percentages have increased by almost 10% and our turn-times have declined which has resulted in positive responses across our membership as well as the Realtor community.  Our members are receiving underwritten approvals faster, eliminating frustration with unnecessary fallout and delays late in the process.  This continues to support our focus of finding innovative ways to serve our members."
Commenting on what gives VyStar Credit Union its competitive edge, Kouchis said: "First and foremost, our people. We have some amazing talent across the organisation who are committed to providing a first-class experience to our membership.  Next, we are committed to creating one-of-a-kind products and services, finding innovative solutions that deliver value to ensure we provide our members and future members with an unbelievable experience.
Agility to help members during the pandemic
When the pandemic hit in March 2020, VyStar was agile and pivoted at a moment's notice to offer more than US$121m in mortgage forbearance to their members.
"The COVID-19 pandemic created a boom for new home purchase loans (those finding they need more space or a place of their own) and home refinancing as the media touted the lowest rates ever.  With this, we had to pivot and look internally on ways to support this supply and demand, especially with the competition or new- digital lenders, all while maintaining an exemplary member experience. 
"Our team achieved incredible success and supported our members when they needed us most during the pandemic. That included offering US$121mn in mortgage forbearance to our members so they could focus on what is really important, which is supporting their families," commented Kouchis. 
"Specific to technology, it was the need to implement more innovative solutions and process improvement within our Real Estate Lending team. Looking for technologies that can exchange the loan information, seamlessly and securely, while creating a better experience. 
"The power of resilience and the ability to change course at a moment's notice was vital during the pandemic.  This year has been incredibly challenging, but also a year to be truly grateful for. It was all about people helping people."   
VyStar acted to support changes in demand triggered by Covid by increasing their teams who put in the additional hours to serve their members. Staff worked extra hours to submit applications as part of the Paycheck Protection Program, adjusted branch operations to accommodate members.
"We really had to look internally for ways to streamline our process and create efficiencies (quick hits first) with system enhancements, automation and then worked our way to major process improvement with the most notable change for us being within our workflow, which we refer to as Member First.  We also sought out technology that could add value within our journey such as E-Close through our Hybrid and Full Remote Online Notary (RON)." 
Military Heroes Program
VyStar is honoring its military roots with the launch of The Military Heroes Program which will include several features such as grant programs up to $10k, 100% financing with no PMI, and access to a VyHero Mortgage Support Team, to name a few.
"Our legacy is rooted within our military and civil service families, and we continue to create innovative products and services in support of them. Specifically, within Real Estate Lending, we are launching a Military Heroes Program, which we are extremely excited about. We took a unique approach to building this product by surveying our military families and those with affiliations to find out what they wanted to see and would benefit from most through this program," said Kouchis.
"Most of our team are military certified specialists which means that we take it seriously. We want to understand the challenges their families go through and help them in innovative ways to access the mortgage financing they need."
"In addition, the Heroes helping Heroes initiative will involve a charitable component that supports VyStar's commitment to being a strong community leader in addition to a trusted financial institution. "It has been a great and humbling experience to build this in tandem with our heroes for our heroes," commented Kouchis.
Future strategy for VyStar Credit Union
Kouchis highlighted what we can expect from VyStar Credit Union going forward in terms of technology and strategy. "I believe you will continue to see some exciting innovation from VyStar as we are technology-focused with the heart of a credit union.  We understand the value that technology brings when it comes to member experience as well as growth and serving our members and future members."
Focusing on how homeownership is going to evolve over the next two few years following the fallout of the pandemic, Kouchis said: "Inventory is a hot topic today, so we may see more innovation around the building process.  
"Personally, I am hoping that as some markets experience rising home values, programs will continue to flourish in support of affordable home ownership. I think this is critical to our communities. You will continue to hear exciting news from VyStar as it relates to leveraging technology and FinTech partnerships. VyStar has the resources and capabilities of the banks, the innovative spirit of modern FinTech's and the heart of a credit union."
Power of partnership with Black Knight
Jennifer Lopez Kouchis, SVP, Real Estate Lending at VyStar Credit Union explains the importance of their partnership with Black Knight, a provider of integrated software, data and analytics to the mortgage industry and why she believes this will be transformational.
"We are excited to be partnering with Black Knight, an industry leader who is local to Jacksonville, Florida. It's great to have such a dynamic partner who understands what it means to be rooted in the community," commented Kouchis.
Why was Black Knight selected as the Mortgage System Platform and LOS solution by VyStar?
"Black Knight has the mortgage industry's only end-to-end, fully integrated, enterprise solution that is designed to digitise the entire mortgage life cycle.  Adding Empower to MSP provides for straight through processing.  Automating the process accelerates the loan cycle, boosts productivity, creates scales of economy and prepares for shifts in demand to better serve our members.  The enhanced servicing with Empower from retention, cross sell, assumptions - makes our servicing platform a growth engine." 
Technology is now about the ecosystem, please could you explain more about how the Black Knight Financial Services partnership will help VyStar?
"At the heart, a mortgage lending ecosystem is technology. This allows us to evolve, streamline the process and respond to the ever-changing environment, while improving service levels.  A few items that drew us to Black Knight include the Under-One-Roof integrations which allows us to reduce cost and respond to change, as well as the True Self-Service experience.  We feel the Black Knight technology will be transformational and members can expect an enhanced single experience that can be accessed wherever they are and whenever they want, with a focus on exceeding member expectations."
How will Black Knight support VyStar's expansion efforts within Real Estate Lending?
"They are a full-service origination and servicing solution which will allow VyStar to expand and support "local to global growth efforts". We feel by leveraging both the MSP and LOS will allow us the opportunity to expand quickly to support our growing membership." 
How will the VyStar and Black Knight partnership impact the member experience? 
"We will be able to serve our membership in an innovative way by anticipating when it may be in our members best interest. For example, taking advantage of lower rates or equity in their home.  We want to change the landscape and be there for our members through every stage of life by providing them with insightful information up-front.  This is when we can provide a best-in-class service and support, leveraging the information we have and by removing roadblocks to accelerate the loan process."