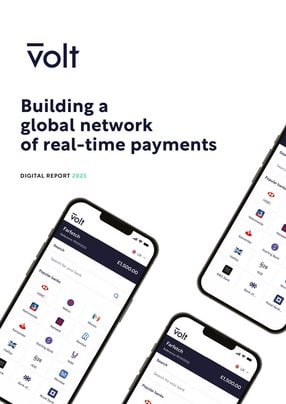 Volt: Building a global network of real-time payments
Volt Founder and CEO, Tom Greenwood, discusses his growth as an entrepreneur and the company's aim of building a global network of RTP providers
Nobody can achieve success in any field, let alone financial technology, without possessing a flair for innovation. This is how Tom Greenwood, Founder and CEO at Volt, was able to cultivate a career in fintech leadership which has stretched for over 20 years.
It was in 2013 when Greenwood "saw the very early signs of embedded finance" at IFX Payments, a company he co-founded in 2005. Building a product at IFX called ibanq, a banking-as-a-service (BaaS) platform, which was one of the industry's first to flirt with embedded finance. Greenwood oversaw ibanq's strategy and build, which today processes over US$15bn annually.
Founding IFX, alongside CEO Nick Williams, Greenwood – as Chief Operating Officer – oversaw business operations and strategy, regulatory, legal and compliance; significant functions of the business.
At the time of its founding, IFX Payments actually pre-dated fintech; it functioned as a foreign exchange, hedging and treasury risk management platform. Greenwood's product, therefore, helped shift the course of IFX' corporate identity into a new age of fintech.
From IFX to Volt
With ibanq flying high and a well-established product by 2018, although most might have been – Greenwood was not settled.
Possessing a drive to continue innovating, Greenwood had been studying the revised Payment Services Directive (PSD2) – which, back in 2018, established Open Banking as a regulatory requirement for financial institutions, marking the dawn of data sharing and payments between banks and authorised third-party providers.
"After reading about open banking in PSD2, I knew that real-time account-to-account payments could be hugely disruptive to the Visa and Mastercard duopoly," Greenwood says."It gave me an idea that, ultimately, I couldn't let go of."
In the end, following his calling for further innovation, Greenwood parted ways with IFX to establish Volt, which he had already started doing preliminary planning work on, including feasibility and prospect analysis.
Now four years on from its founding in 2019, Volt has just closed US$60m in Series B funding led by Institutional Venture Partners (IVP), setting it on a path to continue its exceptional growth rate.
Being Founder and CEO of Volt
With this latest round of funding in the bag, Greenwood admits he is happy with the company's progress so far, although "there is still a long way to go" in Volt's plans for even greater growth.
It's this drive for continued scaling that keeps Greenwood hungry. "I enjoy the journey, and the problem-solving, pushing the boundaries to ensure we see opportunities that others don't," adds Greenwood.
Although there are challenges to being a CEO, such as figuring out "where the pieces go in the jigsaw puzzle we're building", Greenwood enjoys the challenge that being a founder and CEO brings.
"I get restless if I'm not having an impact," notes Greenwood. "As CEO, you have to do the blue-sky thinking and strategy building. There's a journey element to what we're trying to achieve. Completing these journeys is something I take great satisfaction from."
However, for Greenwood, being CEO is more about the team than himself. "When someone joins the company in a junior role, seeing them two years later unrecognisable from when they arrived, gives me great pride."
Admitting he won't be at Volt his whole life, the ability of the company as a collective to nurture and grow new staff is something that gives Greenwood gratification.
Of course, being a Voltologist means "building the best products to beat the competition", and achieving personal growth comes through overcoming challenges.
Greenwood says: "It's about how we as an ecosystem can work together to challenge one another, to think outside the box and to problem solve, to break new ground and define our destiny through meaningful collaboration."
Volt has been applying its workplace culture to achieve success too. "We've exceeded expectations in the four years we've been operating. We've attracted world-class talent from some of the largest payments companies in the world."
"We are a performance-orientated team of performance-oriented people, who live by a performance-oriented culture. But that's never at the expense of ego. We expect openness, collaboration and humility."
Volt: Disrupting the financial services establishment
Leveraging a positive workplace culture with innovation, growth and teamwork at its core, Volt has been able to disrupt the industry with its real-time payments (RTP) offering.
As put by Greenwood: "The technology powering Visa and Mastercard was imagined and implemented in the 1950s and 1960s. We have nothing but respect for the businesses both have built, but their technology is ripe for disruption."
Greenwood's claim is by no means baseless. With the US Federal Reserve recently launching FedNow, its federal, centralised RTP service for businesses, the US economy has been slated to receive a timely boost.
This is not the only RTP service on offer in the US either, with private options also available to consumers (Zelle, The Clearing House). RTP is worldwide too; Faster Payments operates in the UK, SEPA Instant is the EU standard, UPI in India and Pix for real-time payments in Brazil.
Different RTPs for different markets, these services are inherently domestic and fragmented. Where Visa and Mastercard have seen success, as Greenwood puts it, is in their ability to form "single proprietary global networks, which are centrally controlled and privately owned".
This is where Volt comes in. "Whilst fragmentation is a challenge for RTP adoption, it's also an opportunity. We're positioned in the RTP space to do what Visa and Mastercard did for debit and credit cards."
Aiming to build a global network for RTP everywhere, Volt hopes to bring each domestic RTP offering into a global network. Each RTP provider "fundamentally has the same expertise and each does the same thing", adds Greenwood.
Volt: Building a global network of RTP providers
However, building a global network of RTP providers is somewhat different from the accomplishments of Visa and Mastercard, in fact – as a by-product of open banking – RTP offerings bypass everything these behemoth card providers offer.
Greenwood notes: "RTP is a next-gen payments system based on API calls to account-based payment instruments. These allow you to initiate a payment, circumventing card schemes in real time from one bank account directly to another.
"Because open APIs and account-based payment instruments weren't possible before, card networks have acted as a layer scheme that built interoperability between bank accounts.
"But there are typically four or five intermediaries between those bank accounts. Your data and money flow through each of them. That's why it takes days for your money to arrive when paying by card."
Using the example of Pix in Brazil, Greenwood remarks that a "28-day card settlement became two seconds, costs were reduced by 80% and chargebacks were eliminated" when consumers shifted to RTP to complete transfers.
It's no wonder Greenwood calls RTP an architectural revolution in the world of payments. And for Volt, the mission is to continue "building an orchestration layer, connecting RTP to a single point of access, to a single protocol, making each RTP network interoperable and accessible globally".
Volt is already some way to achieving this aim, integrating with Faster Payments in the UK, SEPA in the EU and Pix in Brazil.
With Series B funding now secured, Volt is on track to expand its 'network of networks' by integrating with the newly-launched FedNow in the US, NPP in Australia and UPI in India.
"We're building the future of payments," remarks Greenwood, "Our global RTP network, the world's first, leverages domestic RTP implementations and harmonises them to the same point of access with a single infrastructure accessible to all."
Volt: Diversifying services in a global RTP network
Still in the process of building a global network of RTP providers, Volt hopes to offer a full suite of services enabling payment teams to solve practical business problems, managing payments effectively and efficiently across the value chain.
As Greenwood puts it: "Building an RTP network and cross-border services is one revenue stream, but cash management, payouts and disbursements are others. Additional value-add products allow us to build a diversified revenue strategy, by geography and by product."
Beating the competition to create a global RTP network
Evidently, Volt is not the only player looking to build a global RTP network. Regardless, Greenwood feels his company's unique product strategy, centred around orchestration, will be key to Volt as it aims to take a significant market share.
"In Europe, we partner with several connectivity partners, which allows us to benchmark performance and optimise conversion for payment success," says Greenwood. "From day one, we've believed in replicating the multi-card acquisition strategy that companies have implemented for many years.
"Payments is increasingly a performance-oriented business. Saving a merchant 2% on conversion performance makes a huge difference to their bottom line. We've always had an approach to orchestration, which card companies have been doing for many years.
"We took the best learnings from the cards environment and thought carefully about not reinventing the wheel. How do we replicate and build on these 30 to 40 years of learnings in RTP?
"Doing so not only allows us to build a performance-oriented platform that delivers the best conversion and payment success outcomes for merchants; it also gives us security and redundancy in everything we do."
The age of network creation in financial services
The advent of RTP payments, expedited as a result of open banking legislation, has given Volt a platform to deliver a network of globally integrated RTP providers. It is not the only beneficiary of open banking, as more ecosystems emerge across the sector in partnerships between banks, fintechs and insurers.
In an age of network creation and ecosystems in financial services, Greenwood says it's important to treasure the synergies of working in partnership while understanding you're "in a competition on certain fronts".
He adds: "What's important for us is platformisation and problem-solving. You're not going to solve all of the problems yourself. Any business needs to identify its area of expertise, ensure it's doing that well, and leverage great partnerships."
"This is key to building a global platform that solves problems. A business owner must always ask: What is the pain point we're addressing? Who are we helping? Why is this important? These are the key ingredients to building a successful business."
For Volt, the problem it's solving is clear, as it continues its mission of building a global network of RTP providers.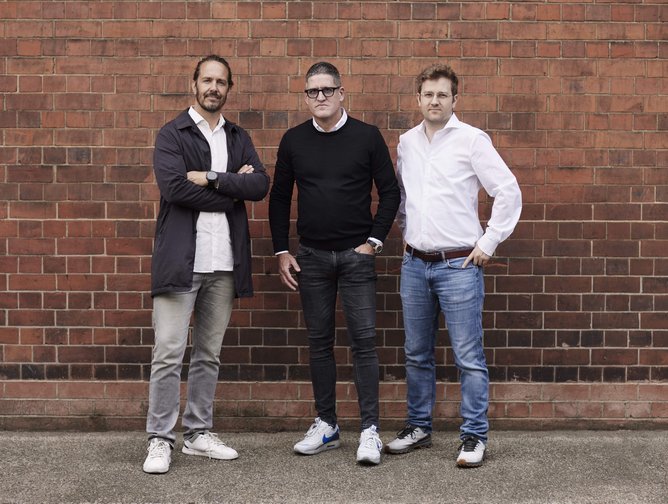 Volt.io team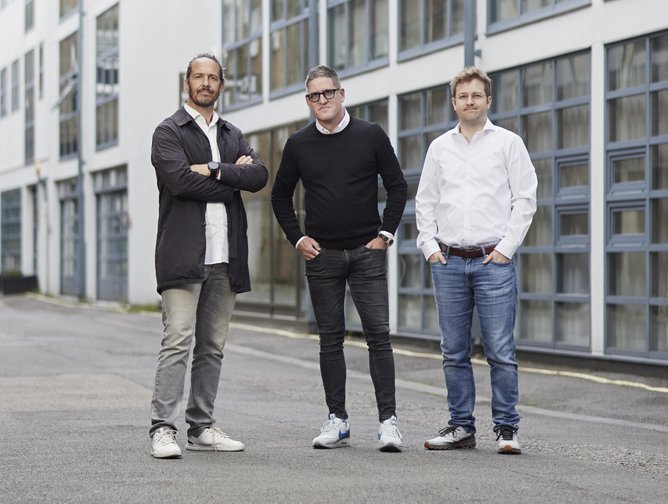 Volt.io team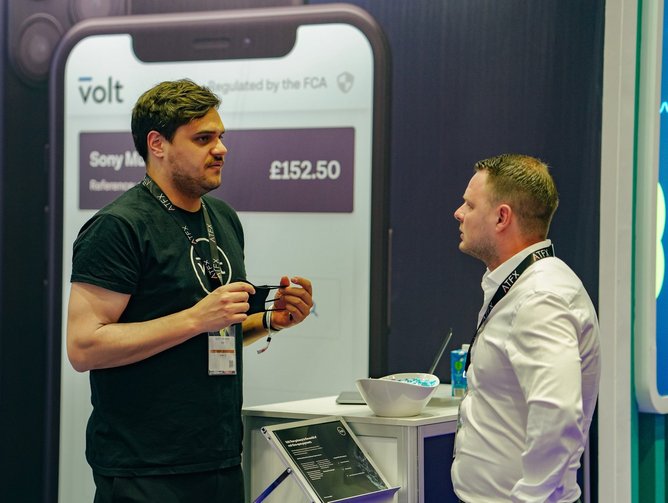 Scott Thomson and Volt.io team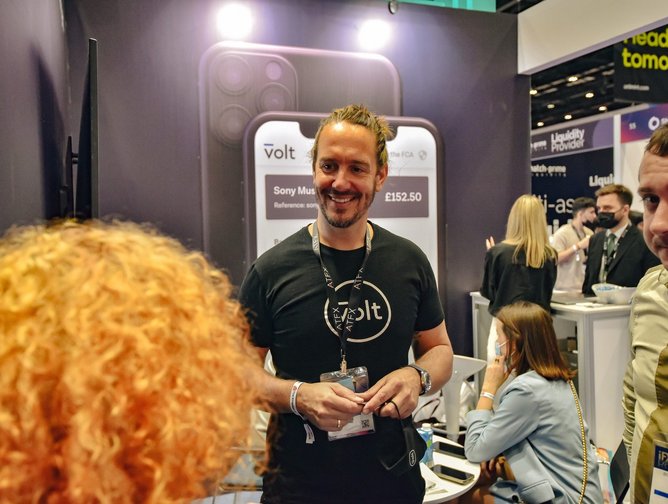 Jordan Lawrence