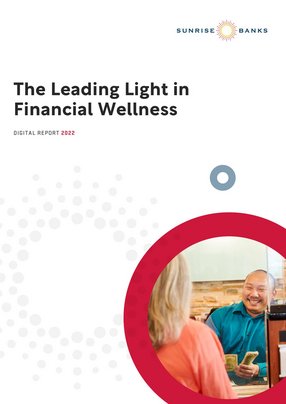 Sunrise Banks: The Leading Light in Financial Wellness
The pioneering community bank partnering with fintechs to serve the underbanked and build a digital future of financial wellness
Financial wellness has become a core tenet for the global banking sector. It is a commitment to provide customers with the tools, knowledge, and products to better their lives through financial stability and inclusion. For some banks, that means a marketing campaign, or access to online content about saving, investment and loans. For others, it is a suite of products designed to reach the underbanked or serve communities who need access to niche financial services. But at Sunrise Banks, financial wellness is everything.
Founded in 1986 by the Reiling family, Sunrise Banks has served communities in the urban core of Minneapolis and St. Paul, Minnesota, for more than 35 years. The US$1.7bn bank is on a mission to be the most innovative bank powering financial wellness.
"The mission does really provide the baseline for everything that we do," says Bryan Toft, Chief Revenue Officer, Sunrise Banks. "We see ourselves as a social entrepreneurship organisation, and a social engine for good."
It is not a new mission statement; Sunrise Banks placed financial wellness and inclusive access to financial services at the heart of its operation from the start. The bank began serving St. Paul's Hmong community, which was both underserved by the traditional banking system and required access to innovative financial products. That community bank core remains key to Sunrise's role in the lives of its customers today, offering a full suite of foundational banking services, New Markets Tax Credit lending, Small Business Administration (SBA) lending, and much more.
Powering Financial Wellness
"We are always looking at how we can improve the core three things: increase access, lower the cost, and mitigate the risk," says Toft. "Those are the things we look at when we're trying to innovate and figure out how can we best serve those customers and provide those services in a better, faster way."
This is inclusive banking with purpose, "and we're held accountable in a few different ways," Toft adds. "We are a Community Development Financial Institution (CDFI), which means that at least 60% of our loans are made in low-to-moderate-income census tracts, and we have to certify that with the US Treasury every year.
"We're also a certified B corporation, and we have to provide a lot of transparency and accountability about our business. We have been named Best for the World by B Lab for eight years in a row," he adds. "And that really is unique. We're the only CDFI bank in Minnesota — there are roughly 250 others across the country, but we're the only one in Minnesota — and it's really not easy to hit that designation, because you really do have to focus on those core low-to-moderate-income areas."
Now Sunrise Banks is extending its inclusive banking philosophy and the capabilities to serve more communities across the US through partnerships in the fintech sector. This is a dynamic that has become commonplace across the banking landscape. Fundamentally, the incumbent bank, Sunrise, does the heavy lifting on the 'back end', moving, lending and storing money, and ensuring compliance. Fintech partners can leverage that scale and wealth of expertise to benefit their customers, offering modern, digital customer experiences and access that consumers demand.
It is a symbiotic relationship, and a natural next step for Sunrise Banks to increase its impact, says Toft: "We need to understand that the fintech owns the customer relationship, and yet we're held accountable for the compliance and the regulatory accountabilities with those customer relationships. So there definitely is a partnership there and we need to know what our partners want to do in the future so that we can start to give guidance on where things need to be from a compliance standpoint."
Partnering for Purpose with Fintechs
One of Sunrise's first key partnerships in the space is with Mobility Capital Finance, Inc. (MoCaFi), a fintech founded by Wole Coaxum. A banking veteran of both Citi and JP Morgan, Coaxum became frustrated by the limits of traditional banking and founded MoCaFi to deliver access to financial services to the communities that fell through the gaps.
"There was a large number of people within our society that were not well served by the traditional brick and mortar banking infrastructure," he says. "But the evolution of technology as it relates to banking means that no longer do you have to tie your banking resources to a geographic location. I was attracted to how I might use my training and experience, and the emergence of some pretty exciting technologies, to reach parts of the market that have otherwise been overlooked by some of the more traditional banking operations."
MoCaFi is focused on closing the racial wealth gap in the US. A staggering 50-55% of African Americans and Latin Americans are unbanked or underbanked, face prohibitive access fees, and are unable to build credit and wealth under traditional systems. Partnering with Sunrise Banks allows MoCaFi to address that inequality.
"This is why the partnership with Sunrise Banks is so terrific," says Coaxum. "Their values in terms of helping underserved communities on a consistent basis, not as a project, but core to their mission, has allowed us to innovate.
"The key component that you're looking for from a partner bank or a sponsor bank is a strong compliance framework and regimen. Part of the innovation is how we innovate within the framework of the rules that are set. If you do that well, you have a chance to grow, and we've been able to do that as it relates to how we provide bank accounts to everyone in the community."
The great irony, as Coaxum sees it, is that this is not philanthropy: focussing on diversity, equity and inclusion for all actually leads to success. "You actually run a better business, you have access to more markets, and you can run faster and run further," he says. "Having that as a core value is why Sunrise is so great, because they believe in that, and they live it every day."
Data Fuels Change
As with every industry, access to more data and more sophisticated data science will also play a vital role in building the inclusive bank of the future. More data means more innovation. It is the "holy grail", says Coaxum. "Having insights, and having the ability to act on those insights, is how you create a significant amount of value for the customer," he says. "Taking additional pieces of data, for instance, the activities that people do every day, and making that visible and using that to assess that individual is a great example of that. What you can do over time with data is create new markets, in terms of people who you might want to lend money or people you might want to do business with. This is great because we're always looking for new sustainable markets."
To support this, Sunrise is undergoing an ambitious digital transformation to supercharge its partnership programmes and provide more access to that data. "Right now we're going through a core migration of a lot of our operational activities to the cloud. That's going to allow more access to data for our fintech partners, more automation, more integration," says Toft. "Data really is the fuel that powers our fintech programmes and it's used for everything from compliance to billing to reconciliation to what Wole is saying, which is customer insights and analytics. Being able to provide that real-time data is a bit unique in banking. There are a lot of batch processes and end of day files, so we are moving quickly to be able to provide that real-time access to data so that Wole and our other partners can make decisions to move into new markets."
Building a Better Banking Future
In the coming 12 to 18 months, Sunrise will continue to build with both fintech partners and its customers' demands and needs in mind.
"Automating the ordinary and personalising the extraordinary is something we're saying a lot around the bank," Toft says. For fintech partnerships that means digitising and automating more operations and continuing to develop API capabilities. "We're just trying to get better and faster so that we can continue to scale with our fintech partnerships."
And for customers, it means meeting and exceeding expectations. "I think the expectation of speed is here today and everybody's still trying to catch up to where the consumer expects to be," Toft says. "There's this sense that in the future, every company is going to be a fintech company, and I believe that in some ways, with every day that goes by, technology becomes more and more important to a bank. That is going to be the key if we look ahead to 2030: really making sure that you have a core agile process for technology within your organisation. That's what we're building today."