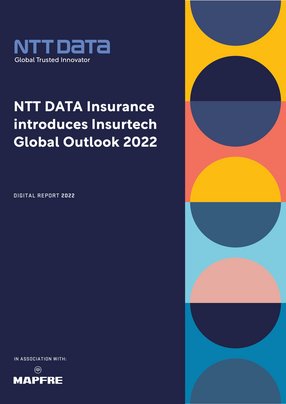 NTT DATA Insurance introduces Insurtech Global Outlook 2022
The IT Service & Consulting firm has just released a new edition of its annual report, focused on the Four Forces of Acceleration of the Insurance Industry
If Insurance is about a compensatory rebalancing of the scales in the event of a specific loss, data is the fulcrum that sustains it. The more accurate the data, the better insurance provisions there will be. In the Insurance world, this is axiomatic. NTT DATA has apprehended this fact, and provides analyses which broaden the horizons beyond traditional players - those assumed, thus far, to be the only players of any substance in such calculations.
It may be said that traditionally, the potential data utilised by insurance companies has been quite reductionist in its scope, with methodologies defining rigid and restricted parameters, or 'pools' of interest, and generally focusing solely on the obvious forces of Insurance companies and now, Insurtechs.
NTT DATA is challenging such assumptions by expanding these borders with a more holistic approach to data analysis, with an understanding that data pools are inadvertently (and vitally), connected to data streams, with the implication of abounding oceans somewhere in the informational distances.
As NTT DATA launches its Insurtech Global Outlook 2022 Report, it focuses on 'The Four Forces of Acceleration', which expands the ambit of actuarial cause and effect, to including Insurtechs, Insurers and their Digital Garages, New Entrants and Tech Giants, and even Regulations, as part of Insurance Liquid Ecosystems.
In its basic essence, NTT DATA's main mission is to help its customers with their digital and technological transformations. "In other words, we support them in identifying and implementing the right technology as a pillar to transform their businesses," says Carlos Ordóñez, Head of Strategy & Advisory at NTT DATA Insurance EMEAL (Europe, Middle East, Africa, and Latin America). NTT DATA is the 6th foremost IT Consulting Services provider in the world.
Head of Insurtech, Richard Calvo says, "the sixth edition of our annual report," (from hereon 'the report'), "is the result of many years of learning and experience. We have evolved our originally, solely insurtech-focused report towards 'The Four Forces of Acceleration', because we have perceived that just by focusing on the investments in insurtechs, we could be too biased on the real and actual impact that other actors are also having on the Insurance industry."
The Insurtech Global Outlook 2022 Report's Methodology
The methodology of the report highlights its extent as well as its rigour. In the first phase, NTT DATA collected real-time data from over 4,341 startups, 1,076 Insurtechs, 203 insurers and investment arms, 46 Industry and Platform Giants and 25 Regtechs. This was sourced from both from the public and the private sectors, additional to the information gathered through NTT DATA's asset 'inttrend'. Their team of specialists in the insurance sector then proceeded to study the four samples, and complement them with top insights based on market-analysis.
The final stage consisted of a series of interviews with top Executives from leading insurance companies worldwide. Their perspectives and experiences allowed NTT DATA to build a more consistent and "in-the-field" vision of today's market and a reliable foresight of the future, with real examples on how the Four Forces of Acceleration are indeed influencing the industry.
Insurtech Market Booming in 2021, but Are They Impacting the Industry?
2021 was certainly a prosperous year for the Insurtech ecosystem. Its global investment reached $10B, which represents a 38% increase from 2020. However, the number of deals has decreased, which signals a consolidation of the market.
Noteworthy is the sustained flourishing NTT DATA observed, both in terms of investment attraction by these startups, but also of the intensity of such investments by insurance companies and other players in the arrival of new models and new technologies into the industry. In fact, NTT DATA has identified a sort of 'herd effect' when it comes to investment in new business models, considerably multiplying the valuation of these companies and accelerating growth.
Among these new product segments and applications for emerging technologies that seem to be leading the innovation in the sector, they have noticed the acceleration of digitisation, IoT (Internet of Things), freelancer models, Cybersecurity and the combination of Life and Wellness, which appear to have grown more than the average rate within the insurance market. This new framework showed that the Full Stack Insurtech foundation has created space for specialised and complementary businesses that can widen the innovation space.
This growth, moreover, is shown to be moving in two directions: an endogenous comparative growth between companies founded 10 years ago with those founded 5 years ago, and an exogenous comparative growth between Fintech and Insurtech companies. In regards to the latter, 2021 was marked by stock market correction movements in B2C neo-insurers, with a share-price plummeting of over 40%, while Fintech companies registered clear growth.
This indicates that Insurtechs have grown too fast in the recent years, but have kept a poor stock price performance after their IPOs (Initial Public Offerings), demonstrating little real impact and relatively low value creation or value perception in the market.
Other companies that NTT DATA considers value chain disruptors, in comparison to neo-insurers, are those that complement the value generation of insurers under a B2B model, creating real innovation and ensuring long-term sustainability of their businesses.
Innovation Does No Longer Come Just From Silicon Valley: Europe Stands Out, Asia Remains Steady and LATAM Begins to Emerge
Another very insightful fact is Europe's dominance in the entire investment concentration in 2021. Yet with fewer operations, the European continent has raised $1.2B in only three deals (such as Alan, Wefox and ManyPets - formerly Bought by Many), among which is the largest investment round in the year. This sets an indubitable turning point, in stark contrast to previous years' leadership from North America.
The growth of Venture Capital activity in Europe has grown more than three times, which has helped drive new models and attract investment from the insurance industry and Technology Giants in this region, hitherto neglected by the United States. The United Kingdom, Germany and France are the countries with the highest representation, although countries such as Israel, Spain, Switzerland, Denmark and Sweden are also gaining prominence.
NTT DATA's vision: The End of the First Wave of Innovation in the Insurance Industry
All the previous information NTT DATA gathered, allowed them to identify a resounding change in the Insurtech industry. While used to seeing a vertiginous and continuous creation of new Insurtechs since 2017, they have observed a continued and accelerated decline in the last two years, indicating an innovation exhaustion in the market.
In addition to contextual aspects such as the outcomes of a pandemic situation which inevitably reduced interest in more emergent models, NTT DATA has identified two indicators that signal the end of the first wave of innovation. First, an increased competitiveness in models related to distribution, and second, still-incipient technologies that have not yet found enough use cases (e.g. blockchain), or the adoption and adaptation of the first impacts for the Industry to actually believe in these models.
This, according to NTT DATA's analyses, will begin to kickstart a second wave, characterised by the increased maturity of the aforementioned technologies and the collaboration of ecosystems that will bring competitiveness outside the natural area of the organisation, as well as open the path in investment towards these new scenarios.
Insurers and their Digital Garages: Insurers Bet on Transformation Through Insurance-Related Startups
According to NTT DATA, Insurers' activity was also incredibly noteworthy. This presented a sustained increase of over 180% in startup investment, putting almost $18B into these companies in 2021. Although only $3B out of the total sum was directed to Insurtechs, they showed intense interest in startups that are linked to the Insurance Industry. Out of the $15B Non-Insurtech investment, almost 60% went to companies dedicated to Financial Services, Cybersecurity or Healthcare; three activities intrinsically linked to insurance. In this sense, there is not only a financial bet when investing, but insurers are seeking impact both on their organisations and on their customers.
This aforementioned 'herd effect' and the drop in interest rates, stimulated investment making the bet less risky. In addition to investing in startups close to the sector – with the aim of improving their own value proposition – we see how insurance companies are also entering other industries in which they can grow in customer base and incorporate new margins, now easier – since these activities are all occurring at a time when other sectors are entering the Insurance industry.
Digital, Hybrid and Embedded Distribution: A Mirror to Today's Insurance
Historically, the concentration of investments and the appearance of new models, entrants and technologies have always taken part in the Insurance distribution. 2021 has not been an exception and once again this part of the value chain has concentrated everyone's interest.
As opposed to the almost complete interest of insurers in Health in 2020, their investment this year went beyond the sanitary crisis. Insurers have proven to invest in Insurtechs within the Commercial line of business, and in business models related to distribution, especially those that leverage Embedded Insurance. They want to package their products in other industries where they are seeking to position themselves and have access to a much wider customer base.
If there is one thing that NTT DATA wants to highlight, it is that regardless of the great threat of technologies, entrants and models - there is no current replacement model, but rather a model of coexistence and competition. In the distribution market, despite being something to consider at a regional level (and even on the level of country and city), NTT DATA recognises that the role of the agent is still key, and predominant, as is the need to simplify and interact with customers in digital channels.
NTT DATA's Vision: Insurers Do Believe in the Power of Insurtechs as Sources of Innovation and Expansion
Either by investing or partnering with them, insurers appear to understand the impact of Insurtechs in the industry as enablers of disruption, and they have come to this conclusion without the lead of any other player, such as Tech Giants. Although they show a little bit of resistance when it comes to Insurance-related companies, preferring consolidated businesses, insurers are increasingly putting money into new business models and growingly opting for early-stage startups. However, they do so only to improve their own value chains, therefore investing overwhelmingly in companies linked to their markets.
New Entrants and Tech Giants: Industry vs. Platform Giants
According to NTT DATA, analysing the impact of New Entrants is not only limited to Technology Giants. They have segmented their analysis into two groups in order to achieve a more accurate and real picture of these players. First, they have what they refer to as Industry Giants, which are big Corporations that are leading a specific industry and where they could find names such as Tesla, Toyota and Daimler (in Auto) or GSK and Roche (in Pharma). On the other hand, they have the Platform Giants, which lead digital platforms for activities such as distribution, where they could highlight some such as Amazon or Tencent, sales, with examples such as Salesforce, or pure technological platforms for creating new products and services, such as the cases of Alphabet and Facebook.
In 2021 they saw that Industry Giants invested around $27B in startups and Insurtechs, while Platform Giants, also denominated as Tech Giants, funded almost $460B. This latter's overall investment in Insurtechs registers around $3B between 2020 and 2021, positioning themselves as the third most important group of investors in Insurtechs, increasingly closing the gap with insurance companies.
Tech Giant's Logics: Distribution and SMEs as Top Priorities for Investing, but Also Partnering with Insurtechs
The impact of Tech Giants in Insurance-related startups is low when compared to Non Insurance-related startups. However, it is a comparatively large portion of the total investments received by Insurance-related startups. By these latter, NTT DATA includes businesses linked to the Automotive, Healthcare, Financial Services, Home and Cybersecurity markets, given that 18% of Tech Giant's total investment is allocated in these sectors.
Tech Giants also proved to have a potential role as providers of Insurtech's needs in terms of Big Data analytics, Cloud services, Analytics, SaaS or AI computing platforms. In this regard, Tech Giants are seeking monetisation of their own technologies by investing in or partnering with startups. Furthermore, they are complementing their technologies, products and services ecosystems and enhancing their innovation power by absorbing more startups into their Ecosystems.
The Case of Tesla
Tesla's case is significantly highlighted for NTT DATA, as their approach to the Insurance industry strongly resembles that of a traditional insurance company. Tesla has launched an Insurance policy in Europe, along with Insurtech Qover as enabler, and Helvetia as subscriber-insurer, in addition to Van Ameyde as claims and mechanic's shop provider.
According to NTT DATA's vision and interpretation of their data analyses, Tech Giants are closing the gap with Insurers for the leadership of the industry. However, they stress the fact that Tech Giants do not want to compete or substitute insurance companies in the Insurance ecosystems, but do want to participate in the ecosystem, in parts of the Insurance value chain where they can get the margins expected and where they can play a relevant role, providing additional value for their own clients.
Regulations as the Motor for Innovation in the Insurance Industry
The insurance industry is one of the most regulated in the world. Although it can be perceived as an obstacle to progress on many occasions, regulation is a key factor.
When Technology, Insurance and Regulation come together, new possibilities and benefits are born for all actors involved, especially at a time of important and accelerated change. Regulation is also trying to adapt to these new times and, above all, to the speed and magnitude at which these changes are reaching different industries.
Regulatory Sandboxes, Regtech companies and the like, are here to stay. With regards to the former, more than 60 Sandboxes have been created in the past six years worldwide, which not only represent a possibility for adapting to technological innovations with the corresponding regulatory compliance, but also shows a consolidation of these test spaces in the Insurance Industry.
Likewise, Regulatory Sandboxes ease the adaptation of businesses to the constant regulatory framework modifications, complying with new demands and competitiveness. DORA, IDD, IFSR or GDPR are just some of the ever-changing and constantly growing directives and regulations that insurers must take special care of.
In a journey that gets closer and closer to the era of Open Insurance, compliance is a must. According to NTT DATA, regulations should no longer be understood as a source of control, as it has traditionally been perceived, but on the contrary, regulatory legislation has become a facilitator and an impulse for huge innovations in the industry.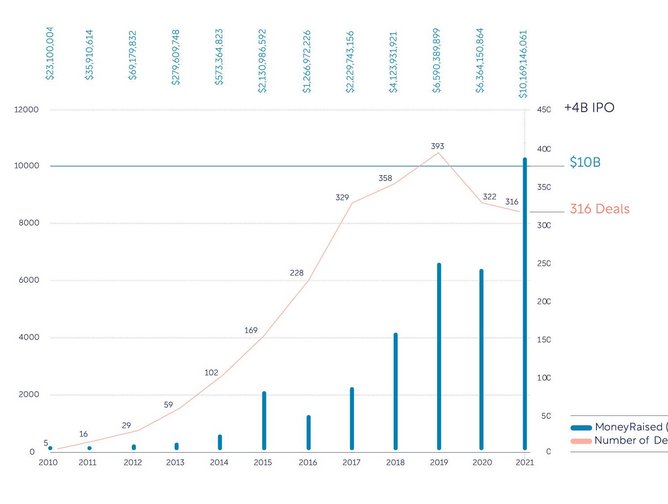 Total investment in InsurTechs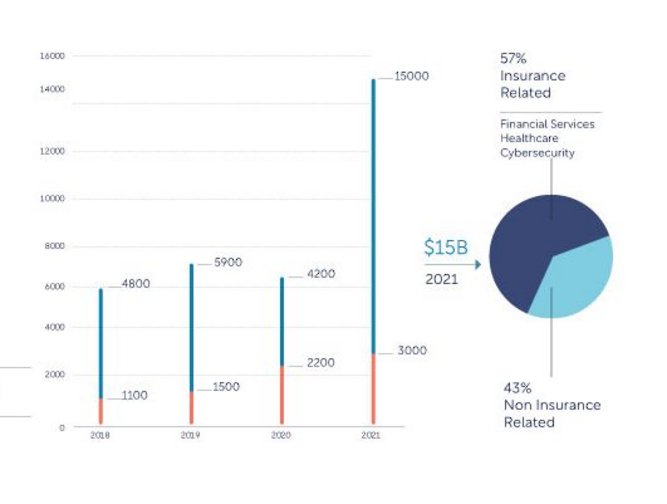 Insurers investment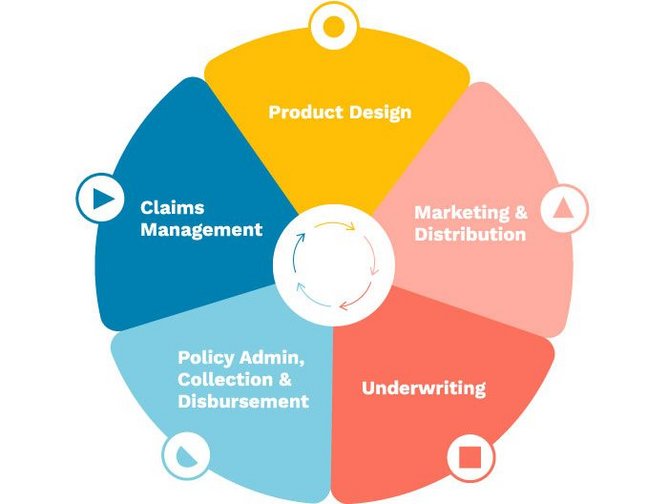 Insurance value chain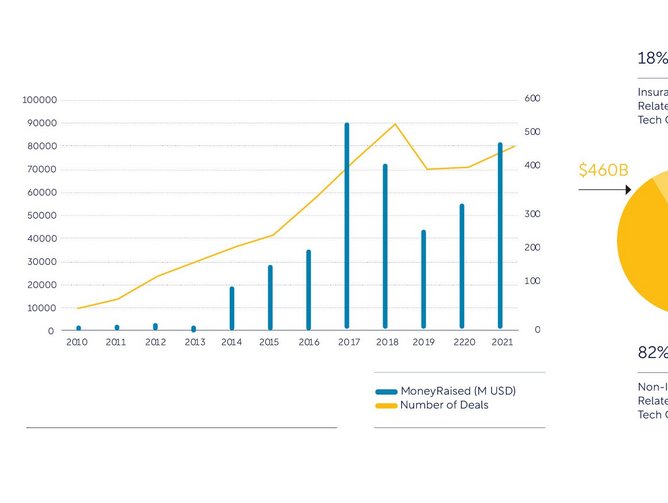 Tech giants investment