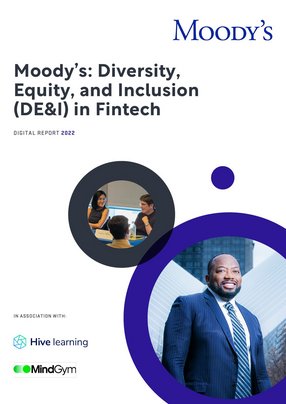 Moody's: Diversity, Equity, and Inclusion (DE&I) in Fintech
DK Bartley, Chief Diversity, Equity & Inclusion Officer at Moody's, shares why it's important for fintechs to focus on improving diverse representation
Moody's Corporation is a globally integrated risk assessment firm that empowers organisations and investors to make better decisions. Moody's is made up of Moody's Investors Service, a leading global provider of credit ratings, research, and risk analysis, and Moody's Analytics, a global provider of data and analytic solutions.
We had the opportunity to talk with DK Bartley, the Chief Diversity, Equity & Inclusion Officer at Moody's, to learn why it's more vital than ever for companies serving the fintech arena to have global diversity, equity, and inclusion (DE&I) strategies. DK spoke with us about the importance of diversity in the workplace, how to foster an inclusive environment, and what Moody's is doing to promote DE&I in its organisation.
"Being a diverse and inclusive company has always been an integral part of Moody's culture. To match our intentions with measurable action, in 2021 we took the important step of making our DE&I goals public. For example, we have goals related to increasing the representation of women in our global workforce, particularly in leadership. In the US, the experience of Black and Latinx employees is a particular focus. The murder of George Floyd was a turning point, and you began to see deeper conversations in many companies about how to be more socially responsible when it comes to issues of race. At Moody's, we know numbers and measurement count. So, we put out specific goals for where we want to be by 2025," said DK Bartley.
Using technology to embed diversity, equity and inclusion is a focus at Moody's
Diversity and inclusion is a key focus area across multiple industries. In fintech, establishing an inclusive culture from day one can get overlooked as other foundational work is focused on. The lack of representation in the tech industry is well documented. As a company built around data and analytics, Moody's is using its technology resources to address this issue head-on as it works to create more diverse teams.
"Our goal is to embed DE&I strategically in all we do at Moody's and build an inclusive workplace where people feel welcome to bring who they are to work. To help advance this objective, we launched an app to help our managers understand DE&I priorities and how they can bring them to life in their day-to-day business operations," said DK Bartley. He added, "We want all of our leaders and employees to understand what best practices in DE&I look like. And we are using technology to help provide them with the tools and resources to incorporate DE&I in everything they do."
From mental health to race and gender, there are many dimensions to diversity and inclusion
The importance of DE&I cannot be overstated. It's not only good for the bottom line, but it also helps companies hire better employees who can see different perspectives and ideas. Moody's is setting an example by making sure its employees feel valued and included, no matter their background or identity. "We're focused on being innovative in our approach to diversity, equity and inclusion. We want to engage people in ways that are timely, accessible and impactful. As an integrated risk assessment firm, our actions are guided by data: what's working, what's not working, what our people are talking about and what they're interested in," stated DK Bartley.
As one example, the role of neurodiversity in the workplace is becoming more and more critical, as companies realise that people with autism spectrum disorder (ASD) bring a unique set of skills. One can note that even some of the most talented names in history were on the autism spectrum, from land surveyor Benjamin Banneker to piano prodigy Thomas Wiggins.
In order to tap into this potential, it's essential for companies to start thinking about how they can make their workplace more neurodiverse. For Moody's, this is about hiring the best talent and creating an environment where people from different backgrounds and with varying disabilities feel comfortable, accepted and confident in using their skills to the best of their ability. This principle also applies in fintech, where everyone should be able to excel and achieve their full potential.
The importance of openly discussing diversity, equity and inclusion cannot be overemphasised
Some societal and workplace elements still have taboos and misconceptions associated with race, gender, and mental health. This observation is why DK Bartley feels it is critical to have open discussions about such issues and to develop cutting-edge initiatives in support of DE&I. These discussions can help employees "share a best practice, learn a best practice, or just get more tuned in to our culture," added DK Bartley.
In such a technologically advanced and modern world, DE&I should be at the top of any leader's list when making decisions. This kind of prioritisation should not just be the case when it comes to human resources or employment, but also in regards to one's tone of voice or when considering a company's values and overall culture. Inclusivity is about more than just hiring people from different backgrounds. It's also about making sure all people feel welcome and have opportunities to advance their careers while being true to their identities.
Moody's leadership has been vocal about its commitment to diversity, equity and inclusion. DK Bartley emphasised, "Our senior leadership is serious about making DE&I an integral part of everything we do. From our services, and how we support our customers, to how we grow, as well as how we develop and engage our employees."
Accountability is another important factor in making DE&I achievable and sustainable
All executives must show their employees they are committed to DE&I, including accountability for environmental, social, and governance (ESG) initiatives. According to DK, "Accountability provides a basis for us to have a conversation around the things we're doing, what we're focused on, what we want to improve and to provide our stakeholders with a strategy for how we're going to get there."
"The feedback we consistently receive from our employees tells us that diversity, equity, and inclusion are key reasons why they stay at Moody's. It's also why they encourage their friends outside of our organisation to work here. We're really proud of that because it says that the focus and investment in DE&I we've made as a company are making a difference. People are seeing it, believing it and experiencing it as part of our culture at Moody's."
Transparency is critical to any company's success in diversity, equity, and inclusion because it promotes trust. DK Bartley added, "Making our goals known to our stakeholders, inside the company and out, is really powerful. It makes a clear statement about where we stand."
Fostering DE&I in fintech by establishing Business Resource Groups (BRGs)
At Moody's, our Business Resource Groups (BRGs) are employee-led and focused on aspects of diversity, such as race, gender and sexual orientation. Moody's was an early adopter of BRGs to provide employees with a sense of community and support. Such groups are an asset to any company because they provide a community for people to come together and talk about topics that companies might not discuss otherwise. BRGs are often in alignment with a company's business strategy and are employed to assist in better understanding the changing market conditions and demands.
"We're particularly proud of our BRGs. They've evolved from employee resource groups to business resource groups, and the change goes well beyond just their name. These groups are core to our business, allowing us to apply the passion and energy of our employees to explore new ideas and shape existing ones – all while making the most of the wonderful talent across our company," stated DK Bartley.
Moody's as a beacon of light for DE&I in the financial services sector
Diversity, equity and inclusion is a broad topic that encompasses many different areas of focus within the business world. In fintech and other industries, there are several initiatives that can be put into place by companies who genuinely want their workplace culture to reflect their values. And Moody's is evidently one of those companies.
"At Moody's, we believe diversity, equity, and inclusion makes us better. It's an intentional part of how we operate. You can see it in the decisions we make and the actions we take," said DK Bartley.
"Moody's employees have a wealth of options for supporting DE&I. It may be joining a BRG, volunteering in the community, giving to a DE&I-focused charity or just having a conversation with a manager about something they think is important from a DE&I perspective. The options are out there, they're true to who we are, and they're fully supported by the company," he concluded.
To put it concisely, Moody's remains steadfast in its commitment to diversity, equity, and inclusion. The company has put into place a number of initiatives that have proven successful in fostering DE&I within the workplace. These initiatives include accountability, transparency and disclosure, BRGs, and a focus on environmental, social, and governance (ESG) issues. Moody's remains dedicated to promoting a better work environment for all employees while encouraging others to do the same – and the company looks forward to continuing its efforts.