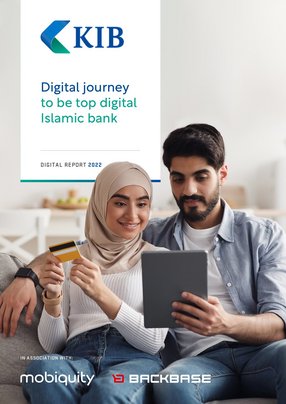 KIB: Digital journey to be top digital Islamic bank
Kuwait International Bank (KIB) divulges its digital transformation efforts and how it is shaping its future as a 'bank for life'
The 'bank for life' is the DNA of Kuwait International Bank (KIB), which is now catering to all generations with its digital transformation for access to its financial services, retail and corporate banking plus property management.
Millennials and zoomers across the Middle East and North Africa are instinctively using apps on smartphones and online banking while loyal clients, who have been with the bank since it opened in 1973, are now embracing the new technology as it aims to become the number one digital Islamic bank in Kuwait with its digital transformation.
From a technical perspective, the bank has retained components of its legacy architecture but developed its systems in line with its fundamental principles and the overall vision of the bank.
Among the new services and products, KIB has launched seven new electronic services enabling customers to complete many of their transactions via the 24-hour call centre.
KIB also offers a smartphone application that allows customers to open bank accounts and register with the Kuwaiti clearing company to transfer profits directly to their accounts electronically instead of visiting the company's headquarters to collect checks.
This is in addition to the launch of the bank's website with a new design and providing it with a 'Live Chat' service to communicate with the bank's employees through the VIVR service.
In 2007, KIB adapted all its operations and processes to comply fully with Islamic financial law. Adhering to Shari'ah has enabled KIB to offer its clients a full range of traditional and innovative products and services.
In January 2021, KIB was recognised as the fastest-growing Islamic Bank and best Shari'ah-compliant bank in the Middle East and North Africa by Capital Finance International Magazine - for the fifth consecutive year.
This was in recognition of how KIB strives to innovate services that facilitate the banking experience for customers and enable them to complete their transactions without the need to visit branches — which has proved an asset during the coronavirus pandemic.
Long term vision post-pandemic
The banking industry previously frowned upon the prospect of working from home, but as the pandemic hit and the country went into lockdown, KIB soon adapted to allow its employees to work remotely — switching 1,000 or more employees to remote working. As the company moves forward, it will focus on improving the management of distributed teams and creating effective communications between onsite offsite workers.
Accelerating the digital journey
Over recent years, the company has accelerated its digital transformations efforts, which it believes to be much more than a technical challenge. It requires the right people, processes and technologies to successfully implement the strategy.
Since embarking on its digital journey, the company has come to realise how far behind it was and quickly identified the need for investment into innovation, as well as experiencing siloed operations and a poor cost-income ratio.
Now, KIB is looking to accelerate its agile transformation and break down barriers between businesses by introducing cross-functional squads. It provides the necessary tools and methodologies to ensure successful digital banking applications, building the foundations to allow businesses to accelerate innovation in the future.
Private versus public cloud
As KIB moves forward, it focuses on artificial intelligence (AI) and a possible move to a public cloud from the current private cloud.
Moving to a public cloud will depend on how aggressively the cloud service providers support Kuwait as a country. KIB anticipates a reluctant response from the central bank when discussing the storage of sensitive data in the public cloud unless this takes place within its borders. It would require input from companies like Microsoft, Amazon and Google to set up data centres in Kuwait to manage this.
Trust in the cloud is also one of the stumbling blocks. The Central Bank of Kuwait (CBK) doesn't want to risk exposing people through its Kuwait-based banking services.
AI will be phased into KIB for repetitive tasks but will not replace the human touch, AI will also be used in low complexity tasks where human interaction is less important, such as a customer getting a response from the chatbot to say the branch is open.
Importance of digital partners
To progress on the digital journey KIB had to decide if they were going to build a digital platform themselves or work with a partner. In the end, they selected software provider Backbase who are now helping give KIB the speed and flexibility to create and manage seamless customer experiences across any device. They also selected Mobiquity as their end-to-end system integrator.
The company chose Backbase as the most suitable partner for its digital transformation, based on its position at the time, to leverage its capabilities in terms of customer experience.
The digital consultancy, Mobiquity has also supported the development of the overall programme to build software that matches the company's DNA and culture. An agile partner to help drive the company forward.
SAP also played a critical role in data management as KIB had previously selected SAP HANA as its data warehouse prior to entering the transformation stage. Benefitting from the solution, KIB witnessed suitable integration of the product, which houses customer records.
Kuwait International Bank
KIB has always been a committed believer in the importance of social responsibility for all private sector organisations, especially one as large and far-reaching as the Bank itself. KIB maintains a robust social responsibility program that supports and participates in a wide range of social events.
KIB also actively takes part in all major financial events on a national and regional level, including financial forums and conferences organised by the Central Bank of Kuwait and major financial organisations such as the Union of Arab Banks (UAB), the IMF, Euromoney and Forbes.
KIB has a long history of being recognised by major regional and global industry awards across several areas, including social responsibility, creativity and innovation, design and branding, industry leadership, products and services.
In 2020, the Bank garnered the Best Islamic Bank in Kuwait award for the seventh consecutive year from World Finance and was named the Most Secure Bank in Kuwait for 2020 by their editorial panel. The Bank was also named the Fastest Growing Islamic Bank and Best Sharia-Compliant Bank (MENA 2020), for the fifth time, and Best Sharia-Compliant Bank (MENA 2020), for the sixth time, by Capital Finance International (CFI.co).
KIB top awards include:
Best Bank in Branch Design 2020 award from World Union of Arab Banks (WUAB)
Kuwait Deal of the Year 2020
Qatar Deal of the Year 2019
Regulatory Deal of the Year 2019 from Islamic Finance News (IFN)
Social Impact 2020/Best Socially Responsible Investment (SRI)
Best Environmental, Social and Governance (ESG)' from Islamic Finance News (IFN)