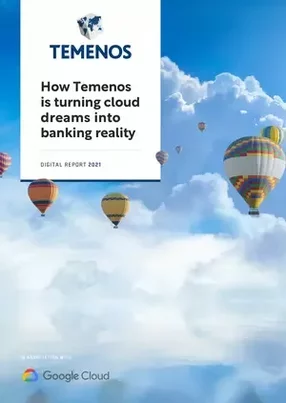 How Temenos is turning cloud dreams into banking reality
Jean-Paul Mergeai of the banking software company, Temenos explains how its open cloud banking platform is levelling the playing field
Jean-Paul Mergeai and his team at the banking software business, Temenos are on a mission to re-invent the industry for the digital age. He says change is not only inevitable - it is vital.  According to JP - as he's known at Temenos and across the industry - banking is reaching a crunch point. 'I think the banking industry - all the banks - have this once in a generation opportunity to digitally transform,' he says… and they squander it at their peril. 
JP's official title is President of International Sales at Temenos with a brief to look after growth across most of the planet including Europe, the Middle East, Africa, and the Asia Pacific region. He says the more well-established banks are in no place to be complacent. Why? Because they are riddled with legacy systems, chunks of aged software all 'glued' together and in danger of coming apart at the seams. 
He likens - as do many at Temenos - the old ways of banking and the challenges they bring with them to a busy but somewhat disorganised and steamy restaurant kitchen. 
'Banks' legacy systems are like layers of spaghetti on top of lasagne. This complexity is actually holding them back, they cannot continue like that. Imagine that most of these banking systems were built in the sixties and are very expensive to maintain. 'So, at present, about 70% of most banks' I.T. budgets are dedicated to maintaining their legacy systems. In other words, that's money spent on keeping old systems running rather than innovating and providing a better experience for their customers.' JP says this cumbersome approach means these banks struggle to compete with new entrants into the banking space such as FinTech. They are simply unable to launch and manage new products fast enough.
However, JP argues that the bigger, established banks remain extremely well placed to win in the long term as they have consumer trust on their side and the volume of customers. JP says the key to success is being willing to embrace the challenge of 'digital transformation' where banks are harnessing new technologies to develop far more agile, straight through, automated processes to make significant efficiency gains and provide an enhanced experience to their customers.
'This next generation of core banking platforms - built for the cloud - can deliver complex functionalities 20 times faster and significantly reduce cost of operations to about 10% of legacy systems.'
According to JP investing in digitalisation AI and cloud technology is a no-brainer for the banking businesses who want to survive and those who want to get into the market. 'They will all need cloud and artificial intelligence technology to succeed,' he says.
ROOM FOR ALL
So, if a battle has commenced and the challenger upstart start-ups, with their nimble agility and brand spanking new software can take the high ground, where does that leave the more cumbersome 'dinosaurs'? Are they the doomed old guard?  Are they finished? Or are they even close to extinction?
Temenos believes there is room for all in the new banking landscape. This is good for Temenos as it supplies banking solutions to customers of all shapes, sizes, banks, including established tier-1 players, challengers, and fintechs.
'I really think the challenger banks can be profitable,' says JP. 'They will be profitable if they have a sound business model, and they are differentiating their offering. If they are trying to do the same as brick-and-mortar banks or traditional banks, then they're not going to succeed. By using modern technology, they can scale massively and achieve hyper-efficient business models. This is also about understanding how they are going to attract loyal customers, retain them and grow.'
JP says the upside of this is a win-win for the banks and those they serve because banks can pass the benefits of their savings to customers. He estimates in the new banking landscape the cost of servicing customers is a quarter of that it would be in the old traditional banking world. This is what he sees as the real competitive advantage brought about by embracing AI and the cloud and all the benefits of digitalisation.
'Temenos serves more than seventy challenger banks all over the world: in North America and Latin America in Australia in Asia and Europe.
'The traditional banks are looking very actively at transformation and are using our technology to do so, and then the challenger banks and the digital banks have really sent a massive wake-up call to the banking industry, and I think it's for the greater good.'
JP cites the work Temenos is doing with challenger banks such as Alpian and FlowBank, two new Swiss-based services, and Virgin Money in Australia and he focuses on the Italian bank, Flowe to highlight how Temenos can provide solutions across the board. Flowe is the 'greenfield' digital bank based in Milan. 
'They have built an incredible business model aimed at reaching the younger demographic so they're reaching out to younger people with a sustainable eco-friendly cluster of banking services'  
Temenos helped Flowe go live in just five months - right in the middle of the pandemic.  'We have really managed to deliver this project in the most challenging of circumstances,' says JP. 
'Our input allowed them to scale extremely fast with our SaaS (Software as a Service) technology. In its first six months of operations, Flowe attracted more than 600,000 customers and it's growing at twice the rate of its nearest competitors, this is a really, really, amazing success.
JP sees one of the main drivers in this industry, which is making success possible - especially for the challenger banks is the way they can embrace the cloud and most importantly adopt Software as a Service. 
'Most of the banks we talk to expect to make greater use of cloud technology going forward and literally every Request for Proposal and Request for Information we answer includes a big section on operating in the cloud.
'The pandemic that we've been experiencing has very, very visibly and forcibly demonstrated the power of the cloud and Software as a Service to better and more rapidly support people, businesses, and the economy as a whole. For us it's not new, we've built up over ten years of cloud leadership.
The first time Temenos put a banking customer on the cloud was in 2011. Since then, the company says it's invested more than $1bn in research and development and collected feedback and information from around 700 clients who have used their SaaS offering. This gathering of data ranges from the Tier 1 banks to those seventy disruptor banks. 
HOWDIE PARTNER
JP is keen to stress that although Temenos is cloud-agnostic, and its applications will run on a wide range of platforms he is also a huge advocate of partnerships. 
'Strategic relationships are essential in our industry. Take, for example, our partnership with Google Cloud. Banks have the choice of running their Temenos applications, whether it's Infinity or Transact or the Temenos Payments on Google Cloud. The focus of our work with Google Cloud is to deliver our mission-critical software across hybrid and multi-cloud environments and help financial services organisations create profitable business models, and improve and differentiate their customer experiences.'
"Our full suite of banking software and applications is available on Google Cloud, and together we help banks go to market faster, drive scalability, operational efficiency, time-to-market, and innovation.
'But we have a cloud-agnostic approach, which allows us to run on all the major cloud providers and this enables banks to pursue a multi-cloud strategy. It's all about flexibility but it's also all about choice when it comes to digital transformation so banks can modernise at their own pace maybe leveraging our Transact product on Google Cloud but then running our other applications through multi-cloud deployments.'
THE TEMENOS BANKING CLOUD
Jean-Paul Mergeai says he is now busier than ever before with the next generation of Temenos SaaS. This is the Temenos Banking Cloud which is powered by an Explainable AI-engine and enables banks to 'fast track' themselves into cloud banking. JP explains: 
'The Temenos Banking Cloud consists of three elements. First, a self-service portal in which you can compose your core banking system based on modular cloud-native building blocks.
Second, a sandbox environment, where you can develop and test new applications based on the APIs exposed by these building blocks, and third a marketplace of pre-integrated fintech solutions.' With The Temenos Banking Cloud, banks now have the power to self-provision always-on banking services and scale instantly and securely while dramatically reducing the cost of operations.
Essentially, the Temenos Banking Cloud empower banks to digitally transform and massively scale faster than ever. JP goes further. It's not just about accelerating the delivery of value and the speed of access to comprehensive banking services. 'We also feel very strongly that we are making digital banking more human and more accessible for a wider range of customers.
'Temenos software can create even more opportunities for its clients to differentiate and fine tune their offering to potential and existing customers.'
So, what does Jean Paul Mergeai think the modern-day banking customer wants from his or her bank? 
'Customers are sophisticated,' he says. They are demanding more appropriate and more personalized services from their bank. They may not know the concept of customer-centricity, but this is, in essence, what customers want. 
In theory - and in practice - the more information a bank can gather about its customers the better it can serve them. 
'At the very core of customer-centricity there are large amounts of data that banks hold about their customers; every transaction that they ever did, every investment they ever made, every type of merchant they did business with, and all the various types of vendor goods they have consumed.
'But processing all these points of data would be impossible without big data analytics and artificial intelligence gathering everything in the background. 
'Customers want their banks to simplify their financial lives. They expect banks to understand their life circumstances so they can better help them.'
Four-fifths of banking executives - according to a recent Economist report - believe that the use of AI will be the differentiating factor between winning and losing. This can never be over-stressed says JP. 
'AI gives the ability to banks to crunch more data faster naturally in real-time and learn more about customer behaviour. There is no real true personalization without it. And that ability to have that personal relationship with the customer is the future.'