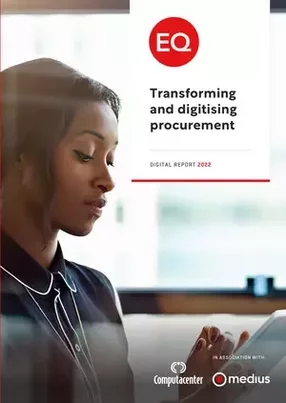 Equiniti: Transforming and digitising procurement
Michael Burt, CPO, at Equiniti discusses his role in spearheading the company's procurement transformation and the challenges to overcome along the way
Michael Burt, CPO, Equiniti started his career as a systems engineer designing missile systems at BAE Systems in 2002. "I was seconded into procurement to help on a major cost reduction programme at BAE Systems." In 2007, Burt joined Capgemini as a Senior Consultant, specialising in procurement transformation.
Since then, he has held a number of senior procurement positions including Head of Supply Chain Management for The Metropolitan Police Service and Chief Procurement Officer for Colt Technology Services, a global network and voice services company. In his current role at Equiniti, Burt is responsible for the global procurement and supply chain management for the group as well as all properties and facilities. 
Who is Equiniti? 
Founded in 2007, Equiniti provides three core services; "Firstly, we offer share registration services, which are focused towards supporting public companies with all the activities that go with being listed in the public market. There are many services that we offer, but the major ones are helping to manage a company's share register, dividend payments and employee share plans. We also help organisations list through supporting Initial Public Offering (IPO's). We serve over 70% of organisations listed on the FTSE 100 and 15% of those on the NYSE. 
"We also provide specialist technology-led solutions to regulated businesses, such as complaint remediation, Know Your Customer (KYC) and loan administration. Finally, we have a division that focuses on pension administration, which delivers software, payment and complex administration solutions," says Burt. 
"Our work is mission-critical for an organisation, so we cannot afford to make mistakes, therefore we are meticulous in what we do. We are a unique organisation in the services and technology that we provide and there is a very high chance that you are one of the 36m people who benefit from our services."
Spearheading Equiniti's procurement transformation 
When Burt joined Equiniti, there had been several short term leadership changes within the department that had caused a significant impact on staff morale and performance. "There was limited strategy, lack of processes, and insufficient  management information creating the perfect storm. You often hear people refer to Procurement Greenfield sites, well this was definitely a Procurement Brownfield site, with a lot of clean up required, all doable, but it required careful management and a lot of hard work. The function had great potential for what it could achieve and this was one of the reasons why I took the job."
But where to start?
People. Burt knew that in order to be successful and make the job easier, he needed to get the people element of the business right. "The first challenge was to get the team to trust me and to get them working together. It was way too soon to discuss any kind of vision, besides they had likely heard it all before from my predecessors.  In these situations, actions talk much louder than words, so I decided to focus the team on one very key objective, where everyone could come together to deliver. It needed to be something in the short term which would make them feel instantly good when they achieved their objective."
With this in mind, Burt focused the team's efforts on achieving a set savings target for the year-end, ensuring their remuneration was linked to it. "There was one goal for the remaining 5 months and I deprioritised all others. I wanted laser focus and I wanted to see how the team would come together.  It was amazing to see people's motivation and confidence grow week on week, as we edged closer to the target. We ended up smashing the target and people were buzzing, it was great to see smiles back on people's faces. At that point, the team began to trust me and so it was then time to start to introduce them to my vision."
Since joining, the procurement department has evolved significantly, by building a strong culture of delivery in the team, Burt emphasises that this has earned the team the respect and trust of the business, allowing the team to regain control.
"We have gone through 3 phases of maturity in the past 4 years," says Burt. "The first was about establishing our purpose, our team and our operating model. Defining what activities we perform centrally and those that are decentralised. It's important to set expectations with your stakeholders around what you are here to do. The second phase was about systemising, offshoring and optimising. We built a shared service centre in Chennai which performs all our procurement & property operations, leaving our category leads to focus on strategic procurement and value generation.
"Our third phase has been about integrating deeper relationships with our critical suppliers and our stakeholders, with a focus on unlocking hidden value. We don't measure ourselves purely on savings generated."
Centralising and digitalising time-sensitive operational work
As part of the company's wider transformation strategy, Burt and his team have been working to centralise and digitise time-sensitive operational work. "The first stage was to define each and every process procurement and property should perform. We took a very lean approach to this and ensured we only focused on those activities that were absolutely necessary and that created value. We then centralised these processes into the team and assigned a nominated process owner with a clearly defined service level agreement (SLA).
"It was important that we could measure the time and quality of each process. Depending on the complexity of the process and the capability required to run it determined whether we offshored it to our shared service centre or kept it onshore. We formed internal contracts between the teams for each process and set review sessions to hold each party to account. It's very much like our own outsourcing agreement, it keeps all parties accountable for performance," explains Burt. 
Achieving this, Burt and his team moved on to selecting the right technology to become truly digital. "For P2P we use Workday, for contract management we selected HighQ and for supplier onboarding and supplier management we decided upon Medius. It was important that we matched our department's process maturity to the functionality of the platforms. There is no point in owning a Ferrari if all you want to do is drive to the shops," adds Burt. 
"It was during the implementation where we maximised the automation opportunities, our ethos is always to have as little manual intervention as possible. In practice this means enabling smart forms to guide users, setting workflow rules to only flag exceptions for approval and also using scheduling and reminders to ensure activities are being completed. We also use statistical analysis to help identify where we should set our optimum manual procurement intervention points." 
Equiniti is also looking at evaluation platforms that harness emerging technologies such as Blockchain and AI, "but I think they have a little way to go before we can adopt them," says Burt. "I can definitely see their application in the evolution of procurement, perhaps in 2-3 years time. The benefits of Blockchain on verifying supplier information would be of huge benefit. It amazes me how much time is spent verifying supplier data."
Over the next 12 to 18 months, Equiniti will be moving into the next phase of maturity for its supplier management programme, which will look to improve the resilience of the company's supply chain. "We will be looking at performing audits of our key suppliers to understand in greater detail our second and third-tier suppliers and how they are being managed," says Burt.  
"The next big question I will be asking the function is how we can best support our business to be an even more responsible business. We will be looking to set specific ESG targets for our suppliers as well as making sure we incorporate ESG into our procurement evaluation criteria. In the very near term, I can see carbon reduction targets being equally weighted in importance as cost reduction targets. Businesses cannot afford to be on the back foot on ESG and Procurement is perfectly placed to help with the challenge," conclude Burt.