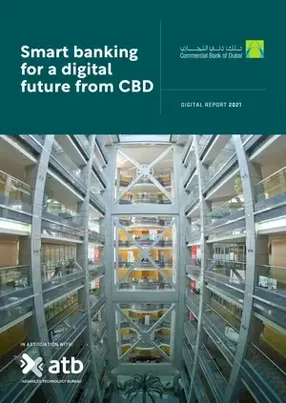 Commercial Bank of Dubai: Smart banking for a digital future
Commercial Bank of Dubai is driving the UAE economy with its smart digital innovation and client focus
For more than 50 years Commercial Bank of Dubai has been driving the UAE economy and is now future ready with its suite of innovative digital offerings. 
Stefan Kimmel, Chief Operating Officer, is driving the digital transformation at one of Dubai's first banks, which has flourished alongside the emirate from the days when oil was first discovered in the Fateh oil field through its tourism boom to today's space exploration to Mars.
"Customer first, boosted by digital," is how Kimmel describes the bank's digital journey saying they only adopt new technology if it will bring value for the end-user. This includes being the first bank in the region to launch a robo-advisory investment app and a preferred bank for e-Dirham.
"Our digital initiatives include customer onboarding, loans, digital card applications, and account opening," said Kimmel who said their mobile banking app is focused on providing the best possible customer experience. "CBD has always been at the leading edge of the digital transformation, so when I was offered the opportunity to join and be part of that transformation journey it was an exciting opportunity," said Kimmel from the bank's office in Deira, Dubai.
His international experience helped him to hit the ground running in managing IT, Operations, Change Management, Administration and the other areas in his responsibility when he joined at the height of the pandemic. CBD has more than 100bn dirham in assets and an overall market share in excess of 4%. "We have a full spectrum of services for the smallest to the largest businesses," said Kimmel who pointed out CBD offers a full set of services from lending, trade finance, investment services, and treasury cash management.
CBD was established in 1969 by an Emiri Decree issued by the late Sheikh Rashid bin Saeed Al Maktoum. Today, it is in a position to offer a wide range of retail and commercial banking products and services, in both conventional and Shariah-compliant formats, with a network of 14 branches and over 160 ATMs and CDMs throughout the UAE 
As part of the global Visa Card network, debit cards from CBD can be used at more than 550,000 banks, 1.2 million ATMs worldwide, saving customers money by minimising surcharges, cash-out fees, and expense processing costs.
Kimmel pointed out how the challenges of Covid-19 accelerated the move to a richer offering of digital services. "When the first wave hit, we already had our core services available to our customers so they did not have to come into a branch. These included:
Opening a new dirham current account 

Getting a mortgage

Applying for a personal loan

Opening accounts in different currencies 
"When it comes to the customer, we are always working to improve the user experience, the look, feel, convenience, and the slickness of the experience. We strive to ensure the experience they have when they use our online services is as smooth as they would see in social media and Facebook and Apple."
Kimmel said serving a diverse set of customers in the Middle East, where social media penetration is the highest in the world, implies that people expect to do their banking online. "Of course, we also have some traditional customers who prefer to sign a cheque in a branch and for these we have our relationship managers to enable that to happen but also to educate these customers about the benefits of doing certain things through our digital channels. If you take the effort to explain the benefits of online banking it tends to drive adoption with all customers."
Retail and business services
Since the past year, Kimmel said most of the new retail products are available online, instantly, and with a few clicks. "For example, a customer can apply for personal loans on the mobile app and it will be fulfilled and in the account within minutes. Likewise, our credit card fulfilment process is fully online. So that's a fully digitised online service end-to-end. We are now looking at digitising mortgages and making those fully available online that will come in the next two or three months. 
"On the business side, small businesses can already open their accounts fully online with us, and shortly we will have digital loans available for SME clients. That goes all the way up to more sophisticated services such as trade finance. We've just launched our trade finance portal, where companies can apply for letters of credit and guarantees fully online. They get the dashboards, they do the tracking and all the services they require for trade finance are now fully available online, and we continue to offer more capabilities and more service to them."
Kimmel said although CBD is investing in technology as they power ahead with their digital journey, it always comes down to what will benefit the customer.  "Customer first, boosted by digital," is how he describes the on-going transformation, saying they only adopt new technology if it will bring value for the end-user. "Our digital initiatives from customer onboarding, loans, digital card applications, and account opening are all focused on being user-friendly."
Robo-advisory investment app
 "We were also the first bank in the region to offer a robo-advisory investment app which allows customers to invest globally into all relevant global stock markets," said Kimmel. The app was developed in partnership with InvestSuite, a leading wealthtech company based in Belgium. This innovative investment app is powered by smart algorithms that actively manage investment portfolios to deliver optimal risk-adjusted performance.
CBD Investr offers customers convenient access to globally diversified and personalised portfolios of stocks, bonds, and other asset classes using low-cost exchange-traded funds (ETFs). These portfolios are tailored based on the customer's specific goals, risk appetite, and investment time horizon and are actively monitored and optimised based on changing market conditions to deliver the best possible performance over the long term.
"Customers can start investing in a matter of minutes by simply downloading the CBD Investr app, registering using their Emirates ID and answering a few questions to assess their risk profile and create a personalised portfolio. Customers do not need a CBD bank account to fund their portfolios and can make a local transfer from any bank account in the UAE. The best part is that customers can start investing with just $500 and withdraw at any time, without any charges." 
What gives CBD the competitive edge?
Commenting on what gives CBD its competitive edge, Kimmel praised the leadership of CEO Bernd van Linder who he says sets a clear vision for the bank which is shared and aligned across all operations.
 "I think something that sets us apart, and is definitely a strong trait, is the degree of alignment in the leadership team as we have a CEO who sets a very clear vision which is shared across the bank. Driving that joint vision is something that works quite well here and is clearly driven by our CEO.
"That vision is then translated into our core values, CODE. CODE stands for Collaboration, Ownership, Delivery and Excellence, and we aim for the whole organisation to live these values in all aspects of their day-to-day work.
 "I think a third aspect to that is taking an end-to-end view across the bank. So what I see a lot in organisations is that different leaders are driving their own agenda within their own silos. For example business trying to optimise products, services, operations or IT optimising the technology side of things. That goes to a certain extent, but then you lose the extra potential and I think the way we drive end-to-end unleashes a whole bunch of additional benefits and capabilities. This starts with the initiation with customers and runs through the entire journey across the bank that provides a whole new level or different capabilities in terms of service, quality, efficiency and turnaround times. Our core value of collaboration is one that is instrumental in being successful in this space. 
"Finally, we focus relentlessly on Delivery and Excellence. Every bank in the world right now is trying to drive digital transformation but oftentimes it fizzles out and it doesn't yield the expected results. At CBD we are focused on that journey and are working to make sure the benefits are being delivered - it's a relentless follow-up of fine-tuning to ensure we get the benefits of these projects all the way through to the end."
He pointed out Corporate Social Responsibility (CSR) is embedded in CBD which strives to be an industry leader by adopting progressive environmental standards and practices that demonstrate their commitment to CSR. "We diligently evaluate the way we build and manage our properties, looking for innovative ways to reduce our carbon footprint."
ATB key partner for eDirham
Kimmel said: "When it comes to prioritising technology, we prioritise and invest based on customer needs. Sometimes it may not even be technology, it might be a process change, policy change or working with a new partner. 
ATB Pay is one of CBD's key partners. "ATB is our service partner both on the technology side and in the service fulfilment with the eDirham which is a digital payment scheme for government services in the UAE. That has been another success story for us over the last 12 months as CBD has been selected as one of the preferred banks by the government to provide eDirham cards. ATB is our service and ecosystem partner in that space."
Focus on cybersecurity 
Kimmel stressed that cybersecurity is a very important topic at CBD. "There's a strict set of industry requirements which we comply with and on top of that, we regularly employ third parties to do external reviews, audits, and penetration testing to really make sure the required safeguards are in place. We invested quite heavily in an internal team, both from a technological side and capability side to be on top of cybersecurity. Clearly with the pandemic and more things being done online, the risks have increased in that space.
"The main challenge with cybersecurity is not so much from an external hacker, the biggest risk is vulnerabilities on the client side where clients are tricked into revealing their passwords and their credentials and that then leads to fraud," said Kimmel who pointed out CBD work with their clients to educate them on the dangers of phishing and scams.
Looking ahead for future services, Kimmel said they have a permanent pipeline between products and services being released. "The next big thing in the retail space is making mortgages available online and adding further investment services to the robo-advisory app. 
"On the corporate side we already have digital account opening for SMEs and will be doing digital loans and onboarding for them as well. It's a permanent flow of new capabilities and services that we're making available for our customers," he said.