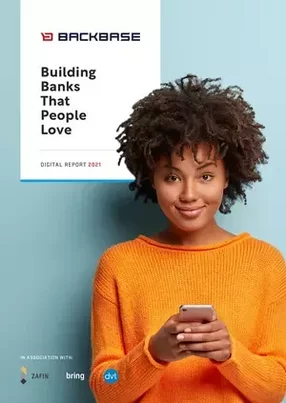 Backbase: Building Banks That People Love
Backbase's Heidi Custers discusses the acceleration of digital transformation, the unvalued innovative mindset of Africa, and its growing fintech industry
Joining Backbase at the start of 2021, Heidi Custers is the Digital Transformation Director for Middle East and Africa at Backbase; an Amsterdam based software company creator of the Engagement Banking Platform (EBP). 
"I moved here at the beginning of 2021 from South Africa, where for most of my career I've worked in digital, focusing on banking and telecommunications. From an African perspective, that's quite important because the convergence of those two industries are actually driving much of the innovation on the continent. So even though I now live in Europe, my focus is still on digital transformation in Africa," says Custers.
Prior to joining Backbase, she worked at Deloitte as the Digital Transformation Strategy Lead for Africa "My experience of working with big banks, insurers, and telcos across the African continent has driven my interest in the FinTech industry. Tech companies are really driving the acceleration of innovation in financial services " she adds.
Founded in 2003 - Backbase is a digitally native company that has made a massive impact in just two decades. "I've been following this company for over 10 years now, watching it with interest. Backbase has evolved into an end-to-end engagement banking platform. If you take the jargon out of it, that means we work with banks to help them transform the digital layer that their customers engage with, whether that be a web or mobile application, to become completely seamless. We enable customers to have an experience with their bank that is easy, that compares to some of the world-class neobanks like N26 or Revolut, and to do so in a way that is easily reusable across different lines of business," says Custers.
"To achieve this, we integrate with any banking systems, whether they be legacy tech or the digital-first, pricing engines like Zafin or core banking solutions like Mambu. Backbase partners with companies like these to allow the banks to put Backbase on top and create captivating and intuitive experiences for the customers no matter what other technology they've chosen. We have traditional banking customers that have gone from having an onboarding experience of 180 minutes, to 5.7 minutes on Backbase which is right up there with the neobanks."
Backbase has decided that it's going to focus very squarely on the business of building banking experiences that people love and being a platform that integrates easily with the rest of the banking ecosystem. The platform powers an end-to-end user experience across all channels. Out of the box, Backbase orchestrates the experience from when customers onboard, all the way through to employee-assisted, or self-servicing. "We are a fully-fledged engagement banking platform. Many of the analysts agree with us because we're consistently seen as the leading EBP in the world." says Custers. 
Authentically Living the Company Promise
When asked what she thinks makes the operations at Backbase special, she says; "I've seldom worked for a company where the promise made to our clients is as authentically lived within the company day-to-day as much as it is at Backbase. We really live our mission to help banks to innovate and improve speed to market. This passion is reflected in the operations at Backbase. We live our values authentically. We have a flat structure within the company; the culture is very much one of autonomy. We hire the best in the business, and then we allow them to just get on with it," explains Custers.
Growing at breakneck spend, Backbase has consistently doubled in size over the last couple of years, sitting at over 1,600 employees and operating in nine hubs around the world, yet Custers says that the company still feels like you are working in a startup. 
"Honestly, the company is very fast-paced. Our operations are changing all the time, but it's not uncomfortable, because we give people a sense of purpose and autonomy to do their jobs in the way that they feel is right for our customers. This means we can be incredibly flexible and move at lightning speed. I've seen decisions made that change the course of the business in an hour and a half meeting, and then be implemented immediately after, which is not something that companies usually do when they get beyond a certain size," comments Custers.
"A word that often comes up when you read about Backbase is 'love', because our credo is 'become the bank that people love', and our mission is to get 10% of the people in the world using Backbase as their engagement banking platform. This is infused into the way that every one of us at Backbase thinks. We don't just care about our banking customers, we also care about the experiences of their customers, whether they be consumers, businesses or large corporations. It's a testament to how our CEO and founder; Jouk Pleiter has built this company that it still holds so much of that energy and passion, even though it's growing so quickly."
Tech Companies Disrupting the African Financial Services Sector
"Africa is an interesting space," says Custers. "I believe true innovation is born out of constraint; it doesn't often happen in a vacuum. If there is nothing forcing it, it is seldom able to accelerate. The first world has historically benefitted from a lot of technology and connectivity infrastructure. In my opinion, that means that technology in financial services has innovated and evolved at a linear pace."
In Africa, Custers explains that the limitations can often seem overwhelming. "Internet connectivity is still very low and unemployment is very high; in some countries over 30%. It's these constraints, coupled with a really deep entrepreneurial spirit of African people, that are driving non-traditional players to dominate innovation in financial services and doing things that often leapfrog what you'll see in the developed world."
Some of the examples of this come from financial services, technology and telecommunication collaborations. "Often spoken about is M-PESA in Kenya, as a digital currency based on your mobile phone using your mobile number. But, so much has happened beyond that, which I think the rest of the world could learn
from. An example of this is 'Juice' by MCB in Mauritius, powered by Backbase. This is essentially the ability for people to make payments and payment requests on their mobile without logging into their bank and doing a transfer. What has happened is, 'juicing' has become a verb in that country and has become a part of national culture. The concept was born in Africa, and now the rest of the world is starting to use it," says Custers.
Another thing that is happening more and more in Africa is that banks who initially felt the FinTech and telco threat now see it as part of their strategic imperative to partner with companies that are not financial institutions. The most impactful industry convergence is that of the banks and the mobile network operators. In most countries in the region, telecommunications companies own the customer share of wallets more than anywhere else in the world. In many cases, the one connection to the internet that a household has will be on a single mobile phone. This is often a feature phone, without apps, or a very rudimentary smartphone. The mobile network operators facilitate that connection to the world, everything from the ability to speak to family, to access education, make purchases, or even to run businesses - which are often small subsistence enterprises.
On the topic of what this means for banks and FinTechs seeking to expand their reach into Africa, Custers says; "The telcos have become the dominant force in some countries. It didn't take very long for them to realise that if they own the customer's connection, as soon as they unlock the ability for that customer to transact, save, or even borrow, using their platform without a bank account - because over 50% of the continent is still unbanked - that they would be able to own the customer entirely." 
"That's when the banks started to realise that they either needed to radically digitally transform and go beyond banking, or partner with telcos or risk their connection to their customers being eroded."
An example of this is a Zimbabwean bank that Custers has worked with in 2018, and cites as the proudest moment of her career. "FBC Bank is a perfect example of this. In Zimbabwe, 70% of all people who carry out financial transactions do so primarily through their telco, and less than half even have bank accounts. So, you can imagine the power that these telcos actually have, and how important it was for the bank to take bold steps in their digital transformation. Three years later, they are winning awards for their digital experiences, and they are doing so in the face of overwhelming odds." 
Another example of African ingenuity is in Kenya, where the dominance of telcos in financial services is absolute. In response to this, Equity Bank, CBA and KCB strategically partnered with Safaricom to improve financial inclusion. Custers does not think this is a coincidence: "As I've already said, it's often constraints that force companies, even those who traditionally compete, to innovate creatively and work together with the end-customer experience in mind."
This unique brand of innovation is not constrained to the private sector, in Custers' opinion; "I think Africa one place in the world where we've really seen that combination of constraint and community make a tangible, continent-wide difference and actually improve GDPs of countries, often forcing governments to digitally transform because the innovation in the private sector is moving so fast that the citizens now expect that of the governments. If you look at Rwanda, for instance, it is fast becoming a digital-first government, mostly because of the partnerships between banks, fintechs, government and telcos."
FinTechs helping African banks Accelerate Their Digital Transformation
Backbase and its partners are contributing to the digital transformation of Africa in two different ways. "On one hand, we are working with the leading banks in Africa, not only creating neobank-like experiences for their customers on their own digital channels but also giving them the opportunity to have an engagement banking platform that seamlessly plugs in the best FinTechs on the continent to augment their capabilities, allowing them to scale at speed.  
Backbase provides a class-leading omnichannel experience, not only for customers through web and mobile but also for employees by giving them access to digital experiences with the same user experience the customers enjoy. "We're helping banks to create a future-fit architecture, that is cloud-first, and powered by APIs. By unburdening our clients across the Middle East and Africa, and enabling them to adopt engagement journeys that have been proven on a global level - over more than 150 implementations in the USA, Europe, LATAM and Asia - we accelerate their digital transformations. The learning goes both ways, however.  We also leverage the innovations built on our platform by our African clients and feed it back into our 750 people strong Research and Development team, giving the rest of the world the opportunity to learn from this incredible continent."
The other way Backbase is accelerating digital transformation in Africa is through its partnership network. Custers explains; "We partner with some of the leading Fintechs, advisory firms and development shops across the globe. The Backbase marketplace consists of both accelerators and connectors to Backbase so that a bank can essentially create an end-to-end banking ecosystem almost out of the box in a six month period, or less. The necessary integrations and configuration on the platform can be easily delivered by Backbase, our delivery partners or the bank themselves in our flexible delivery approach."
Custers is clear on Backbase's vision for Africa. "The bottom line is, we want to work with the banks, the FinTechs and other partners across the region that share our passion to build banks that people love. There's a very old African proverb; 'If you want to go fast, go alone, but if you want to go far go together'. In this fast-paced, ever-changing digital world, I believe you can go far, and you can go fast if you go together.