What 2020 taught us about digital banking and engagement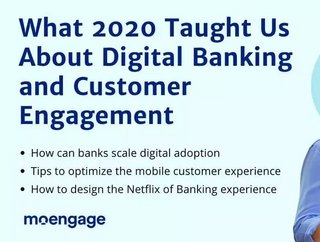 The year 2020 has been a challenging one for financial institutions, but even crisis periods can have a silver lining...
MoEngage, the AI-enabled customer engagement platform, and featured as Leader in the 2020 Gartner Magic Quadrant for Mobile Marketing, is scripting a success story both for banks and their end customers. 
The year 2020 has been a challenging one for financial institutions, but even crisis periods can have a silver lining. For banks, that silver lining was the chance to perfect the way they engage their customers digitally. With the pandemic limiting person-to-person interaction at branches, consumers have flocked to digital and mobile banking as a lifeline to their financial lives. 
Suggested reading: Check out this detailed Ebook outlining the customer engagement strategy that delights, engages, and retains your customers.
Mobile app adoption was already growing in subsequent years, but the trend began to spike even further in 2020. Take these telling statistics:
According to The Financial Brand, 35% of customers adopted online banking, with 30% specifically increasing their use of mobile banking, since the start of the COVID-19 crisis.
The report also states that Daily Active Users (DAU) of banking apps increased by nearly six percent since the pandemic began.  
Optimising the mobile customer experience
Many forward-thinking banks had already ramped up their efforts to make customer engagement a priority, driven by the trend toward online and mobile banking. Those banks have already started to reap the benefits, but many traditional banks and financial institutions have fallen behind the curve and are now forced to play catch up. 
What can they do to digitally reengage the customer base? As a starting point, it's important to acknowledge that today's consumers expect a seamless, interconnected digital banking experience. That means providing the same focus of relevant content, offers, campaigns and a personal touch that they receive from every channel, be it mobile, online or in-person. Consistency and personalisation are the keys. 
A report by global research firm JD Power validates this notion, saying that efforts to master what they call a true "Netflix of Banking" experience – where customers are fed a steady stream of likeable content and experiences – lies at the heart of all the woes of the banking industry. And expectations are even more prevalent with millenials and Gen Z audiences, which make up a growing number of online and mobile banking customers. Business Insider Intelligence's Mobile Banking Competitive Edge Study reports that an incredible 97% of millennials use mobile banking today, compared to 89% of consumers overall (which is in itself an impressive level of adoption). 
Helping banks scale mobile adoption
Some early movers in the banking industry have been very successful in rolling out a multi-channel customer engagement plan. Banks such as Ally in the United States, Airtel Payments Bank in India, and CIMB in southeast Asia have ably stitched together their online and offline presence to provide a seamless experience and a recognizable brand. MoEngage's customer engagement platform is the central component of their strategies. Aggregately, MoEngage serves more than 500 million active users and sends more than 45 billion push notifications every month, and manages more than 100 billion documents at any given time. 
A great example of superior customer engagement is global banking provider Mashreq Neo, which, in collaboration with MoEngage, recently won the , beating out more than 160 other banking brands. The financial company implemented a customer-centric engagement strategy with the use of disruptive digital user engagement technology that includes MoEngage's AI-powered engine, Sherpa. 
The advanced technology helped Mashreq Neo provide a 360-degree view of user behavior, helping to predict when a user is inclined to conduct to a next transaction, and when a customer cohort is likely to churn in the next 30-40 days, resulting in a doubling of onboarded customers and a 37% reduction in app uninstalls. 
MoEngage scripts the mobile banking success story
MoEngage has been instrumental in solving the tough challenges these banks and financial institutions face every day. Banks must reimagine how they:
Drive digital product adoption across websites and mobile apps
Onboard customers quickly and seamlessly
Engage consumers with the right marketing campaigns
Reactivate lost and dormant customers
Reduce impact on the marketing budget
The solution lies in MoEngage's powerful ability to create orchestrated campaigns across multiple digital touchpoints such as emails, SMS messages, push notifications, and social media.
MoEngage strives to make customer obsession a core quality for the financial institutions we work with. We create and manage campaigns that delight end users and improve the performance of our banking customers' marketing strategies. Picture one of your own end users receiving a customized offer from your bank while shopping at their favorite ecommerce outlet, or finding the best forex rates while traveling abroad. These are some of the MoEngage-enabled use cases that can help delight your users and nudge them to becoming a loyal patron of your brand. 
Learn more about MoEngage
Why should MoEngage be the engine that drives your bank's marketing arsenal? 
We provide a single powerful platform for your engagement and analytics needs.
We integrate seamlessly with your existing portfolio of digital tools.
We were built for scale and rapid digital transformation.
We value compliance above all else and adhere to regional and global regulations.
We know our way: Having worked with multiple brands in the industry, we know the pain points and challenges you face, and can support you in your customer journey.
We're here to talk more with you about your customer engagement strategies for the coming year. to get in touch with one of our growth experts.