Vacuumlabs and Thought Machine partner to transform banking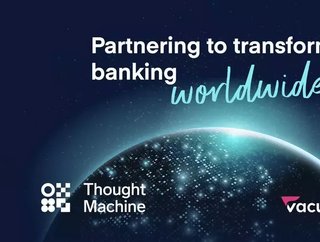 Vacuumlabs has announced a global partnership with Thought Machine following the two firms' successful cooperation in Asia...
, the global provider of full-stack fintech solutions, today , the cloud-native core banking technology company, following the two firms' successful cooperation in Asia.
Vacuumlabs recently completed the first-ever installation in Asia of Vault. This significant project has enabled a new virtual bank to launch in Hong Kong – along with Asia's first numberless payment card. The bank went from initial licensing to market deployment in just 18 months. 
technology and ' expertise provided this new bank with unparalleled security, scalability, flexibility and availability. The Vacuumlabs team of specialist engineers worked both remotely and on-site throughout the build to lead the installation. This highly successful collaboration evolved into forging .
Steve Hoy, Partnerships Director of Thought Machine explains why Vacuumlabs was the first-choice partner for this ambitious and successful endeavor: "Vacuumlabs has the specialist skillsets, technical expertise, and can-do attitude which enabled the client to embrace our cloud native core banking technology – the collaboration between our two companies was a key factor for the overall success of the project."
Paul Kenny, Chief Growth Officer comments: "Thought Machine's cloud native core banking platform, for banks around the world. This partnership is the logical step forward for our two companies which share a vision of engineering excellence and transforming industries with modern, pioneering technology. We are looking forward to continuing our in our future client implementations."
Based on the first implementation of Thought Machine in Asia, aims to strengthen its presence in the APAC region and broaden its services to existing and new clients in Asia with the launch of .
has a well-established track record in supporting those companies and brands that accelerate change in global financial services and make up this ecosystem. It has recently partnered on developing the , and in supporting changemakers by building digital banking platform.
Vacuumlabs and Thought Machine also launched the report in August 2020, providing practical insights on how to future-proof any bank with modern cloud native technology. This report can be .
Pictured: Vaccumlabs leadership team
, a trusted global technology partner with a proven track record in successfully delivering full-stack fintech solutions, provides teams of agile, remote by nature, software engineers, and designers with years of experience building fintech, cryptocurrency, online marketplaces, and digital products.
Every step of the way, our experts guide our clients, ensuring they can most fast, learn, and iterate. When it comes to world-class product development, we are here to be your guide and partner. From our seven offices, we guide our global clients in their product development needs. Since 2012, our team of engineers has grown to 250, and today we count over 60 clients around the world, from Europe to North America and Asia.

For more information visit vacuumlabs.com 
was founded in 2014 with a mission to enable banks to deploy modern systems and move away from the legacy IT platforms that plague the banking industry. We do this through our cloud native core banking platform, Vault. This next generation system has been written from scratch as an entirely cloud native platform. It does not contain a single line of code which is legacy, or pre-cloud.