Starling Bank boosts profile through UEFA Women's EURO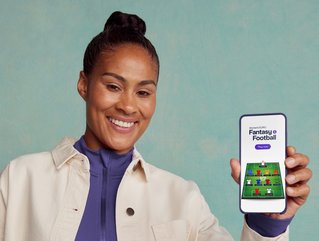 Rachel Yankey, the first woman in the UK to become a professional footballer and an ambassador of Starling Bank Credit: Starling Bank/Madeleine Penfold
Starling Bank backs diversity in sport launching Fantasy Football game for the UEFA Women's EURO of women's football
Starling Bank has announced the launch of the first women's fantasy football game, to celebrate being a sponsor of UEFA Women's EURO 2022, which kicks-off on July 6 2022.
The game is a first for the industry, and has been launched to celebrate UEFA Women's EURO 2022 teams and to broaden the representation of the women's game. All major Men's football tournaments have Fantasy counterparts and more than eight million people play the Men's Fantasy Premier League1.
Broadening the representation of women's football
The launch comes after one in five people said that they would play the game if it was linked to a women's tournament, and 63% of people in the UK believe that women's football should receive the same exposure as men's football, according to research.
Starling Bank, the first bank in the UK to be founded by a woman, chose Rachel Yankey, the first woman in the UK to become a professional footballer and an ambassador of the bank, to launch the game.
"We built Starling bank to give people the bank we thought they deserved," says Helen Bierton, former Olympic athlete and Chief Banking Officer at Starling Bank. "Now, here we are again, launching another industry first, this time for Women's Football. I hope this gets people talking about the brilliance of women footballers even more – as well as improving people's budgeting skills!
The bank has also partnered with women's football experts Girls on the Ball, who will be providing regular match analysis to inform players' Fantasy teams.
Rachel O'Sullivan, co-founder of Girls on the Ball: "It's time we had a Fantasy league for the UEFA Women's EURO. Fantasy Football is about so much more than creating a dream team and competing with your friends. It gets people invested in different players, watching the matches evermore closely, and celebrating players' football skills irrespective of national borders."
Encouraging women to join the game
By launching the game, Starling will provide expert analysis on the 16 women's teams in the UEFA Women's EURO 2022. By doing so, the bank aims to spark more engagement with the tournament, which has been predicted to be the biggest women's sporting event in European history by UEFA.
To increase support, Starling is encouraging as many people as possible to participate and build their own teams. Rachel Yankee said: "I'm so excited to build my first Fantasy team that features England Lionesses. When I was growing up there was nothing like this. I hope that fans both young and old can really enjoy building their teams and embrace the journey that Women's football has been on to get to where it is today.
"As a youngster I shaved my hair and pretended to be a boy just to fit in. Nowadays, the final for this tournament has already sold out Wembley Stadium before a ball has even been kicked. However, the playing field isn't level yet – every move towards equality makes a big difference."