The secrets of building a successful online bank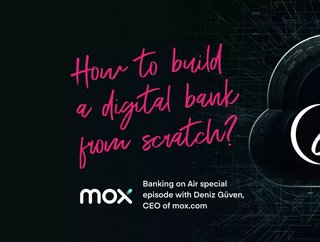 Deniz Güven, CEO and Founder of Mox by Standard Chartered, reveals the secrets and methodology behind his success
Mox by Standard Chartered continues to enjoy unparalleled success in Hong Kong 
Mox has extraordinary success as an online bank. Led by CEO Deniz Güven, the smartphone app has taken Hong Kong by storm, snatching up more than 100,000 customers within its first year. It's rare for a fintech to do so well. And especially so for a legacy bank to create it. At long last, banking giant Standard Chartered has proved that the godfathers of finance really can beat the tech companies at their own game. 
So how did Mox do it? What secret formula did they follow, that the scores of other banks before them couldn't? To uncover what exactly Mox did differently, leading app-builder Vacuumlabs is quizzing the pioneers, leaving no stone unturned. The software development company is dedicating an entire podcast on their channel, Banking on Air.  
Banking on Air is a podcast for financial leaders, by financial leaders 
As trusted partners, the team at Vacuumlabs is excellently placed to quiz the brains behind Mox. They know the app intricately and, as Güven himself comments, Vacuumlabs was a fundamental player around the table. Together host Marcel Klimo and Mox will unpick what it was that made the app such a success. And more importantly, how banks today can use this information to continue innovation. 
"Banking on Air was created to inspire banks around the world. To help them unleash their digital potential. We're thrilled to welcome CEO Deniz Güven and the team at Mox onboard. Together, we can shine a light on the incredible power of financial technology and how it can improve the lives of people everywhere," comments Marcel Klimo.  
Listeners get a unique glimpse into the philosophy and strategy behind Mox's success 
Many longstanding banks have tried and failed to build banking apps. Often, they can rack up millions of pounds of losses along the way. As well as some underwhelming customer reviews. The podcast sessions will dig into the details of what Güven did differently. 
Mox has been an instant hit in Hong Kong, but to the team at Mox, it was no surprise. 
'We identified 80 pain points and tried to fix each one of them with technology', Güven reveals. 
Podcast listeners can hear straight from the founders' mouth how he went about identifying pain points and creating micro-innovations. They'll also get a unique insight into his approach to employing staff and building partnerships to create such a successful product. 
'The insights are fresh, exciting, and invigorating. A must-hear for any financial c-suite', comments Marcel Klimo.
Güven and the team have a fierce passion for the future, leaving listeners in no doubt of the strategic direction of Standard Chartered. 
'Instead of just focusing on one mobile app, and pushing the technology and pricing, we decided to focus on a new operating model, which can bring us a lot of different opportunities and also a lot of chances to differentiate ourselves in Hong Kong', Güven exclaims. 'Let's build the future operating model of Standard Chartered!'.
Enjoy the Banking on Air podcast episodes at: https://vacuumlabs.com/podcast
Media Contact:  Zuzana Gergelova, [email protected]
About Banking on Air
Banking on Air is a leading financial technology podcast, welcoming innovators from across the globe to join in lively and productive discussions. It's hosted by Vacuumlabs' own Sales and Growth Engineer Marcel Klimo and world-renowned fintech influencer and author of "Reinventing Banking and Finance", Helene Panzarino.  
With more than 30 podcasts to boot, the platform looks under the hood at the changing face of technology, digital banking, payments and more. 
About Vacuumlabs 
Vacuumlabs is a global technology partner with a proven track record in delivering full-stack fintech solutions. It provides teams of agile, remote by nature, software engineers, and designers with years of experience building fintech, cryptocurrency solutions, and launching digital products.
From our seven offices, we support our clients in their product development needs. Since 2012, our team of engineers has grown to 250, and today we count over 60 clients, from Singapore to San Francisco.
About Mox
Mox is a new virtual bank in Hong Kong backed by Standard Chartered, in partnership with HKT, PCCW and Trip.com. We are the combined power of a well-trusted international banking group, the city's telecom and lifestyle leader as well as Asia's largest online travel agency. Mox delivers a suite of retail banking services as well as lifestyle benefits all in one place, growing your money, your world, and your possibilities