UK retains European crown despite fintech funding slump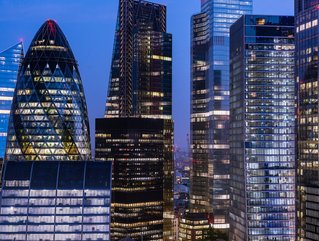 Much of the UK's fintech dominance is concentrated in the City of London.
The UK is still the largest market in Europe for fintech investment, despite a 57% slump in investment during H1 2023 over the same period last year
Investment in the UK's fintech scene is down by more than 50% in just a year, according to KPMG, but the country is still holding onto its grasp as a global leader in the sector.
UK fintech investment dropped to US$5.9bn in the first half of 2023, down 57% from the same period 12 months ago. There were 215 M&A, private equity and venture capital deals completed in the first six months of 2023 compared to 392 a year ago.
The figures underline a challenging H1 for the fintech market globally, with the value of deals dropping from US$63.2bn to US$52.4bn quarter-over-quarter. According to KPMG, this is being driven by a "cloud of uncertainty permeating through the market" and dragging down investor confidence. Reasons include high inflation, rising interest rates, geopolitical tensions such as Russia's invasion of Ukraine, and ongoing tech sector challenges.
Despite the challenges facing post-Brexit Britain, it is still holding onto its crown as Europe's number one fintech destination. The UK remains the centre of European fintech investment with British fintechs attracting more funding than their counterparts in the rest of EMEA. The UK attracted half of the region's 10 largest deals in the first half of the year, including the US$3.1bn buyout of data insights firm Wood Mackenzie by Veritas and a £500m raise by the lending firm Abound.
UK 'still at centre' of European fintech
John Hallsworth, Client Lead Partner for Banking and Fintech at KPMG UK, said: "Despite a slowdown in UK fintech investment compared to last year, the UK remains at the centre of European fintech innovation with British fintechs attracting over half of all funding in Europe.
"The UK is working hard to become a leading global centre for crypto and digital assets, building on its natural advantages – the legal and regulatory environment, the availability of skills, the quality of the universities, and the language and time zone positioning. While the UK may not be first out of the blocks with its crypto and digital assets regulations (they'll likely come into force in early 2024), it is working to create the right regulatory environment to support a sustainable crypto and digital assets ecosystem and make it an attractive location to participants, while also protecting consumers."
More focused regulation of the crypto market was one of the key recommendations of the Kalifa Review, which sought to cement the UK's place at the heart of Europe's financial services industry. This review was recently implemented in the form of the newly enacted Financial Services and Markets Bill, which seeks a start to regulation of the crypto space.
Green shoots despite slowdown in funding
And despite what might appear like doom-and-gloom on the surface, there were some sectors that recorded triumphs in H1 2023 – particularly supply chain and logistics-focused fintechs and green fintechs.
Judd Caplain, Global Head of Financial Services at KPMG International, continues: "It wasn't a surprise to see fintech funding decline in the first six months of 2023, given the enormous headwinds pressuring the market at the moment. But the long-term business case for many subsectors within fintech remains very strong – particularly for sectors like payments, insurtech, and wealthtech. Once market conditions begin to even out."
******
For more insights from FinTech Magazine, you can see our latest edition of FinTech Magazine here, or you can follow us on LinkedIn and Twitter.
You may also be interested in our sister site, InsurTech Digital, which you can also follow on LinkedIn and Twitter.
Please also take a look at our upcoming virtual event, FinTech LIVE London, coming on 8-9 November 2023.
******
BizClik is a global provider of B2B digital media platforms that provides executive communities for CEOs, CFOs, CMOs, Sustainability Leaders, Procurement & Supply Chain Leaders, Technology & AI Leaders, Cyber Leaders, FinTech & InsurTech Leaders as well as covering industries such as Manufacturing, Mining, Energy, EV, Construction, Healthcare, and Food & Drink.
BizClik – based in London, Dubai, and New York – offers services such as Content Creation, Advertising & Sponsorship Solutions, Webinars & Events.