Financial Services (FinServ)
Top 10 quotes from FinTech Magazine in 2022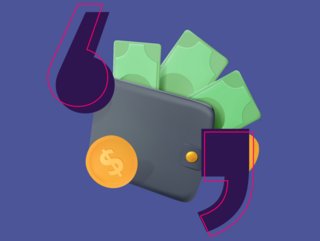 If you're in need of some new year inspiration, we've rounded up some of the most thought-provoking quotes to have appeared in FinTech Magazine this year
As the end of the year approaches, we thought we'd take a nostalgic glance through all of FinTech Magazine this past year to find our most inspirational and thought-provoking quotes of 2022. We've managed to pull out some nuggets of advice and some interesting ways to look at the challenges and opportunities facing our industry. So here it is, our top 10 quotes from FinTech Magazine in 2022.
"The rights of consumers to continue paying in cash should be protected" – in the July issue of FinTech Magazine, Udo Mueller, CEO Paysafecard at Paysafe, says that many consumers still view cash as an important part of the payments landscape. It's too easy to view the possibility of cashless societies through the lens of young, tech-native consumers; but we know that millions are still unbanked, let alone the number of consumers who lack the technical means to take advantage of new technologies. While we may dream of a cash-free future, we still have to consider vulnerable consumers on the route there.

"I think part of being an entrepreneur is to be slightly naive and over-optimistic about speed and impact" – Daniel Kjellén, CEO of Tink, discusses his experience in entrepreneurism in our December issue of FinTech Magazine. But while many founders dream big, the path to success is rarely a smooth one. In Kjellén's case, he planned to go to university when he was 20-something but accidentally stumbled on his first successful business venture instead. He did eventually make it to university, before leading Tink into a billion-dollar buyout at the hands of Visa.

"Misleading greenwash has the potential to influence investment and purchasing decisions, ultimately diverting meaningful change that we need" – in our September issue of FinTech Magazine, Ella Moore, Senior Strategist at brand agency Superunion, contemplates the negative impact of greenwashing. As financial institutions strive to reach net zero and do their part for the planet, there is a risk that those left behind will resort to hyperbole and unfounded claims. This practice, known as greenwashing, has the potential to undermine the good work being done by other companies, as Moore explains.

"If you are ever faced with a challenge, stop and ask yourself 'what's the plan?' or 'how do we do this?' before jumping on a particular course of action" – George Ludviksson, CEO and Co-Founder of digital banking fintech Meniga, shares some thoughts on strategic decision-making in the April issue of FinTech Magazine. If you have a tech background or you're used to working in short sprints, you can become blinkered by creating a solution and not pay enough attention to understanding the problem. Working out a plan of attack before jumping in can be of huge benefit, Ludviksson says.

"I am inspired by the possibility of developing the solution for today's and tomorrow's challenges" – Guus Franke, CEO of Axiom Partners, gives us an insight into the mind of private equity in May's issue of FinTech Magazine. For fintech founders in particular, understanding what makes venture capitalists tick – apart from profit, of course – can end up being an uncrackable endeavour. In reality, they are often driven by the same motivations as fintech founders themselves and just want to be shown the right solution to a proven problem.

"All companies with a vision to become public should act like a public company long before they are one" – Romi Savova, CEO of PensionBee, has these words of advice for any company thinking of going public in October's issue of FinTech Magazine. PensionBee went public during the pandemic and the timing may have been a blessing, rather than a curse, Savova says. Publicly listed companies are afforded much more scrutiny than privately held firms, so before an IPO take the time to prepare every part of your business.

"The constant overload of unregulated crypto leads to daily negative headlines about cryptocurrency scams, resulting in investors being put off from buying and selling crypto" – Dan Da Rosa, Co-Founder and CEO of Ethax, is concerned about the effect of crypto controversy on legitimate players in the November issue of FinTech Magazine. It's been a pretty bad year for crypto generally, with wildly fluctuating valuations topped off by the collapse of crypto exchange FTX. Regulation may accelerate change within the industry, but Da Rosa insists we must focus on restoring consumer trust.

"We're watching financial power shift from enormous, global institutions to individuals" – Doug Ludlow, Co-Founder and CEO of MainStreet, has some thoughts on the democratisation of finance in February's issue of FinTech Magazine. Ludlow says that this shift – perhaps the biggest change within finance for 500 years – is being driven by a combination of technological innovation, new business models and rapidly growing demand for more dynamic financial services.

"As competition heats up, an option to differentiate propositions is to provide regulatory updates, nudges and educational content to customers" – Nicolas Vrillaud, Head of Partnerships at Mettle, believes that financial software can play a more integral role in clients' businesses in the December issue of FinTech Magazine. Businesses are facing budgetary pressures the same as consumers, and finding helpful ways through the current economic conditions could make or break a service provider like an accounting or tax tool.

"More than two thirds of banks think they will lose market share within two years if they fail to digitally transform" – Simona Covaliu, VP Risk and Compliance at Mambu, lays bare the challenge facing incumbents in the August issue of FinTech Magazine. She cites Mambu's own research in determining the progress made by banks to digitise, and the advantage that new challengers possess. Despite understanding the need for digital transformation, many large banks are still struggling.