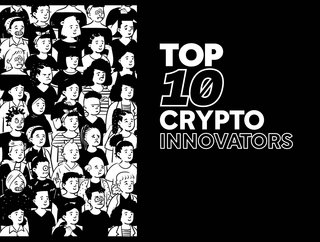 Crypto has come a long way in a decade. But while a lot of attention is given to crypto exchanges, we wanted to shine a light on the innovators behind them
Crypto is such a vast subject that a Top Ten list always seems to do it a disservice. If we were choosing the top crypto exchanges, we could comfortably compile a list of 100 – and still risk disappointing a handful of companies that we don't have room for. That's how far the industry has come from its infancy just a few years ago.
But it's not the Top Ten crypto exchanges that we're covering this month; it's the innovators behind them. These are the ten most vocal, most pioneering entrepreneurs in the world of digital currencies.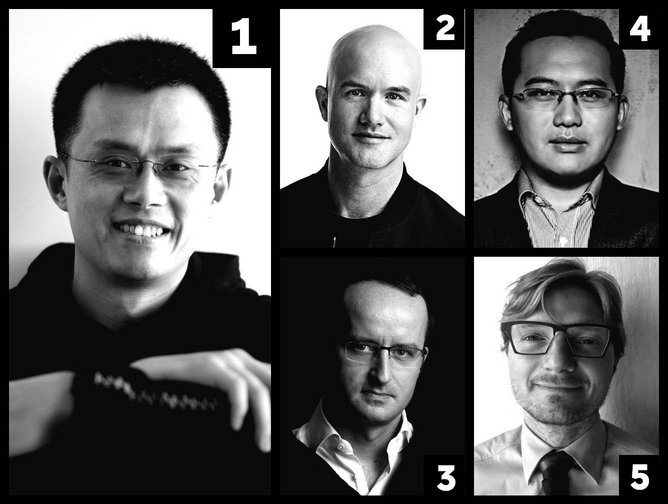 1. Changpeng Zhao (Binance)
It's no surprise that Changpeng Zhao tops our list. After all, he did build a crypto empire in less than six months – an incredible feat. Born in China, Zhao later moved to Canada with his family at the age of 12, where he studied Computer Science at McGill University in Montréal before learning about bitcoin during a poker game in 2013. Despite cryptocurrency still being a nascent area, Zhao decided to throw everything he had at it, even selling his apartment to buy bitcoin.
When he started Binance in July 2017, he wanted to build a platform that combined the high frequency of trading platforms – much like the ones he helped build for the Tokyo Stock Exchange and Bloomberg's Tradebook when he was fresh out of college. After some initial setbacks, he then transformed Binance into a decentralised platform with a global workforce. Today, it is the largest crypto exchange with daily trading volume of US$76bn.
2. Brian Armstrong (Coinbase)
Armstrong, the Co-Founder and CEO of Coinbase, also studied computer science – a Bachelor's that was then followed by a Master's, both obtained from Rice University in Texas. Before starting Coinbase in 2012, Armstrong worked at IBM and Deloitte before a stint as Technical Product Manager at Airbnb – by that time, a four-year-old startup synonymous with 'couchsurfing'.
Along with Fred Ehrsam, Armstrong founded Coinbase in 2012 as a way for crypto enthusiasts to trade in bitcoin and other digital currencies. In April 2021, Coinbase went public with a direct listing that saw it reach a valuation of US$85bn, increasing Armstrong's personal fortune to a reported US$2.4bn.
Today, the platform proclaims that it is on a mission to deliver a fairer and more transparent financial system. Users can choose to buy or sell more than 10,000 different digital assets, with Coinbase boasting more than US$300bn in quarterly volume traded.
3. Kris Marszalek (Crypto.com)
Described by Crypto.com as "a seasoned company builder", Marszalek co-founded ecommerce business Beecrazy before selling it to iBuy Group for US$21mn in 2013. He also led Asian discount retailer Ensogo before joining Crypto.com as CEO six years ago.
Under his stewardship, it has become one of the largest and most important crypto platforms, with more than 4,000 employees and 50mn users. The platform is reported to have more than US$250mn in daily volumes.
4. Star Xu (OKCoin and OKX)
While this serial crypto entrepreneur has a chequered past, he has no doubt left his mark on the industry. He founded the crypto exchange OKCoin in 2013, before becoming CEO of OKGroup. In 2017, he founded OKX, although he is reportedly not involved in the venture anymore.
Chinese authorities arrested Xu in 2020 on suspicion of fraud, though he reemerged the following month, denying any wrongdoing.
5. Jesse Powell (Kraken)
The enigmatic founder of crypto exchange Kraken, Jesse Powell, started the platform back in 2011. It became the first US crypto firm to receive a state-chartered banking licence and was one of the first exchanges to offer spot trading with margins, regulated derivatives and index services.
Over the course of a decade, the California State University graduate has overseen transformational change at the company. Today, Kraken reportedly handles daily volumes in excess of US$500mn.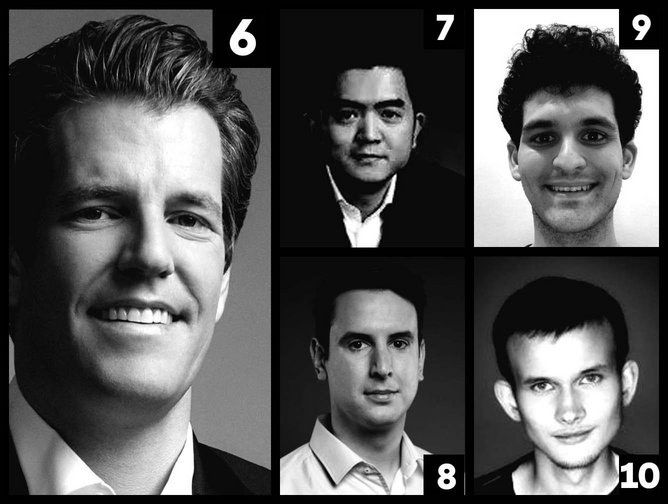 6. Tyler Winklevoss (Gemini)
Fans of the film The Social Network will recognise the name Winklevoss; before launching crypto exchange Gemini in 2013, Cameron and Tyler Winklevoss sued Facebook founder Mark Zuckerberg, claiming he stole an idea for a social network they conceived at Harvard. While Facebook has enjoyed its own success, Gemini has turned into a force to be reckoned with, too. The business, which Tyler Winklevoss continues to lead, is one of the largest crypto trading platforms with a reported US$100mn in daily volumes.
7. Eagle Huang (Deepcoin)
Deepcoin is a crypto derivatives trading platform that is primarily aimed at the Asian market. Before founding the company, CEO Eagle Huang had over ten years of digital experience and served as the head of a wealth management company with more than US$7bn of assets under management. So Huang will certainly not be out of his depth, having built a platform that boasts 1mn users with a reported daily volume of over US$2.5bn today.
8. Nejc Kodrič (Bitstamp)
According to Fortune magazine, Kodrič started crypto exchange Bitstamp in his garage in 2011 alongside fellow co-founder Damijan Merlak, before moving the business to London and, later, Luxembourg.
As Bitstamp CEO, he oversaw a period of enormous growth before leading Bitstamp into a majority buyout by Belgian investment firm NXMH in 2018. Kodrič remained as CEO for almost a decade and was on the board until February 2022. He's now a board member at Standard Custody & Trust Company, a digital asset custody solution.
9. Sam Bankman-Fried (FTX)
FTX describes itself as "a cryptocurrency exchange built by traders, for traders". In fact, before starting the platform, Founder and CEO Sam Bankman-Fried was a trader himself, working on the international exchange-traded funds (ETF) desk of New York-based trading firm Jane Street Capital.
An MIT graduate, he joined forces with Google software engineer Gary Wang in 2019 to create FTX. Led by Bankman-Fried, the platform is seeking to create a derivatives exchange that nudges the industry closer towards institutional investing.
10. Vitalik Buterin (Ethereum)
Although he is not the creative force behind a crypto exchange, Canadian computer programme Vitalik Buterin is one of the co-founders of Ethereum. He conceived the platform as an alternative to bitcoin in the early days of digital currency; he thought that bitcoin needed a scripting language for application development, so he set out to build Ethereum.
Today, the platform and its associated cryptocurrency, Ether, are among the most-traded on the market, earning Buterin a reputed net worth of around US$1.5bn.