Speed, cost and transparency matter in cross-border payments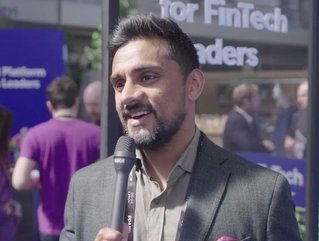 Wise's Commercial Lead, Abid Mumtaz, was speaking to us at Money20/20.
Speed, cost and transparency are still some of the most important considerations when it comes to cross-border payments, Wise's Abid Mumtaz explains
Speed, cost and transparency are still some of the biggest drivers behind the cross-border payments industry, according to Wise's Commercial Lead, Abid Mumtaz.
Mumtaz was talking to FinTech Magazine as part of an interview at Money20/20 Europe in Amsterdam earlier this month – which he says is a great event for meeting people.
"Moving money generally across borders has always been a very difficult thing when it comes to businesses and consumers," he tells us. "Three or four things stand out to me. One is the speed at which money moves. People today need money to arrive with the beneficiary as fast as possible and as instantly as possible, more than they used to.
"Secondly, they want it to arrive as low cost as possible with as few fees as possible. Thirdly, as transparent as possible – they want to know when their money will arrive, how much will arrive, and they want a high level of accuracy.
"The fourth thing really comes down to convenience – so moving money generally speaking is quite a cumbersome process, especially when it comes to doing that cross border. They want that to be as easy as possible, as convenient as possible, within a few steps or a few clicks – just as we're seeing across most of the banking and financial journeys we're seeing today."
What next for the future of cross-border payments?
The future of cross-border payments is a question he's often faced with, and something he tries to discern on behalf of Wise's own clients as well.

Looking ahead, Mumtaz predicts: "5-10 years from now, we'll probably be in a world where instant is very much adopted. Today with Wise, we're proud to say that 55% of our payments moving around the world are settling into the beneficiary's bank within 20 seconds, but the market still has a way to catch up and we still have plenty of work to do to get to 100%. I think that's where we're going to be spending a lot of time.
"Here at Money20/20, you can see how many different people within the payments industry are actually just focusing on how money can move as fast as possible."

Looking for more Money20/20 insights? For the full interview with Abid Mumtaz from Wise, you can play the video above or visit FinTech Magazine's LinkedIn page, where you'll find a host of other industry insights from an illustrious list of Money20/20 Europe attendees.