Financial Services (FinServ)
'Solopreneur' finance platform Collective raises $50m for AI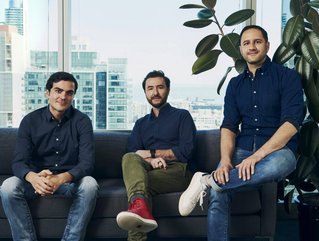 Collective was founded by (from l-r) Bugra Akcay, Uğur Kaner and Hooman Radfar.
US fintech Collective has raised US$50m from investors to integrate more AI tools into its platform for self-employed business owners – or 'solopreneurs'
Collective, a San Francisco-based fintech that provides financial tools for self-employed business owners, has raised US$50m in funding.

The capital injection comes courtesy of a group of investors including Innovius Capital, Gradient Ventures, the General Partnership, Better Tomorrow Ventures, General Catalyst, QED, Expa, Sound and others. In particular, Collective will use the money to invest in its core platform and expand implementation of AI technology across its product suite.
Founded in 2020, the US fintech offers back-office financial functions – including company formation, tax, accounting and bookkeeping – for sole traders. Its customers include freelancers, consultants, marketers and business founders – a group of people it refers to as 'solopreneurs'. Research shows that nearly 40% of the American workforce fit this category, demonstrating the need for an all-in-one solution like Collective's.
Collective hoping for 'billion-dollar business-of-one'
The company intends to make much greater use of artificial intelligence (AI), which it says can be leveraged both to build tools for its community of solopreneurs and to change the way its clients work on a daily basis.
Collective will devise internal AI co-pilots to work simultaneously on both of these endeavours, ultimately leading to robust new capabilities on the company's platform. It also intends to accelerate expansion and grow its membership base further.
Hooman Radfar, Co-Founder and CEO of Collective, believes the company's clientele will one day include unicorns: "In 2013, Instagram was sold for US$1bn. With just 13 full-time employees, they demonstrated that with the help of technology, massive value can be created with a small team. With the advent of new AI tools that enable people to do more with less, this type of unprecedented growth and success will soon be within reach for everyone.
"In a recent Collective member survey, 40% of self-employed workers expect AI tools to radically improve their productivity and profitability. At Collective, we're excited to help fuel the productivity of solopreneurs and welcome the first billion-dollar business-of-one."