NatWest pays £144mn for stake in savings fintech Cushon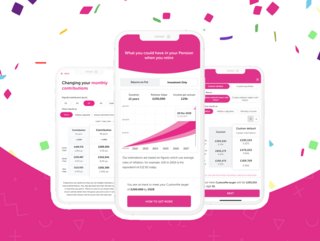 Through its consumer app, Cushon offers workplace savings and pensions.
NatWest is paying £144mn for a majority stake in UK workplace savings fintech Cushon, which lets users control their investments and see their emissions
British banking group NatWest has agreed to acquire an 85% stake in workplace savings fintech Cushon in a deal worth £144mn.
NatWest says the acquisition will allow it to "offer a new suite of financial wellbeing services" to business clients and their employees, at a time when hard-pressed consumers are seeking ways to get the most out of their money. Cushon's main products include a workplace ISA, master trust pension, and junior and lifetime ISAs as well as a general investment account. NatWest relationship managers will start to offer the newly acquired proposition to its commercial mid-market clients, following a successful trial last year.
The acquisition will also play into NatWest's sustainability strategy, which includes a commitment to reach net zero by 2050 and to halve the impact of NatWest's financing activity by 2030. Cushon says that pension funds finance 23 tonnes of CO2 emissions every year on average, but it has launched a net zero pension that allows consumers to take control of the impact of their investments.
Cushon's product mix is complemented by a simple and intuitive mobile app, which lets users take control of their financial products. The fintech was founded in 2014 and is based in London, from where it is led by former actuarial consultant Ben Pollard.
Acquisition allows NatWest 'to reduce savings gap'
Alison Rose, Chief Executive Officer of NatWest Group, says: "By combining the scale, experience and expertise of NatWest Group with Cushon's innovative workplace savings and pensions products, this acquisition allows us to enhance our services to commercial customers and support the financial wellbeing of their staff.
"Core to our purpose-led strategy is supporting customers at every stage of their lives, and by entering this fast-growing market we are equipping ourselves with the tools to develop a proposition which responds to our customers' changing needs whilst delivering value-driven sustainable growth and returns."
Peter Flavel, Chief Executive of NatWest's wealth businesses, believes that the acquisition will have a positive impact on British savers: "On average, UK employees are due to outlive their savings by 10 years and we are committed to helping reduce this savings gap. We believe Cushon's engaging, app-first pension will help customers by moving their pension and workplace savings schemes from a compliance burden to an employee benefit."
According to research published a week ago by Standard Life, 50% of consumers think that information around pensions and retirement is "overwhelming". Separate research published last year by Aviva shows that, from a sustainability perspective, four in five employers (80%) believe it is important that workplace pensions are invested responsibly.
Ben Pollard, CEO and Co-Founder of Cushon, concludes: "This is the next exciting chapter for a great British fintech as we join forces with a great British bank. Becoming part of NatWest Group will accelerate our plans for further technology-led innovation to improve the UK's financial wellbeing. Together, we look forward to driving more positive change in workplace savings and pensions. Cushon's cutting edge technology and socially responsible investment funds will allow even more UK savers to benefit from a convenient, great value way to save; and understand the positive impact their life-long savings can have on issues that matter, such as climate change."