Financial Services (FinServ)
Money20/20: Payoneer's Jody Perla on cross-border payments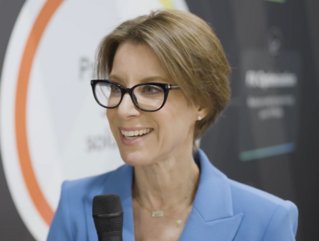 Payoneer's Jody Perla says her mission is "focusing on SMEs all over the world"
Speaking to FinTech Magazine at Money20/20 Europe, Payoneer's Jody Perla talks about the unshakable value of cross-border payments providers
While in attendance at Money20/20 Europe, FinTech Magazine caught up with Payoneer's Managing Director, Jody Perla, to discuss the lasting importance of cross-border payment providers amid technological innovation.
We also discuss Payoneer's mission for the future and the positive impact of events like Money20/20 in bringing the industry together.
Why are events like Money20/20 so important for Payoneer?
Money 20/20 is a key event for us for a number of reasons; it's where we meet most of the suppliers, vendors, and service providers in our network. It's important for me as Managing Director, as I look after our global network and our ability to plug into banks and payment providers all over the world.
I think one of the nice things that Payoneer can do at Money20/20 is consolidate our partnerships because we're integrated with so many of the companies that are here. Our partnerships extend not only to the payments, cash management, or foreign exchange sphere but also to KYC, risk management, and compliance. So a number of the vendors we see here are super important to our platform, network, and the services we provide.
How important is mobile and other digital innovation to the evolution of cross-border trade?
I was just reading an article about cross-border trade, and I saw some statistics that, even today, dozens and dozens of documents are required to complete cross-border business transactions. Providing solutions to this is a big part of what Payoneer does.
We love to focus on making things more frictionless, but when you're talking about a large business transaction, a mobile interface for accessing your Payoneer app, or accessing your own bank account, for sure, people want access to information at their fingertips.
But regardless of the interface used to access your business or personal account, there is still tonnes of complexity and paperwork that are associated with a cross-border transaction. And certainly, when you're talking about large, high-value transactions, mobile interfaces can improve the user experience.
But, this doesn't help with processing all that paperwork, which is something Payoneer can assist with – we're all about the ease of moving money regardless of the interface.
How does Payoneer aim to innovate cross-border payments over the next 12-18 months?
Our core mission is to delight our customers and continue to provide them with the tools and services to help scale their businesses. Our focus on small and medium businesses (SMEs) all over the world will continue. For Payoneer, it's really important that we continue to get to know our customers, not only from a risk and compliance standpoint but to understand what their needs are, to help them focus on whatever their line of business may be.
If Payoneer can take away a lot of the headache and complexity of cross-border transactions for SMEs, focusing on their core value proposition and providing them with the fundamental financial services to run their business globally – and allow them to focus on running their business well – that's a win.

Looking for more Money20/20 insights? For the full interview with Payoneer's Jody Perla, you can play the video above or visit FinTech Magazine's LinkedIn page, where you'll find a host of other industry insights from an illustrious list of Money20/20 Europe attendees.