Metro Bank raises £325m to stave off financial black hole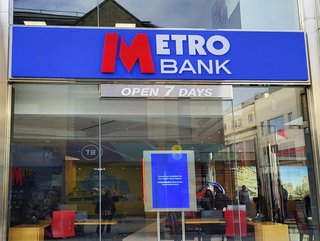 Unlike other challengers, Metro Bank insists on keeping brick-and-mortar branches.
Metro Bank has raised £325m in funding and is considering disposing of another £3bn's worth of residential mortgages, amid concerns for its finances
UK challenger Metro Bank has secured a last-minute rescue package worth £325m, following several days of intense speculation about its future.
There had been concerns about the future of the bank, which needed to raise hundreds of millions of pounds to shore up its finances. Now the bank has announced £150m of new equity funding and £175m of new MREL issuance, alongside £600m of debt refinancing, to help fortify its balance sheet.
If the bank had failed to secure funding, it could have become the latest in a string of banking failures to occur in 2023 – with Silicon Valley Bank (SVB) and Credit Suisse among the highest profile casualties of recent banking turbulence. On Sunday night, the Bank of England had reportedly been touting Metro Bank to prospective buyers.
The bank might still sell additional assets – including a residential mortgage portfolio worth up to £3bn. However, the bank, which announced half-year profits of £16m back in August, still plans to press ahead with new branch openings in the north of England.
Metro Bank is unusual among challenger banks in that, at a time of increasing digitisation, it retains an emphasis on face-to-face banking. The company currently operates more than 70 branches across the UK, which it calls 'stores'.
Who is behind Metro Bank rescue package?
The equity portion of the fundraise is being led by Spaldy Investments, Metro Bank's largest shareholder, which is in turn controlled by Colombian billionaire investor Jaime Gilinski Bacal. It means that Gilinski Bacal will become a controlling shareholder of the bank, holding roughly 53% of all issued shares.
The funding includes £600m of debt financing from new and existing shareholders, and could be complemented by the disposal of a mortgage portfolio worth up to £3bn. This would be "consistent with the successful similar transaction executed in December 2020", the bank says, when it sold a similar portfolio with a gross book value of £3.045bn to NatWest. It is no surprise that other high-street banks are being linked with a possible deal this time round.
Over the long term, Metro Bank wants to transition its business towards specialist mortgages and commercial lending, which it sees as carrying better returns, as well as growing Return on Tangible Equity (RoTE) to more than 9% by 2025. It claims today's funding will "significantly strengthen" its CET1 ratio, which compares its capital against its assets; and lifts the embattled bank out of capital buffers designed to protect banks from overexposure.
Funding is a 'new chapter' for Metro Bank

Despite the continuing uncertainty that surrounds the bank, Metro Bank's Chief Executive Officer, Daniel Frumkin, is positive about what the capital investment means for the bank: "Today's announcement marks a new chapter for Metro Bank, facilitating the delivery of continued profitable growth over the coming years. Metro Bank made a statutory profit after tax in Q3 2023, and continues to demonstrate ongoing momentum as we strive towards our ambition to be the UK's number one community bank.
"Our strong franchise is underpinned by our loyal customer base and engaged colleagues and we will continue to develop the Metro Bank offer to provide the digital and physical banking services our customers expect. We thank our shareholders and noteholders for their continuing support of Metro Bank and our customers."
And Jaime Gilinski Bacal, the bank's new majority shareholder, adds: "I have been an active investor in Metro Bank since 2019. The opportunity to become the bank's major shareholder is driven by my belief in the need for physical and digital banking underpinned by a focus on exceptional customer service. I believe that the package announced today enables the bank to pursue growth and build on the foundational work undertaken over the past three years."
******
For more insights from FinTech Magazine, you can see our latest edition of FinTech Magazine here, or you can follow us on LinkedIn and Twitter.
You may also be interested in our sister site, InsurTech Digital, which you can also follow on LinkedIn and Twitter.
Please also take a look at our upcoming virtual event, FinTech LIVE London, coming on 8-9 November 2023.
******
BizClik is a global provider of B2B digital media platforms that provides executive communities for CEOs, CFOs, CMOs, Sustainability Leaders, Procurement & Supply Chain Leaders, Technology & AI Leaders, Cyber Leaders, FinTech & InsurTech Leaders as well as covering industries such as Manufacturing, Mining, Energy, EV, Construction, Healthcare, and Food & Drink.
BizClik – based in London, Dubai, and New York – offers services such as Content Creation, Advertising & Sponsorship Solutions, Webinars & Events.