Mastercard and Paysend 'deepen' cross-border payments tie-up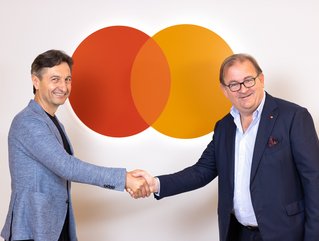 Sealing the deal: Paysend's Abdul Abdulkerimov (left) with Mastercard Europe's Mark Barnett.
Mastercard and Paysend are 'deepening' their cross-border payments partnership to continue providing joint solutions for small-and-medium-sized firms
Mastercard is extending its partnership with Paysend aimed at enhancing cross-border payments for small-and-medium-sized businesses (SMEs).

The extension of the "long-standing" partnership comes as SMEs are increasingly seeking new ways to send money abroad or pay vendors around the globe. Indeed, despite the disparity in scale between SMEs and large enterprises, small firms make up over 98% of European imports and exports, according to the statistics agency Eurostat.
Mastercard's 2022 Borderless Payments Report shows "strong growth" in the number of SMEs sending and receiving cross-border payments through mobile apps, but pinpoints persistent challenges around transparency and predictability. Nearly 40% of SMEs surveyed as part of the report say that cumbersome cross-border payments processes are slowing down their supply chain, with a quarter stating that they had lost suppliers as a result.
As a result of the extended partnership, Mastercard and Paysend will continue to devise joint solutions to cross-border problems – such as the already-established Open Payment Network, which orchestrates end-to-end payment flows, from initiation to settlement in near real-time.
Mastercard and Paysend have 'shared vision'

Mark Barnett, President of Mastercard Europe, says: "We are excited to deepen our collaboration with Paysend to empower small and medium businesses to pay and get paid promptly. At Mastercard, we are committed to helping SMEs grow and thrive in the digital economy."

Abdul Abdulkerimov, Co-Founder and Chairman at Paysend, adds: "With a shared vision to provide innovative financial products and solutions to our customers, Mastercard has been a key collaborator to us on our journey to improve the efficiency of the financial system and make cross-border payments safe, fast and convenient.
"The Open Payment Network empowers SMEs to transact globally with ease, ensuring timely and secure payments at every step of the way."
Paysend has also joined the Mastercard Send Partner Program, which helps fintechs, acquirers, processors and platforms deliver near real-time digital payments to their customers. Paysend will benefit from Mastercard's network reach, enabling the company to open up new corridors between Europe and the rest of the world for person-to person transactions.
******
For more insights from FinTech Magazine, you can see our latest edition of FinTech Magazine here, or you can follow us on LinkedIn and Twitter.
You may also be interested in our sister site, InsurTech Digital, which you can also follow on LinkedIn and Twitter.
Please also take a look at our upcoming virtual event, FinTech LIVE London, coming on 8-9 November 2023.
******
BizClik is a global provider of B2B digital media platforms that provides executive communities for CEOs, CFOs, CMOs, Sustainability Leaders, Procurement & Supply Chain Leaders, Technology & AI Leaders, Cyber Leaders, FinTech & InsurTech Leaders as well as covering industries such as Manufacturing, Mining, Energy, EV, Construction, Healthcare, and Food & Drink.
BizClik – based in London, Dubai, and New York – offers services such as Content Creation, Advertising & Sponsorship Solutions, Webinars & Events.