Financial Services (FinServ)
Magic raises $52m in funding led by PayPal Ventures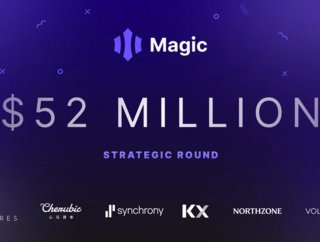 Magic raises US$52m in a strategic funding round led by PayPal Ventures
Web3 firm Magic raises US$52m in a strategic funding round led by PayPal Ventures, bringing total investment in the company to $80m
Magic, a web3 startup, has raised US$52m in its latest funding round. Led by PayPal Ventures, Magic says this latest investment "marks a monumental milestone" in its growth, particularly amid challenging macroeconomic conditions.
Magic feels its largest-ever round of investment has helped reinforce its position as an industry-leading wallet-as-a-service-provider (WaaS), with the likes of Cherubic, Synchrony, KX, Northzone, and Volt Capital joining PayPal Ventures in this latest funding round.
Growing since 2018
Founded in 2018, Magic attributes funding in its services to growing use cases of web3 technology among large enterprises and organisations. Blockchain use beyond crypto has scaled significantly at global brands in this time, for greater customer experience offerings and monetisation in a range of different verticals.
Magic hopes to continue working alongside Fortune 500 companies to bring more web3 use cases to consumers, making it an "everyday" experience.
Completing a mission
With its latest funding, Magic hopes to fulfill its mission of ensuring every internet user has a digital wallet. This will, according to the web3 provider, proliferate the scale and potential of web3 by enabling authentic ownership for everyone.
In addition, Magic will focus on expanding its functionality and enabling new use cases to drive greater value to customers with its latest funding, as well as growing its adoption rates in the EU and APAC.
Magic highlights key features it feels sets itself apart from other web3 providers:
Patented delegated key management system technology, which allows for unparalleled scalability and provides users with complete control over their assets
Enterprise-ready features and SOC2 Type 2, CCPA, GDPR, HIPAA, ISO compliance
End-to-end web3 onboarding features including authentication, fiat onramps, NFT Minting and NFT Checkout
Mass adoption of web3
Alan Du, Partner at lead investor Paypal Ventures, says: "Mass adoption of web3 is a hot topic, and Magic is facilitating this with a safe and simple solution.
"Magic's wallet creation service allows companies to reach millions of users on their apps and onboard customers who are new to web3. We're proud to be investing in Magic and believe the company will help drive the growing number of web3 use-cases amongst global brands."