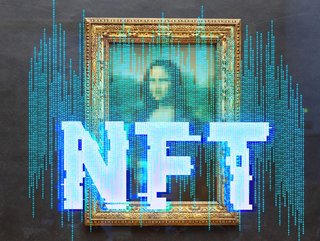 Data from Statista reveals the NFT market is expected to reach US$3.2bn by 2027, rising from US$1.6bn in 2023. This is a compound annual growth rate (CAGR) of 18.55%
The NFT market has faced a significant downturn since its peak in the spring of 2022, but does it have a future? We look at what's in store for NFTs
The non-fungible token (NFT) market has faced a meltdown in recent months, with floor prices dropping below 30 ether, an 83% decline from an all-time high in 2022. With this in mind, the future of NFTs looks somewhat uncertain.
Beginning with the creation of the Ethereum ERC-721 token, the NFT price bubble has been significant. Huge sales including Beeple's US$61m NFT price tag, as well the US$89m in sales reached for Damien Hirst's 'The Currency' collection – and the NFT boom looked like it would last indefinitely.
Weekly trading volumes between August 2021 and April 2022 often reached between US$750m and US$1.5bn, but now, the average price of token sales has dropped a marked 92% between 2022 and 2023 – from US$3,894 to US$293 – according to data from Chainalysis.
But why has the market dropped so significantly, and what does this mean for the future of NFTs? Interestingly, as the NFT market fell, Bitcoin's price rose. But is there a relationship between the performances of crypto and NFT markets?
Is there a market relationship between blockchain-built assets?
Not so for Freeverse CEO Alun Evans, who says the strength of the crypto market is symptomatic of "perceived weakness in regular financial markets".
For him, it's important to realise "that cryptocurrencies are not being treated as currencies but commodities (indeed, Bitcoin is regulated as such, in most jurisdictions)", or an alternative to fiat currencies.
While Bitcoin's rise may hold no relation to a dip in NFTs, CEO and Co-founder of Redeem, Toby Rush, disagrees entirely, arguing that Bitcoin and NFTs have strengthened together.
"Beyond ordinals being an example of continued initiative and development in the NFT space, this is also a reflection of how, despite an overall decline in the NFT market, there is still overall an appetite amongst consumers to participate and engage with new NFT innovations," says Rush.
NFT market set for future health despite current slump
While the NFT market may be facing a current slump, reframing NFTs as more than just an investment or tradable asset means the future of the NFT market looks strong despite the current slump.
Data from Statista reveals the NFT market is expected to reach US$3.2bn by 2027, rising from US$1.6bn in 2023. This is a compound annual growth rate (CAGR) of 18.55%.
Not only this but the number of NFT users is expected to hit 19.31 million by 2027, with user penetration expected to hit a rate of 0.2% by the same date.
With this in mind, the future of NFTs looks bright. As the market comes to identify NFTs in a different light, its current drop looks set to alleviate in the future.
Understanding NFTs
Freeverse's Evans is not so concerned about the NFT market drop, saying investments are not, or should not, even be the ideal use cases for NFTs in the first place.
He expands: "Investments are not the ideal use case for NFT technology in the long run. The true value of the blockchain and web3 technology is not in artificial scarcity but in ownership of digital assets and enabling those assets to evolve based on how the owner uses them.
"This introduces liquidity into areas where previously impossible – for example, assets in video games or loyalty programmes for large brands."
With this in mind, perhaps the drop off in market price for NFTs is more of an adjustment in understanding what their best use case is. After all, the ERC-721 token was only first released in 2017.
The future role of NTFs
For Evans, the role of NFTs as an investment is merely a prelude to its broader purpose. "While NFTs are tradable, and like all tradable assets (gold, oil, art), they can function temporarily as an investment or store of value," he says.
"However, this should not be the primary use case going forward. The power of tokenisation of assets is to generate liquidity in an area where this was not possible previously. And the value of the NFTs should depend on their utility (where and how they can be used) instead of their scarcity."
As far as Evans is concerned, there are more practical uses of NFTs moving forward. "NFT technology has more practical and valuable applications beyond this first era of hype and speculation that led to many scams, disappointments, and the current decline in interest.
"As with any new technology, the space is still evolving, and we're now seeing the next generation of NFTs ("dynamic" NFTs) present a more promising future for the technology.
"Unlike NFTs that build value based on scarcity or speculation, dynamic NFTs allow people to actively engage with the underlying brand or offering.
"This encourages owners of dynamic NFTs to interact, share, or even trade them, resulting in increased long-term user retention and significant opportunities for the games industry and brands in general."
The scope of NFTs outside of investments and trading is therefore clear. And this is something Redeem's Rush agrees with.
He says: "It's important to remember that NFTs don't have to be defined by the initial use case of Jpegs and profile pictures any more than static read-only websites defined the internet. There is real utility and depth to this technology.
"For example, NFT-powered tickets can act as cryptographic proof of ownership and authenticity, allowing holders to enter a live music concert, sporting event, etc., without fear of inadvertently buying counterfeit tickets. They can offer users exclusive benefits based on their history with the brand, purchases at an event, or other unique aspects of their experience.
"Overall, utility is king, and harnessing the inherent utility of NFTs in innovative ways that benefit the end user is critical for an NFT renaissance. Offering greater utility to customers also unlocks new revenue streams for businesses and provides a convenient onboarding avenue for new users to enter the Web3 space."
Do NFTs have a role in the metaverse?
If, according to Rush, utility is key for future use cases of NFTs, what of NFTs in the metaverse? Crypto, among other blockchain-built products and assets, has been slated to have a big impact in this virtual future, so what role can NFTs play?
Evans thinks a significant one. "The metaverse is an extension of our digital experiences – where we have the freedom to present ourselves however we choose. This is where the importance of our digital possessions comes into play," he says.
"If we can remove the principle use case for NFTs that we've seen so far (being used for investment purposes), then we are left with the main benefit of the technology: ownership. NFTs provide an excellent way to showcase ownership of digital items, both in the metaverse and beyond."
Rush agrees, calling NFTs "one of the cornerstones of what blockchain enables". With the scope to evolve, Rush feels NFTs "will remain essential to the emerging Web3 ecosystem".
He adds: "The various ways NFTs are implemented show no sign of slowing. Token-gated events are on the rise, for example, allowing only holders of specific NFTs to gain access to real or metaversal events.
"We're also seeing the rise of the "phygital" movement, which blends physical luxury goods, such as fashion items or rare collectibles, with a 'digital twin' equivalent. Even though some of this is seeing slow traction in the West, consumers in Asia are already very open to these types of promotions and are actively getting involved.
"For example, a recent metaverse event hosted by the K-Pop group BlackPink reportedly saw 46 million users attend.
"These campaigns work because Web3 isn't nearly as stigmatised in Asia as it is in the West, and consumers are both receptive to and excited about the benefits that this new technology can bring. Considering Asia often leads the West on digital trends, such as mobile gaming, we see this as a positive indicator that we are still in the early stages of what NFTs can offer."
******
For more insights from FinTech Magazine, you can see our latest edition of FinTech Magazine here, or you can follow us on LinkedIn and Twitter.
You may also be interested in our sister site, InsurTech Digital, which you can also follow on LinkedIn and Twitter.
Please also take a look at our upcoming virtual event, FinTech LIVE London, coming on 8-9 November 2023.
******
BizClik is a global provider of B2B digital media platforms that provides executive communities for CEOs, CFOs, CMOs, Sustainability Leaders, Procurement & Supply Chain Leaders, Technology & AI Leaders, Cyber Leaders, FinTech & InsurTech Leaders as well as covering industries such as Manufacturing, Mining, Energy, EV, Construction, Healthcare, and Food & Drink.
BizClik – based in London, Dubai, and New York – offers services such as Content Creation, Advertising & Sponsorship Solutions, Webinars & Events.