Financial Services (FinServ)
How can financial inclusion of LGBTQ+ community be improved?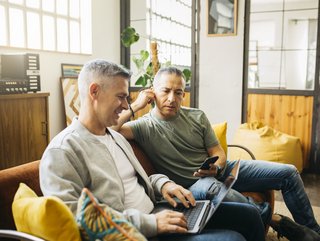 Financial inclusion of LGBTQ+ community
The LGBTQ+ community are more likely to feel stress or anxiety about money, research says, so how can banks tailor their products to this demographic?
The cost-of-living crisis is providing a unique situation for many families, with rising grocery prices and high inflation in many countries adding pressure to purse strings. For LGBTQ+ families – whose rights and safety are under greater pressure now than at any other point in the last 15-20 years – the problem appears particularly stark.
Members of the LGBTQ+ community are more likely to have negative feelings about their personal finances, according to research published earlier this year by the Center for LGBTQ Economic Advancement & Research (CLEAR) and the Movement Advancement Project (MAP). Roughly twice as many LGBTQ+ respondents as non-LGBTQ+ respondents reported feeling anxious, overwhelmed and depressed about their finances, the survey continues.
Andrew Arwas, Director of Transformation at Chetwood Financial, says: "The state of the economy means consumers are seeing their spending power diminished and finances stretched, with a third of UK households living payday to payday. For people in the LGBTQ+ community – many of whom already face financial hurdles because of their gender identity or sexual orientation – these problems are magnified." Arwas therefore believes it's "high-time" for banks to step up and deliver more inclusive financial services.
What banking needs do LGBTQ+ people have?
As Billie Simmons, Co-Founder and COO of LGBTQ+ banking app Daylight, said in an interview last year, "the large traditional banks don't even think about us outside Pride month". Even though, on the surface, it might appear as though LGBTQ+ customers have the same banking needs as non-LGBTQ+ people, there are actually some very specific requirements that banks can help meet.
Those surveyed by CLEAR and MAP were more likely to have a federal student loan covering the cost of their education; and, in 40% and 82% of cases respectively, incurred some out-of-pocket expenses related to the formation of their family or the cost of gender-affirming care.
And that's just when it comes to the products and services offered by banks. LGBTQ+ customers face administrative hurdles not usually faced by their non-LGBTQ+ counterparts – particularly in the trans community, where a person's sense of identity (including their gender and name) might be different to that shown on official documents.
What's more, one in 10 LGBTQI+ people (11%) say they have experienced discrimination in banking or financial services, according to the same report.
Creating an equitable financial services landscape
The financial difficulties reported by LGBTQ+ customers are compounded by broader problems that often put them at a disadvantage – for example, the LGBTQ+ community endures a higher rate of unemployment in the US, census data shows, and experienced a greater frequency of job losses during the pandemic, according to analysis from Rutgers University. They are also underpaid compared to their non-LGBTQ+ colleagues, earning just US$0.90 in the dollar, according to the Human Rights Campaign Foundation.
Against the backdrop of these challenges, it is therefore imperative that banks and financial service providers double-down on their efforts to be inclusive for LGBTQ+ consumers – particularly for trans folks, who: face greater challenges accessing the financial system; are more likely to experience discrimination in everyday life; and have a high need for affordable credit to cover their out-of-pocket health expenses, as the CLEAR and MAP research shows.
As well as championing diversity, banks should be creating products from scratch that meet the unique needs of LGBTQ+ consumers, if they are really serious about diversity and inclusion.
"Creating a financial services market where all people feel seen and represented means understanding the unique challenges that people in the LGBTQ+ community face when it comes to managing their money and financial accounts," says Andrew Arwas. "Plenty of surveys have already thrown light on systemic issues like the LGBTQ+ pay gap and underemployment, while other research has underscored practical issues with their bank's processes, such as the difficulties involved in changing the pronoun, name or gender on their account.
"Ultimately, this means that people may find it difficult to save for the future, boost their creditworthiness, or achieve financial flexibility during an already tough economic period. Research from Experian shows that more than two-fifths of LGBTQ+ respondents struggle to maintain adequate savings, compared to 38% of the general population, while 18% overall had no credit cards in their names."
Logan Casey, Senior Policy Researcher and Advisor at MAP, says its research "underscores the urgent need for strong and decisive efforts to counteract this financial toll and other harms" associated with being an LGBTQ+ person. "Given the escalating political attacks on LGBTQ+ and especially transgender people, federal protections against discrimination are essential," Casey continues.
Arwas concludes: "Clearly, financial products that offer blanket solutions to these problems will no longer suffice. Banks and financial services companies have a duty to catch up to the societal issues that hold LGBTQ+ people back from living financially-secure lives. This means creating products that serve their particular financial needs and developing ongoing servicing processes that make it easier for members of the LGBTQ+ community to complete the simplest of changes that are already standard practice for cisgender heterosexual citizens."