Future of crypto exchange FTX in doubt as Binance walks away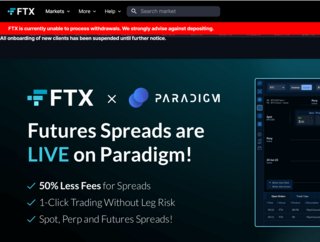 The future of crypto exchange FTX appears to be up in the air amid reports of a liquidity crisis, after a proposed bailout by rivals Binance fell through
The future of cryptocurrency exchange FTX appears in doubt after rival Binance announced a deal to bail it out, then withdrew, in the space of little more than 24 hours.
Facing financial difficulties, FTX had initially agreed a deal to sell its non-US unit to Binance. FTX founder Sam Bankman-Fried said that things had come "full circle", pointing out that Binance was an initial investor in the platform. However, after due diligence, Binance has now withdrawn from the deal, leaving the future of FTX in the balance.
The exchange is believed to be facing liquidity issues, after rumours about its financial state prompted crypto holders to withdraw a reported US$6bn in just three days. Sequoia Capital, which has an investment in FTX, has written down the value of its holding to zero amid concerns that the exchange could go bust.
"In recent days, a liquidity crunch has created solvency issues for FTX," Sequoia writes in a note to its limited partners. "The full nature of this risk is not known at this time. Based on our current understanding, we are marking our investment down to $0." The mark-down means that Sequoia could lose $150mn from the failed investment – although the investment firm is keen to point out that FTX makes up just 3% of the fund that it is part of, and the overall health of that fund is good with around $7.5bn in realised and unrealised gains offsetting the FTX loss.
Binance withdrawing from FTX deal 'a sad day' – Zhao
In a statement posted to Twitter, Binance says: "As a result of corporate due diligence, as well as the latest news reports regarding mishandled customer funds and alleged US agency investigations, we have decided that we will not pursue the potential acquisition of FTX.com.
"In the beginning, our hope was to be able to support FTX's customers to provide liquidity, but the issues are beyond our control or ability to help. Every time a major player in an industry fails, retail consumers will suffer. We have seen over the last several years that the crypto ecosystem is becoming more resilient and we believe in time that outliers that misuse user funds will be weeded out by the free market.
"As regulatory frameworks are developed and as the industry continues to evolve toward greater decentralisation, the ecosystem will grow stronger."
FTX founder Sam Bankman-Fried has not commented publicly since news of Binance's withdrawal was shared, but he had previously said, when the bailout was announced, that FTX was concentrating on clearing the company's withdrawal backlog and resolving its liquidity issues. He had struck a positive tone about a potential merger, despite the two companies being seen as long-time rivals.
Binance founder Changpeng Zhao has said it is a "sad day" but that the company had tried everything it could to rescue FTX. It is now expected that, unless the crypto exchange is bailed out by a different investor, the company may cease trading. A notice on its website indicates that it has suspended withdrawals and that it "strongly advises" against additional deposits.

FTX's predicament highlights need for regulation

Nigel Green, CEO of financial advisory and asset management firm deVere Group, says the affair amplifies calls for regulation: "The fiasco highlights the need for sensible regulation of the crypto industry. Calls for greater regulatory scrutiny must be championed as digital currencies are set to play an ever greater role in the global financial system.

"Cryptocurrencies must come into the regulatory tent and be held to the same standards as the rest of the financial system. They are here to stay – and the market is only set to grow. There can be no doubt that regulation of the crypto ecosystem is required and, I believe, it should be a priority."

He continues: "I have enormous sympathy with the users of FTX. The industry participants and financial watchdogs must now seize this moment as a point of inflection and work together in order to further shore up the sector and instil trust and transparency by means of sensible, workable regulation."