Flip raises further US$55mn for its P2P payments platform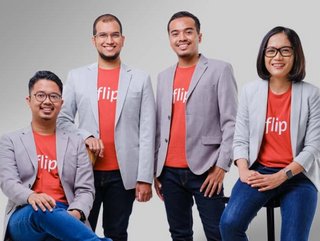 Indonesian fintech Flip, which offers a peer-to-peer (P2P) digital payments platform, has raised US$55mn in the second close of its Series B funding round.
Indonesian fintech Flip has raised a further US$55mn in the second close of its Series B round, bringing the total amount of funding raised to over US$100mn.
This latest round of investment was led by Chinese tech company Tencent alongside Block, the Jack Dorsey-led digital payments firm formerly known as Square. Flip said the second round of funding would allow it to develop its team, pursue further product and technology innovation, and accelerate expansion.

In December, the fintech raised US$48mn in a Series B funding round co-led by Sequoia Capital India, Insight Partners and Insignia Ventures Partners.
Flip backed in its efforts to 'make fintech accessible'
Rafi Putra Arriyan, Co-founder and CEO of Flip, says: "The growth opportunity of the Indonesian digital economy is vast with its massive population and favourable demographics. We are laser-focused on helping millions of Indonesians, both individuals and businesses, execute various money transactions at a low cost through our platform.
"We believe in the vast potential of P2P (peer-to-peer) payment because it is customary in Indonesia to send money via transfer for both personal, family, or household purposes. Despite many others trying and failing, we have succeeded in capturing the market because of our customer-focused understanding."
Gita Prihanto, Flip's COO, adds: "We are humbled to receive trust and continuous support from our investors. We are also thrilled to welcome Tencent and Block, who share the same purpose of making fintech accessible to everyone in Indonesia. The knowledge and expertise from our strong partners, both renowned global firms and angel investors, will help us to grow our business amid the challenging times facing today's global market and tech landscape.
"This investment phase invigorates our aspiration to have an even greater positive impact on society by continuing to expand our fintech solutions and by promoting the digital economy ecosystem in Indonesia."
Flip turning peer-to-peer transfers on its head
Flip is a consumer payments platform that allows Indonesian consumers and businesses to carry out low-cost money transfers. The app is trying to break down common problems with P2P transactions like lengthy process times, complicated consumer flows and money getting stuck along the way.
Flip was founded in 2015 by University of Indonesia alumni Rafi Putra Arriyan, Luqman Sungkar and Ginanjar Ibnu Solikhin while they were still studying. It is a solution to a problem the group experienced themselves as college students when trying to transfer money between different banks and accounts.
The platform now boasts millions of users and – aside from the US$100mn in funding that Flip has raised in the past six months – there are signs that the business is on an upward trajectory. In the first half of 2022, Flip has increased the size of its team by 30%, now employing more than 400 people within Indonesia, and significantly driven growth in user volumes.

Since its Series A round in 2019, the company has come a long way. A tailored solution for business, called Flip Business, was followed last year by the release of Flip Global, a tool that lets users send money overseas. The company's three founders were then named on the Forbes 30 Under 30 list in recognition of the business they'd built.