Tokyo-based fintech Smartpay brings BNPL boom to Japan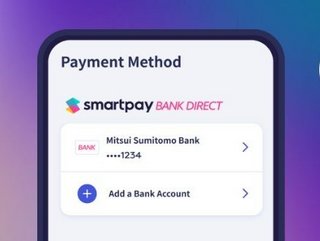 Japanese fintech Smartpay is bringing the buy-now-pay-later (BNPL) revolution to Japan, where over 60% of transactions currently take place using cash
Japanese fintech Smartpay has launched a new service that will allow customers to pay for goods online in instalments, straight from their bank account.
Smartpay, which was founded in June 2021, is utilising Japan's open banking ecosystem to connect consumers through a network of more than 60 partner banks across Japan. The move represents the next step for the fintech, which is striving to bring fast, secure and convenient financial solutions to middle- and high-income users.
The company sits at the confluence of buy-now-pay-later (BNPL) and account-to-account (A2A) transactions – two of the fintech sector's biggest areas of focus globally. The company is aiming to bring more payment options to consumers at checkout and digitise Japan's economy at the same time: over 60% of transactions are currently paid in cash, the company says, citing data published by the Ministry of Economy, Trade and Industry.
Smartpay is led by seasoned professionals with prior experience at Standard Chartered Bank, Facebook, Stripe, Adyen and Mastercard; it is backed by investors including Global Founders Capital, Matrix Partners and SMBC VC.
Helping consumers manage money 'in a smarter way'
Smartpay's founder and CEO Sam Ahmed says: "We are delighted to be the first in Japan to provide digital consumer finance services which supports both credit cards and direct debit through a fully automated, single-click UX at the point of purchase. Our passion is helping consumers manage their cash flow in a smarter way, in a fast, safe and secure click.
"We believe we are driving digital consumer finance to the next phase of its maturity. Buy-now-pay-later has had to grow up from the perspective of a business model, profitability, and consumer value proposition."
Ahmed believes that the app's strong UX design is one of its biggest selling points. Smartpay spent three years analysing the success of BNPL in other markets and building systems that would be scalable and commercially sustainable. Ahmed cites one key merchant who describes the firm as "the Apple of digital consumer finance" and credits the design of the UX for instilling a sense of trust within users.
The fintech is currently focused on Japan, Saudi Arabia and the UAE. In the medium term, Smartpay intends to expand into SIngapore, South Korea and Taiwan as well as other markets throughout Southeast Asia and MENA. It says that a number of factors are common among all of these countries, including an economy that is undergoing digital transformation; a tech-savvy population; merchants that need help digitising; and legacy banks that have been disrupted by digital-first solutions.
Ahmed continues: "Since the launch of Smartpay just over a year ago, as Japan's first BNPL solution payable by credit card, we have continued to expand our partner ecosystem with new retailers and an expanding customer base with revenue growth over 200% in the last three months. It's interesting that we have lifted merchants' average order value more than 30% in four different merchant categories."