Financial Services (FinServ)
Evident Index report: Which banks are winning the AI race?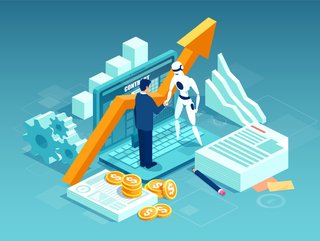 Speaking on the Index findings, Evident Co-founder and CEO, Alexandra Mousavizadeh, says: "It's been an epochal period for AI development and commercial adoption"
In its annual report, the Evident AI Index reveals which banks are leading in AI adoption and best usage. Read on to see the current AI banking leaders…
Created by Evident – the AI benchmarking and intelligence platform – the Evident AI Index is a leading independent benchmark for commercial AI adoption and performance in the financial services sector.
First launched in January 2023, the Index ranks the effectiveness with which commercial financial services and banks are developing, adopting, and/or implementing AI across their organisation.
Assessing the AI maturity of 50 of the world's largest banks by combining extensive manual research, automated data capture from public sources, consultation across a network of AI experts, and ongoing dialogue with the featured banks, Evident has listed the banks winning the AI race today.
The world's leading AI bank: JPMorgan Chase
Leading the race, as they were in earlier this year, is JPMorgan Chase. Per the Index, the American investment bank continues to "radically outperform" the wider market in AI research, preserving its position as the banking leader in AI innovation.
What's more, it performed highest for transparency, thanks to its efforts to uphold responsible AI practices across the organisation.
Teresa Heitsenrether, Chief Data & Analytics Officer at JPMorgan Chase says: "The Evident AI Index shines a light on the growing impact artificial intelligence is having on the financial services industry.
"We are proud that our AI talent, insights and solutions were once again recognised as best-in-class and we are committed to continuing to invest in these capabilities to help us serve our clients and communities better."
Best-performing banks across the four pillars of AI maturity
Rounding out the top 3 banks in AI maturity were Capital One and the Royal Bank of Canada (RBC), in 2nd and 3rd respectively.
Per the report, both Capital One and RBC have shown consistent strength across AI patents, research and partnerships throughout 2023.
Notably, Capital One has supplanted JPMorgan Chase in AI development and data engineering talent metrics.
Other high-performing banks include Wells Fargo, UBS and CommBank. In fact, UBS ranked third across all areas of talent capabilities required to scale AI, while CommBank was the sole representative of Australia in the top 10 banks leading the way in AI.
The complete Evident AI Index top 10 is as follows:
JPMorgan Chase
Capital One
Royal Bank of Canada
Wells Fargo
UBS
CommBank
North America dominating the AI race
Of Evident's top 10, it is notable that six of these banks are based in North America. Indeed, of the 15 US banks covered in Evident's study, eight rank in the top 20. What's more, four Canadian banks make up the top 20, demonstrating Canada's strength alongside the US.
Only two UK-based banks, HSBC (ranked 13th) and NatWest (ranked 19th), make it to the top 20 in the leading AI banks, where NatWest has surpassed Barclays (currently in 22nd place) since the Index's inception in January.
BNP Paribas (12th) and Société Générale (20th) maintain their positions as the top-performing French banks. In Spain, Santander (21st) is accompanied in the top thirty by BBVA (26th).
An 'epochal period for AI development'
Speaking on the Index findings, Evident Co-founder and CEO, Alexandra Mousavizadeh, says: "It's been an epochal period for AI development and commercial adoption.
"The emergence of Generative AI has helped make AI a top priority for the banks, while shareholders have begun pushing for updates on how and where these institutions are drawing value from their significant investments.
"A sense of urgency is taking hold within the banks to accelerate the pace of business restructuring and ensure that the right capabilities are in place to harness the front end of AI development.
"There is no doubt that AI will shape the future of the global financial sector, and determine who will remain in the market going forward.
"AI is absolutely existential for the survival of the banks and given the pace of adoption, it's critical that we're able to track AI maturity across the banking sector, helping institutions harness the power of emerging technologies with openness and transparency, and sharing best practice so that all banks can remain competitive in the AI age."
******
For more insights from FinTech Magazine, you can see our latest edition of FinTech Magazine here, or you can follow us on LinkedIn and Twitter.
You may also be interested in our sister site, InsurTech Digital, which you can also follow on LinkedIn and Twitter.
Please also take a look at our upcoming virtual event, FinTech LIVE London, coming on 8-9 November 2023.
******
BizClik is a global provider of B2B digital media platforms that provides executive communities for CEOs, CFOs, CMOs, Sustainability Leaders, Procurement & Supply Chain Leaders, Technology & AI Leaders, Cyber Leaders, FinTech & InsurTech Leaders as well as covering industries such as Manufacturing, Mining, Energy, EV, Construction, Healthcare, and Food & Drink.
BizClik – based in London, Dubai, and New York – offers services such as Content Creation, Advertising & Sponsorship Solutions, Webinars & Events.