Customers want banks to do more – but is AI the answer?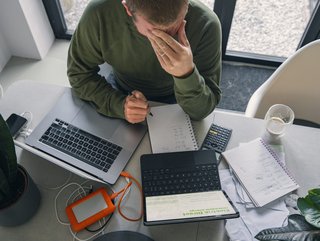 Many banking customers have been struggling with the cost-of-living crisis.
Customers want their banks to do more to support them through the cost-of-living crisis, says research from SAP and GFT, but is AI the solution?
Just a fifth of consumers are satisfied with the support they receive from their bank as they wrestle with rising inflation and the cost of living, according to new research.
SAP asked 2,000 UK-based consumers and 500 senior SME decision-makers about their experiences with banking during the cost-of-living crisis. Just 22% of consumers say they are happy with the support their bank is providing, while over half (52%) of UK SMEs are currently reassessing their bank's suitability.
The research also suggests that, as the going gets tough, customers are becoming more proactive about finding alternative providers. Over a third of over-55s surveyed say they are open to switching banks based on the interest rate, although this figure stands at just 16% of Gen-Z respondents.
Likewise, 60% of medium-sized companies (those turning over between £50m and £500m) would like their bank to invest in additional analytics or automation tools so they can get a clearer picture of their business finances, while over 40% of much smaller firms (those generating between £100,000 and £1m) would like better communication and advice.
The findings demonstrate the banking sector's shortcomings amid a troubling time for the industry; it has been just six months since Silicon Valley Bank collapsed, leading regulators scrambling to find rescuers, and Credit Suisse was acquired by UBS. The latter announced bumper profits this week, bolstered by the deal for its beleaguered rival.
AI the answer to loftier banking expectations?
Anuj Kumar, Industry Strategy and GTM lead for Financial Services at SAP UK, says the research calls for a response from the country's banking sector: "The message from UK banking customers is clear – providers are failing to deliver the personalised services and support and this is breeding dissatisfaction. The time is now for banks to hit the reset button and ditch the one-size-fits-all approach to targeting and recognise each segment acts and behaves differently."
Michael Walsh, Head of Financial Services UK, adds: "SMEs are key to the growth of UK. Banks need to rethink how they engage with the SMEs. Size, experience of the executive, industry and the SME's own growth ambitions are significant factors driving how they use the financial services sector."
Although the research highlights calls from industry for banks to invest in analytics and automation, there is still some hesitancy from consumers when it comes to artificial intelligence (AI). Separate research from GFT shows that almost 30% of UK-based consumers don't want their bank using AI – although GFT points out that this is counteracted by 61% of consumers who say they are happy for their banks to use AI to support them with their day-to-day finances.
The attitudes uncovered by GFT are indicative of a complex awareness landscape, with equal numbers of respondents claiming to both understand (41%) and not understand (41%) the technology.
"There is a huge buzz currently around AI – both its benefits and visions of apocalyptic futures," says GFT UK Client Solutions Director for Retail Banking Richard Kalas. "It is important that banks adopting AI take their customers on the journey with them, to demonstrate they are using the technology safely, securely and in the best interest of the customer."
******
For more insights from FinTech Magazine, you can see our latest edition of FinTech Magazine here, or you can follow us on LinkedIn and Twitter.
You may also be interested in our sister site, InsurTech Digital, which you can also follow on LinkedIn and Twitter.
Please also take a look at our upcoming virtual event, FinTech LIVE London, coming on 8-9 November 2023.
******
BizClik is a global provider of B2B digital media platforms that provides executive communities for CEOs, CFOs, CMOs, Sustainability Leaders, Procurement & Supply Chain Leaders, Technology & AI Leaders, Cyber Leaders, FinTech & InsurTech Leaders as well as covering industries such as Manufacturing, Mining, Energy, EV, Construction, Healthcare, and Food & Drink.
BizClik – based in London, Dubai, and New York – offers services such as Content Creation, Advertising & Sponsorship Solutions, Webinars & Events.