Financial Services (FinServ)
Can fintechs help businesses with online sales taxes?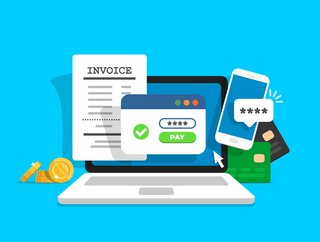 A report from Alvara suggests 78% of UK businesses struggle with online sales tax requirements
A report from Avalara suggests 78% of UK businesses struggle with online sales tax requirements following the US Wayfair decision; can technology help?
Following the US Supreme Court Wayfair case in 2018, which decided that states may charge tax on purchases made from out-of-state sellers, Avalara has reported that 78% of UK businesses operating in the US continue to struggle with online tax sales requirements.
In fact, 49% of UK companies working in the US say the confusion and complexity around economic nexus and marketplace facilitator laws have forced them to increase prices for customers.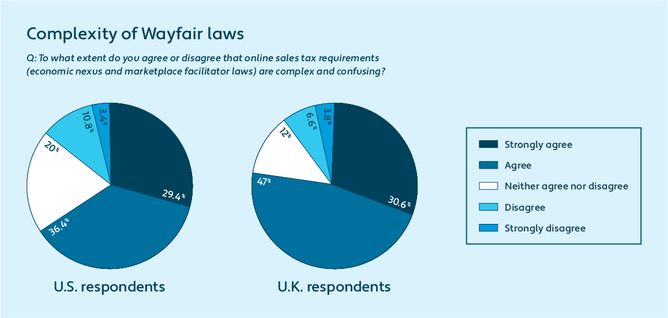 Poll on confusion of US online sales tax requirements
An untapped market for tax technology providers?
As a result of Wayfair-related complexities, 69% of UK businesses reveal US expansion has become far more difficult than it would have been five years ago.
However, Avalara's report suggests up to 22% of these companies are yet to invest in tax technology to help with the calculation and reporting of online sales tax requirements. This is particularly true of SMEs, with some 44% yet to adopt accounting solutions or automated tax compliance software.
There is, therefore, a significant gap in the market both for accounting technology and compliance software providers to serve UK-based SMEs with an eye on US expansion.
What's more, the niche sector of automated tax and accounting software is ripe for innovation, with 80% of UK businesses – technology adopters or not – admitting Wayfair-related complexities still cause headaches.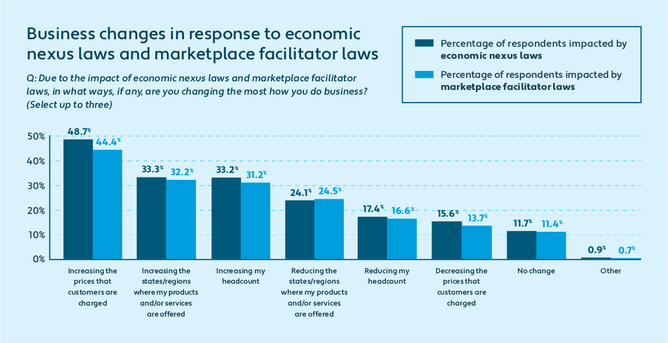 How businesses have changed in response to complex nexus and marketplace facilitator laws
So, while technology helps in processing online tax payments in the US, there is scope for future innovation to simplify this process further.
Scott Peterson, VP of US Tax Policy at Avalara, says: "Complexity tied to economic nexus and marketplace facilitator laws is likely at its highest level since the Wayfair decision happened as all states with a general sales tax have adopted their own rules with little uniformity.
"Fortunately, five years later we're seeing more businesses turn to technology to address the growing complexity and offload the additional burden. As businesses continue to grow and expand into new channels and jurisdictions, they should expect complexity to increase, as will their need for automated tax compliance solutions."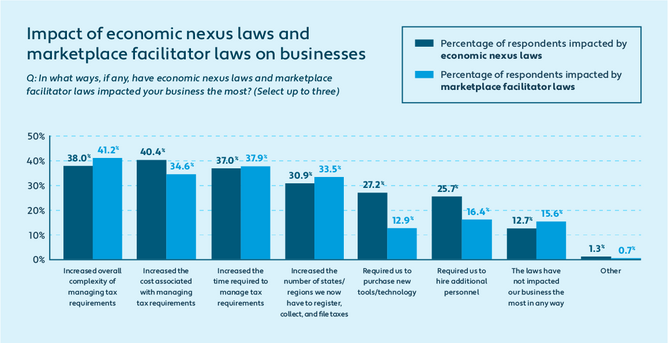 Operational impact of Wayfair-related laws on businesses
Liz Armbruester, EVP, Customer and Compliance Operations at Avalara, adds: "There's a hidden connection between high adoption of tax technology and high levels of perceived compliance. Businesses that are leveraging technology solutions to manage the complexity of sales tax can step away from the day-to-day management of tax.

"Technology not only takes the pain out of tax management but gives businesses peace of mind when it comes to their compliance with ever-changing laws."
Avalara launches sales tax calculator plugin

Following its findings, Avalara has launched its own sales tax OpenAI plugin, which leverages ChatGPT and allows users to ask the platform to calculate and research sales tax rates based on their location.
Avalara says it is the first tax compliance software provider to work with OpenAI to use its protocol to build an integrated plugin for ChatGPT.

Vsu Subramanian, SVP of Content Engineering at Avalara, says: "By leveraging generative AI and launching our plugin for ChatGPT, we continue to blaze trails for tax automation and have created another way to get sales tax information. And we are just getting started with generative AI.

"Avalara is uniquely positioned with our industry-leading tax compliance platform and comprehensive database of tax rates, rules, and answers to help businesses determine the right rate on transactions."