Financial Services (FinServ)
AI-powered onboarding fintech Signzy gets US$26mn in funding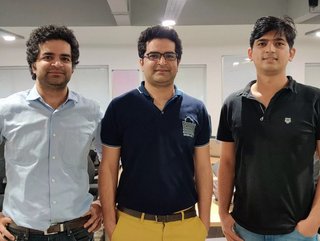 Signzy founders (from l-r) Arpit Rankan, Ankit Ratan and Ankur Pandey. © Signzy
Signzy, a fintech which offers an AI-powered onboarding solution, has raised US$26mn in Series B capital from the likes of Gaja Capital and Arkam Ventures.
Signzy – an India-founded fintech that builds digital infrastructure to improve the speed of customer onboarding within financial services – has raised US$26mn in its Series B funding round.

It means the company has raised more than US$38mn to date, including a US$3.6mn Series A round almost two years ago. The latest investment was provided by lead backers including Gaja Capital, Arkam Ventures and Vertex Ventures.
Founded in 2015, Signzy's AI-powered solution enables more than 10mn customer onboardings every month and goes hand-in-hand with its digital KYC solutions, which Signzy provides to more than 300 banks, insurance companies and asset management firms. It has onboarded over 75mn people to date and experienced above two-times growth during the COVID-19 pandemic. Signzy claims that its solution can achieve a success rate as high as 99%, reducing speed-to-market from six months to as little as three or four weeks.
Signzy a 'first of its kind' for fintech onboarding
Signzy CEO Ankit Ratan says: "The financial services industry is undergoing a massive and multi-year digital transformation and we have only seen the tip of the iceberg so far. Signzy has seen strong adoption of its no-code product by financial services companies as they start on their once-in-a-lifetime digital transformation journey.
"The solution has been developed from the ground up to allow banks and financial services providers to roll out and offer fintech-like user experiences in a matter of days, not months or years."
Gopal Jain, Managing Partner at Gaja Capital, continues: "The team at Signzy has really impressed us with their no-code digitalisation platform for the financial services industry, which we believe is the first of its kind anywhere in the world and solves real pain points for their customers. Their technology has been enabling banks to undergo rapid transformation without changing the underlying legacy systems."