5 Minutes With the CEO of Rapyd, Arik Shtilman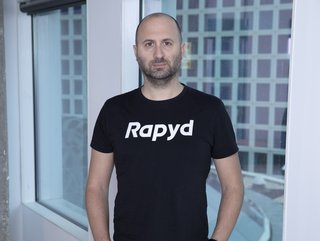 We catch up with the CEO and Co-Founder of Rapyd to discuss his career to date, what motivates him in fintech, and why he can't live without Apple AirTags
The co-founder of payments platform Rapyd didn't realise what he was getting into when he first set foot in fintech – but a little bit of can-do attitude got him through.

Here we catch up with him to discuss his journey so far and what he sees as the biggest challenge facing fintech.

Describe your role and your background. How did you get to this point?
Before Rapyd, I wasn't involved in payments or fintech, I was a cloud expert and entrepreneur. After three years in the military, I decided that I wanted to skip university and start my own company. Me and three other co-founders bootstrapped the business and built it into a multimillion-dollar organisation. The company ran for 10 years and we sold it in 2013.
After that, I craved another challenge. The same group of co-founders moved forward to the next venture. It was 2015 and one had come back from a trip to the Czech Republic, shocked at the FX fees he'd paid while he was away. We initially had an idea for a consumer wallet that would phase out physical exchanges, but we completely underestimated how complex the financial services sector is. We spent almost a year trying to launch in the UK, and the amount of investment and infrastructure we had to build was so big for one market that it just didn't make any sense for us to continue, as becoming global would be too complicated with all the different regulations.
We discovered a gaping hole slowing down the global commerce industry: there was no platform that enabled businesses to accept and send payments without having to build their own infrastructure.
That's when we had the idea for Rapyd – to build a scalable fintech to provide financial services and infrastructure for other businesses to build on top of. Now, we're building the world's most expansive global fintech platform.
Who was your childhood hero and why?
Michael Jordan. He had a fearless mentality, an endless drive to win and always worked hard to be the best. And he always took responsibility in the last few seconds of the game to try and win.
What's the best piece of advice you ever received?
I joined the military when I was 18 years old. Our instructors always drummed into us that there's no such thing as 'I can't'. That mindset stuck with me; I make the idea living in my head come to life and maintain a growth mindset.
What makes you proud about the business you've built?
We are continuing to go from strength to strength, despite the current economic conditions. I'm proud of this. While many other fintech organisations had to recede and slow their growth in the last year, Rapyd continued to expand globally. In the past year, we opened a technology hub in Dubai and were the first Israeli organisation to be regulated by the UAE to open up for business in the country. We also finalised our acquisitions of Neat in Hong Kong and Valitor in Iceland – and we're only continuing to grow and expand our global operations.
What one device couldn't you live without?
Apple AirTag. It completely changed my life. My kids don't lose their stuff anymore.
What's one fintech you use yourself on a regular basis – apart from Rapyd, of course?
I mainly use Paypal and Wise.
What's the biggest challenge you've encountered in fintech?
In the early days, while we were building Rapyd, we learnt that dealing with compliance and regulation was a bigger hurdle than we'd anticipated. Compliance differs from country to country, so working on a global scale made this incredibly challenging. That said, it also made us realise that we needed to be the compliance and regulation problem solvers so that other organisations didn't need to worry about it. We handle all of this today. Our initial learnings taught us that organisations looking to operate across borders need a platform like Rapyd – one that provided them with the necessary infrastructure to scale globally and would take the stress out of these kinds of issues.
Describe yourself in three words.
Self-assured, eloquent and ambitious.
What piece of advice would you give your 5-year-old self?
Work hard, play harder.
Is there a personal achievement from the last 12 months you're particularly proud of?
Opening up our technology hub in Dubai was an incredible feat for our entire team, because we were the first Israeli organisation to be regulated in the United Arab Emirates. This was no small feat. We launched in Dubai, covering every single billboard on Sheikh Zayed Road – and now everyone in the city knows our name. We're incredibly proud to be building the future of fintech in Dubai and to be opening doors for other organisations, from Israel and beyond, to lay down roots in one of the most influential technology regions in the world.
What was the last book you read and when?
The story of Israeli politics by Amit Segal. I read it a month ago.