Tackling the Great Resignation
Tue 19 Apr - Tue 19 Apr, 2022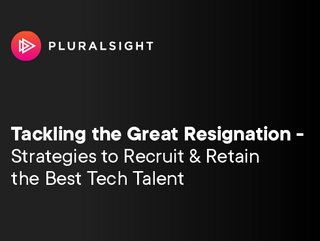 Tackling the Great Resignation - Strategies to Recruit & Retain the Best Tech Talent
The "Great Resignation" has shaken up the tech industry in ways never seen before. Combined with existing challenges from tech skill shortages widely felt across the financial services industry, companies need to quickly develop a workforce development strategy designed to attract new talent, as well as enable reskilling and upskilling from within.

How do companies compete for top tech talent today? What are the best ways to hold on to employees? How do you continue to develop an expertly trained tech workforce to build products and services to support your long-term growth? These are some of the questions that will be answered in our webinar on Tuesday, 19th April at 10.00 GMT.

Hear how Bupa, Nomura and Pluralsight have partnered to approach these challenges as they discuss the most innovative ways to recruit, retain and grow talented employees.