WEBINAR: Accelerating data-driven digital transformation
Tue 17 Jan - Tue 17 Jan, 2023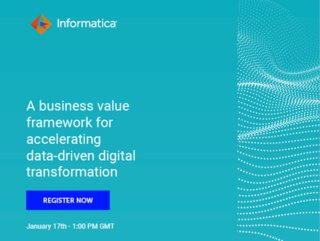 A business value framework for accelerating data-driven digital transformation
Insurance is data intensive, and carriers need cloud data management capabilities robust enough to match that intensity.

Join James Berrocal Sizemore, Informatica's Chief Strategist for Insurance, as we explore how to deliver data that's fit-for-business-use to every link of your insurance value chain.

We'll discuss data ingestion, integration, master data management, data catalogue and data governance & privacy, and how they relate to the digital transformation of the insurance industry.

You will leave this webinar with an understanding of how to use the power of the cloud to maximize the value of your insurance data.